Business after COVID-19
After COVID-19, the world is a very different place now especially for businesses. The slowing down of economy might result in an economic recession soon. Hence, you will see a shift in retail business where traditional brick and mortar stores which requires huge amount for capital expenditure and operation expenses will be lesser with some already closing down. Many businesses have moved to e-commerce to sustain their business during this tough time. New businesses which requires zero capital expenditure and operation expenses with smart solutions such as start-up online businesses is a better way to start earning passive income. Additional income during this time is especially crucial to secure uncertainties of the future.
Introducing MeCan Trade
Recently, I have been introduced to MeCan Trade, a one-stop e-commerce platform that taps into the power of human connection and connects sellers with buyers around the world.
Their MeCan Trade Ambassador Program lets anyone with considerable social influence to sell items from MeCan Trade to their friends and followers.
With just a few clicks, ambassadors can create their very own e-store and sell a large variety of original products directly from the product owner, without any capital or inventory.
Why MeCan Trade
With MeCan Trade, everyone can become an entrepreneur and trade anytime, anywhere.
Zero capital start-up and zero risk – MeCan Trade also helps you to take care of the whole buying process from A to Z which includes registration procedures, purchasing, payment to delivery to buyer's doorstep.
Instant e-store set up – Each MeCan Trade Ambassador will be granted an online storefront with a unique landing URL – making them an instant online store owner
Opportunity to earn passive income by sharing quality day to day products
Credible owner – MeCan Trade was founded by Mr Andy Goh (former founder of OldTown White Coffee and current owner of Nam Heong chain restaurant),  a business visionary who strongly believes in technology and big data efficiency. His vision is to share his successful business formulas to rebuild and transform businesses impacted during this difficult period.
Multichannel eCommerce – Supported by future-forward technology which is smart, scalable and adaptable to change, your products will be simultaneously deployed in top e-commerce platforms in Malaysia
Borderless Trading – All transactions can be done in your own local currency even for cross borders transactions so there is no loss in foreign exchange
Big Data Solutions – Engages SEO and SEM to drive business with the right demographics
Support – Availability of a localized team who will facilitate and advise you on operations, marketing, networking, IT and finance matters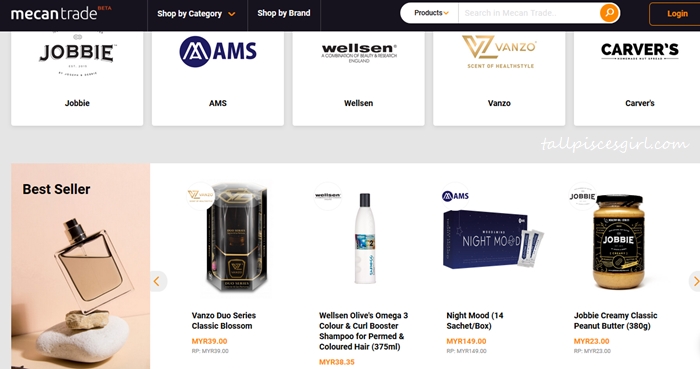 The best part is this program ensures a sustainable fool-proof business that cannot be hit by economic or business changes with zero capital!
How to become a MeCan Trade Ambassador
Register a Buyer Account
Activate MeCan Trade Ambassador feature
Choose a suitable URL for your store
Customize your storefront and the items you want to sell
Promote your store by sharing the products you sell to social network
Get rewarded for every sale you make!
Want to see how MeCan Trade store looks like? Come visit my store at https://supermart.mecan.trade/
There are a vast variety of items in MeCan Trade but if you're unsure on what to sell, I'd recommend 2 of the most popular brands to you.
Wellsen Hair Care
Due to no hair salon visit during MCO, my hair has became too long and I think nutrients could not reach the roots of my hair, causing bad hair fall. What a coincidence that I was introduced to
Wellsen Hair Care
products. They have 48 SKUs under their brands which are free from preservative and harsh chemicals. All their products are vegan and formulated using organic ingredients by a team of cosmetic chemists and hair stylists.
Champ Series: Made from organic Chamomile extract and 100% pure peppermint essential oil, this is a range designed to soothe and refresh the scalp for a revitalized the hair and combat hair thinning problem.
Marula Oil Series: For intensive hair repair and nourishing the scalp. Marula oil has 60% more protective antioxidants than argan oil!
Vanzo
Vanzo's air freshener is the result of their cooperation with Ogawa & Taiyo Corporation. Both companies are renowned in Japan and Asia for their commercial fragrance systems, with a collective history of more than 125 years. With their expertise, they have created
Vanzo
, a certified safe for use air freshener using plant-based extracts and free from harmful chemicals as it contains no alcohol, formaldehyde, benzene, and toluene. Their entire product line has passed the MSDS International Standard Test Report, SGS testing, and received the Certificate of Analysis.
Vanzo comes in 2 sizes (Dashboard Series and Mini Aircond Vent Series) and 3 scents.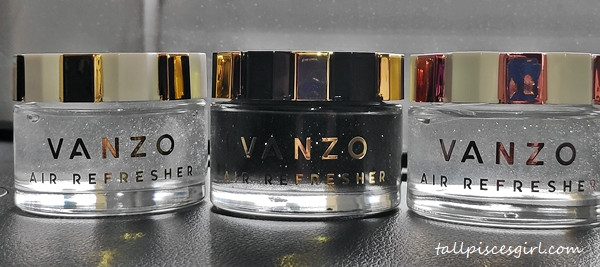 LX Secret Musk 1616
Unique scent that reminds me of sea breeze and a field of blooming flowers
LX Velvet Musk 1717
Natural velvet musk scent that encompasses floral and wood notes
English Pear and Freesia 1818
Mellow scented fresh pear with delicate white freesias
The thing I love about Vanzo is, the fragrance does not overpower and last longer than usual (approx. 60 days). Don't forget to drop by my store at
https://supermart.mecan.trade/
or head to
MeCan Trade
to start your entrepreneur journey!