Good food always makes me happy. That's why I agreed for another round of review at Champignons at Oasis @ Ara Damansara despite the distance. I know I was in for a treat and I'm truly excited about that! Let's check out Champignons at Oasis Signature Degustation Menu.
Champignons at Oasis Signature Degustation Menu
This degustation set menu is available at RM 218+ or RM 338+ with wine pairing, minimum 4 pax to dine. Otherwise, you can order a la carte as well.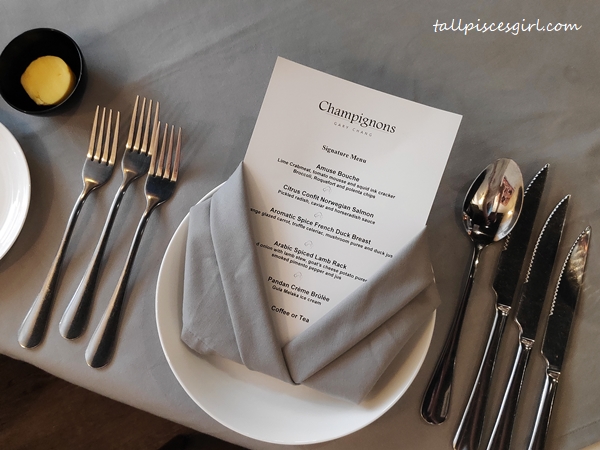 Amuse Bouche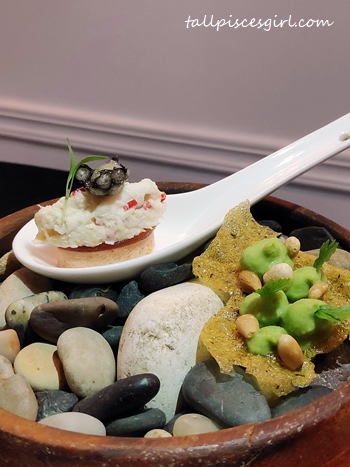 Amuse Bouche literally means "mouth amuser" in French and guess what! It certainly did not disappoint and yes, my palate was amused. Chef Gary presented us with this bite sized food art consisting of Lime Crabmeat and tomato mousse, topped with squid ink cracker. On the side, we have broccoli, Roquefort (blue cheese from French sheep's milk) and polenta chips. Chef Gary's food always reminds me of what "culinary art" truly means. According to him, he loves to play with tomatoes during summer and this time, the tomatoes he used were from Japan.
Citrus Confit Norwegian Salmon (A la carte price: RM 35)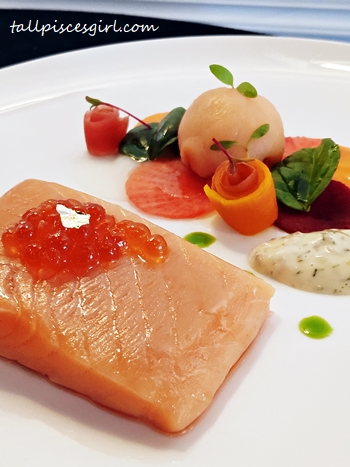 Not-to-be-missed is this tender and juicy Norwegian Salmon cooked to perfection. Pair it with pickled radish which has been marinated with special house sauce, horseradish sauce and caviar.
Aromatic Spice French Duck Breast (A la carte price: RM 80)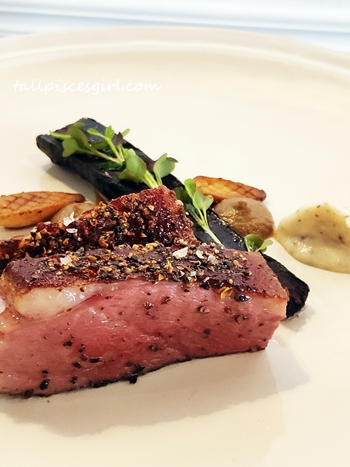 Unlike the usual Chinese style duck meat, this duck breast was specially imported and prepared in an interesting way. A lot of time and effort was invested to marinate the duck breast using black pepper and green citrus pepper, followed by slow cooking it. It is then paired with earthy vegetables like orange glazed purple carrot and truffle celeriac with mushroom puree and duck jus.
Arabic Spiced Lamb Rack (A la carte price: RM 85)
This Arabic spiced lamb rack was executed perfectly – tender, juicy and still pinkish on the inside due to being slow cooked. It comes with egg-shaped stuffed baked onion with lamb stew, we gobbled it down in awe, still amazed by Chef Gary's creative innovation. There's also zucchini goat's cheese potato puree with smoked pimento pepper and jus.
Pandan Creme Brulee (A la carte price: RM 24)
What a lovely fusion to combine creme brulee with fragrant pandan, Malaysian's favorite flavor! Topped it up with smooth Gula Melaka ice cream for that extra refreshing oomph!
Coffee or Tea
Ending a perfectly curated meal with a cup of coffee or tea is just pure bliss. If you're looking for fine dining experience without breaking the bank, go for Champignons at Oasis Degustation Menu. It won't disappoint, I promise!
Address
:
Champignons at Oasis, Ara Damansara
B-G-02, Oasis Square,
Ara Damansara,
47301 Petaling Jaya
Tel
: 03-7832 2629
Opening Hours
:
Monday – Friday: 11 am – 3 pm; 6 pm – 10 pm
Saturday – Sunday: 10 am – 10 pm
Facebook Page
:
https://www.facebook.com/ChampignonsOasis/