The opening of innisfree's first store in Malaysia at Sunway Pyramid has made quite an impact in the beauty industry here and the hype was strong. The rest is history. They now have branches at Paradigm Mall and Pavilion KL too!
After an exciting encounter with innisfree Jeju Sparkling Mineral range, I'm pleased to experience the true wonders of orchids in innisfree Orchid Line.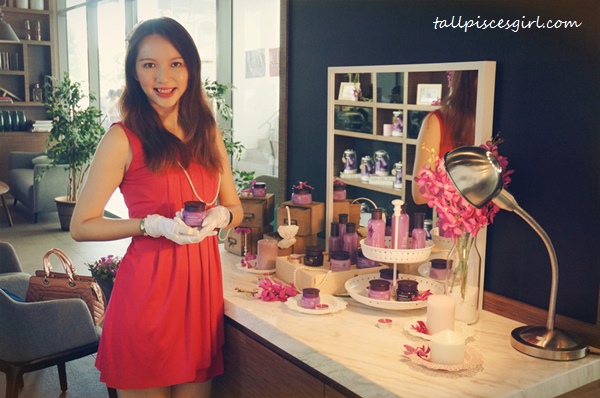 innisfree Orchid Line
As I entered The Forum KL, the room was filled with pleasant scent of orchids; both from fresh orchid flowers and innisfree Orchid Perfumed Diffuser! Feeling super relaxed and I wish to have it as my home fragrance.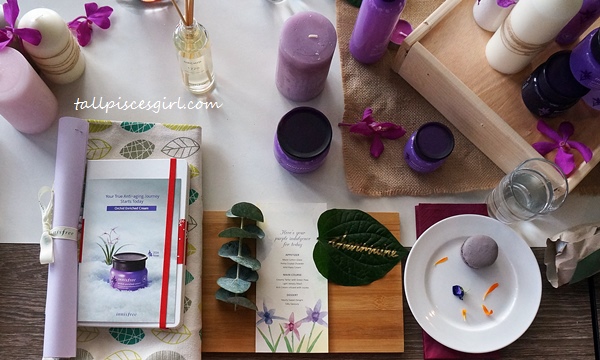 The Story of Jeju Orchid
It is very rare that flowers are still able to survive during cold, harsh winter time. One of the resilient flowers are Jeju Orchids, which I think is pretty amazing. With this, innisfree harness its minuscule seed that is almost invisible to naked eye as antioxidant-packed beauty elixir. The purpose of this line of products is for anti-aging while achieving whitening effects.
Are you ready to follow the FULL COURSE of my skin pampering journey with innisfree Orchid Line?
Recommended order for Orchid Line skincare regime:
Skin > Essence > Lotion > Eye Cream > Gel Cream/Enriched Cream/Intense Cream > Massage Cream
Appetizer
Orchid Skin (Toner)
Orchid Enriched Essence
Orchid Lotion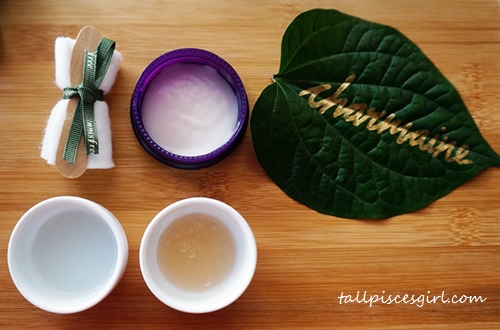 innisfree Orchid Skin
To be used like a toner after cleansing the skin, it has a fine gel texture infused with Gel Network Technology that helps to retain moisture. Comes with a refreshing orchid scent to wake up the skin and prepare to absorb nutrients.
How to use: Pat gently onto skin using cotton pad or use palm to apply evenly on skin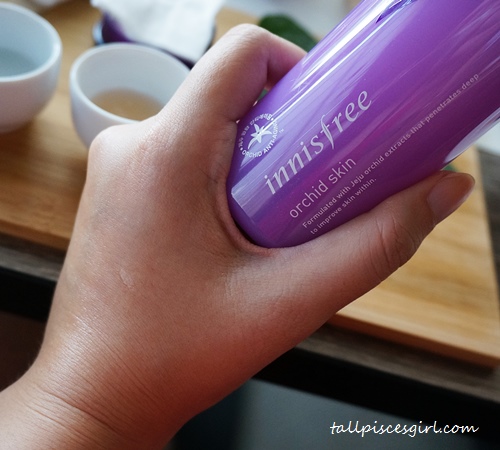 innisfree Orchid Enriched Essence
Packed with the goodness of Orchid Elixir, this essence forms an elastic layer onto the skin for instant firming effect while preventing the breakdown of collagen. Contains 4% of natural lifting ingredient extracted from oatmeal, this essence wraps the skin thoroughly to form a protective film onto the skin to keep it supple and firm.
How to use: Pump essence twice and gently dab onto skin.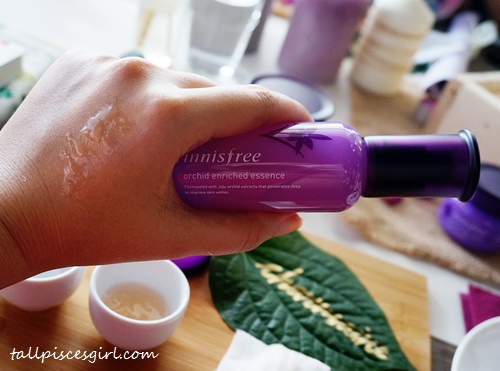 innisfree Orchid Lotion
Coconut oil is very popular for its diverse benefits nowadays. Hence, this smooth lotion is infused with coconut oil which gives it a lightweight and melt-in texture. It has dual purpose of anti-wrinkle and whitening without leaving a sticky feeling.
How to use: Spread it evenly on face and neck.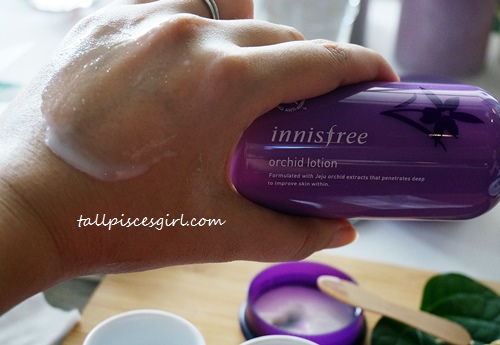 Main Course
Orchid Gel Cream
Orchid Enriched Cream
Orchid Intense Cream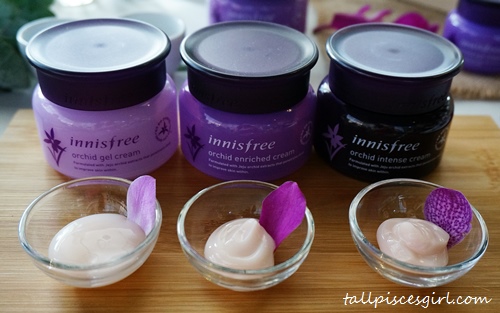 As "Main Course" is the main element of your skincare regime, you'll need to choose the most suitable product for your skin type and needs.
innisfree Orchid Gel Cream
Suitable for normal to oily skin.
If you're still young, start your anti-aging regime with products that are more lightweight and suitable for your skin to treat early signs of aging. Orchid Gel Cream feels refreshing with Jeju Orchid Extract, Jeju Green Complex, and Lecithin formulation with semi-shape memory gel texture.
innisfree Orchid Enriched Cream
Suitable for normal to dry skin.
Formulated with Jeju Orchid Extract, Jeju Green Complex, and green pea extract (to firm up skin), this rich and moist essence-like cream absorbs deep into dry skin to make sure that it is well-hydrated.
innisfree Orchid Intense Cream
Suitable for very dry skin.
As very dry skin needs intensive care, Orchid Intense Cream is formulated with Jeju Orchid extract, Jeju Green Complex and Jojoba Ester to help with smoothen out the wrinkles, improve skin firmness, skin tone correction, enhance hydration level, and tighten pores.



Dessert
Orchid Eye Cream
Orchid Massage Cream
innisfree Orchid Eye Cream
Skin-fitting textured eye cream reduces wrinkles around the eyes for more youthful looking eyes.
How to use: In circular motion, spread a pea sized amount evenly between both eyes.
innisfree Orchid Massage Cream
A balm-type textured cream formulated with Jeju Orchid Extract, Jeju Green Complex, and meadow foam seed oil. Provides relaxation to the skin and improves blood circulation with massaging.
How to use: Massage in upward motion for tightening effect. Blot out the excess with a piece of tissue paper afterwards.
The fun doesn't just end with a pampering session! We had a watercolor painting workshop which made me kind of nervous in the beginning because I'm never good in art. Our names and the orchid were already drawn for us. Luckily the outcome turned out better than expected. Even Clumsy Boy was surprised! And I'm glad I learned something new here!
Next, we learned how to DIY Orchid Scented Candle using natural Handmade Soy Wax Candle infused with Orchid 1220 Perfumed Diffuser. Since soy was is made of soy beans, it does not produce toxins that paraffin normally emits. It also burns at a lower temperature, resulting in longer burning times!
After the fun-filled activities, it's time to fill our tummies with food! The food are seriously impressive because it totally matches the purple orchid theme. Not only it looks nice, they tastes great too. Thank you fellow PRs from hashtagcity for the bouquet of Orchid sent earlier with the invitation to this lovely event and planning everything so beautifully!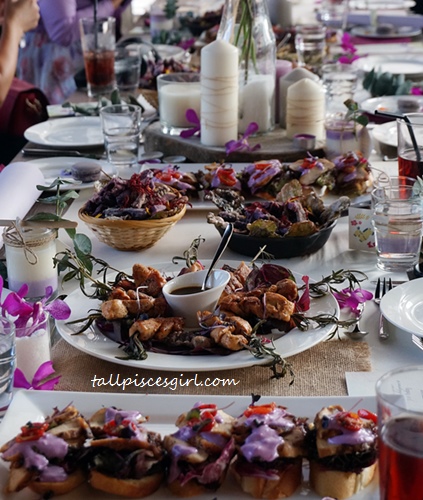 innisfree branches are at:
Sunway Pyramid Shopping Mall, G1.70, Ground Floor (Orange Zone)
Paradigm Mall, Lot UG-11
Pavilion Kuala Lumpur, Lot 4.02.02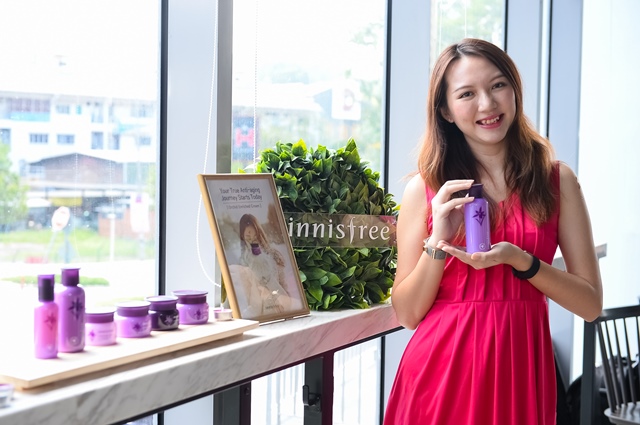 For updates on innisfree, stay tuned to their Facebook Page and Instagram.