Climate change is real. It is happening right now. It is the most urgent threat facing our entire species and we need to work collectively and stop procrastinating.
The above is what Leonardo DiCaprio has mentioned during his winning speech for Best Actor Award during Oscars 2016. I totally agree with it and this is why I separate my trash and send them to recycle. But of course, the best is to create less trash by reducing and reusing what we have.
To further educate you and your family regarding waste recycling and the environment, I have an exciting event to share 🙂
Earth Hour 2016
In conjunction with the Earth Hour 2016 celebration this
19 and 20 March
, The School in Jaya One will launch 
Eco-Schools Training Centre
in collaboration with the Eco-Schools Programme by WWF-Malaysia (World Wide Fund for Nature Malaysia) on the Ground Floor.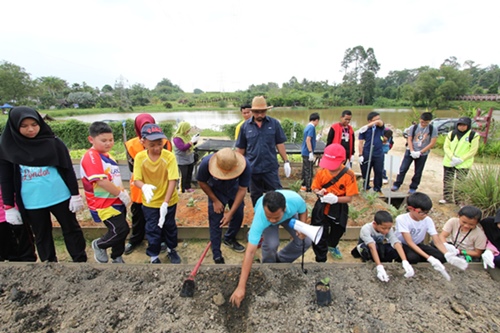 With the existence of this training centre, it can help shift mindset and empower the young generation to start recycling their waste as well as to educate them that every little effort counts in making the world a better place.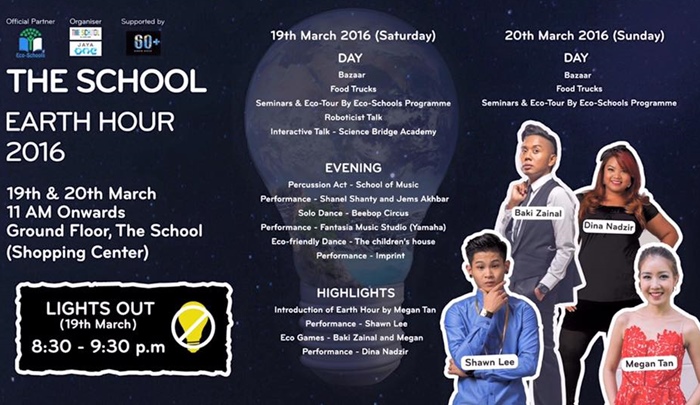 All activities are open to public. Expect a myriad of educational workshops and exhibitions on sustainable living, live performances by learning tenants in The School and talented homegrown artistes such as Dina Nadzir, Baki Zainal and Shawn Lee throughout these two days.
Megan Tan, the well-known TV personality will be there on 19 March in the evening for a brief introduction of Earth Hour.
If you're a food lover like me, you won't want to miss this event as it also boasts a variety of gastronomical delights featuring specially curated artisanal food vendors and food trucks.
Here's the fun part! When the clock strikes 8.30pm, all non-essential lights at The School will be turned off for an hour and turned to a spot for picnic in the dark in support of Earth Hour, a worldwide movement that is a yearly affair to raise awareness on climate change and other environmental issues. Families can also join the Eco-Camp organized by Eco-Schools, WWF and overnight there from 10pm on 19th March til 8am on 20th March.
For more information on The School Earth Hour 2016, kindly visit https://www.jayaone.com.my/the-school-dna or The School's Facebook page at https://www.facebook.com/theschoolmy.