Let's take the time machine and rewind to 14 February 2014 (14214!). Location – Thean Hou Temple (天后宫), the place where most Buddhists held their Registration of Marriage (R.O.M.). The day that Clumsy Boy and I signed the biggest contract in our lives. The contract that bonds two person to become one.
Valentine's Day Mass R.O.M. @ Thean Hou Temple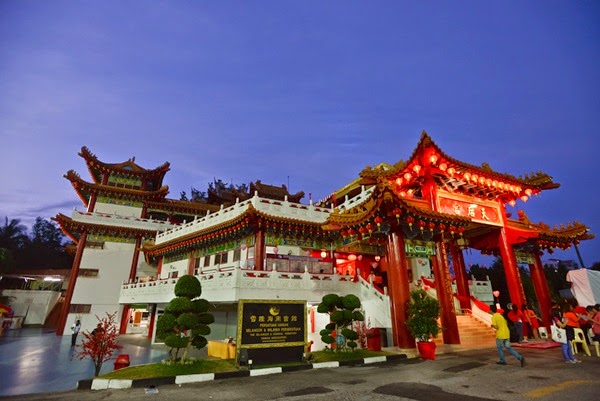 So I woke up at approximately 5.45 am to do my makeup. For the hair, I just applied leave-in conditioner instead of styling because I'm really bad at that and it's better to look plain than to arrive with damaged, frizzy hair. I actually tried curling my hair with curling iron few days before but it turned out super frizzy and dry! Luckily I was able to save it by using lots of hair mask.
For those who engage a makeup artist for makeup and hairdo services, they would need to arrive as early as 4-5 am. That's insane! I'd rather get more beauty sleep LOL!
I reached at 7.20 am, considered as quite early since 
Thean Hou Mass Registration Schedule
mentioned that the first item in the agenda will start at 8.30 am. It's safer to arrive earlier since the rush hour traffic is quite bad in the morning.
If you're wondering where I got my
ROM dress
, I bought it at egete, 1 Utama Shopping Centre. I've hunted for it at Berjaya Times Square and Sungei Wang but to no avail. It baffles me to realize it's so difficult to find a piece of white dress. Parkson @ 1 Utama Shopping Centre has some but they looked quite short on me *disadvantages of being tall*. Of course, some people will also rent from bridal house but I personally think wearing a wedding gown for ROM is kinda overkill. Not to mention that it's going to cost a lot too. But if you feel that it's okay, don't worry that you'll be an outcast because there are a lot of people who wears wedding gown too.
If you're wondering why my mum and his dad didn't come to witness this important moment, it was because my mum said "pantang" even though my grandma has already left us for almost a year and his dad thinks that ROM is not important. Oh wells…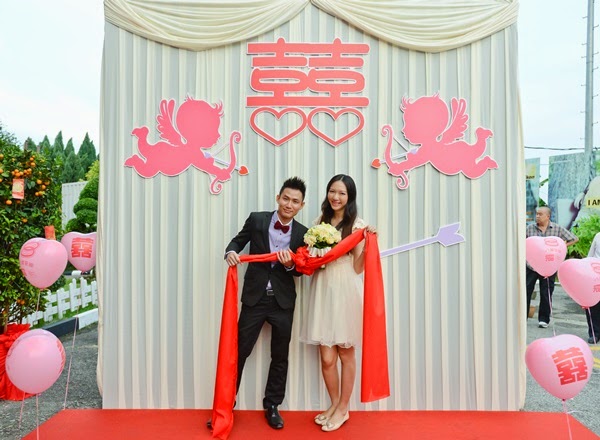 Before the programme start, can take lots of pretty photos around the temple and there was also a special backdrop prepared for this special day.
When we first reached, we went to the registration counter to confirm our attendance and seat numbers were assigned for the couple and family members.
Wee~~ There was a photo booth by WOW Photobooth for couples to take a shot and remember the precious moment!
I have no idea what releasing the balloons really signify; maybe there's no reason behind it. It just looks nice for the photography session hahaha!
All the photographers from media kept pressing their camera shutter. Feels like a celebrity!
I remembered the monk saying something very meaningful about marriage but I couldn't recall it already.
My advice for those who are going to get married?
Marriage is a full time job, not a part time job.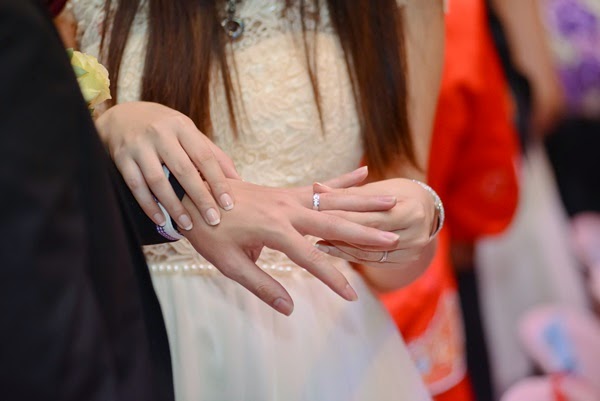 The mass solemnization ceremony was done whereby all the couples stood up and put up our hand to swear. We had to repeat what was said and basically, the content is about marrying only one partner according to the law. Nothing lovey dovey like how the Christians said their vows in the church. I actually wanted to experience saying something like this:
I take you to be my lawfully wedded husband, to have and to hold, from this day forward, for better, for worse, for richer, for poorer, in sickness and in health, until death do us part.
Damn romantic, right?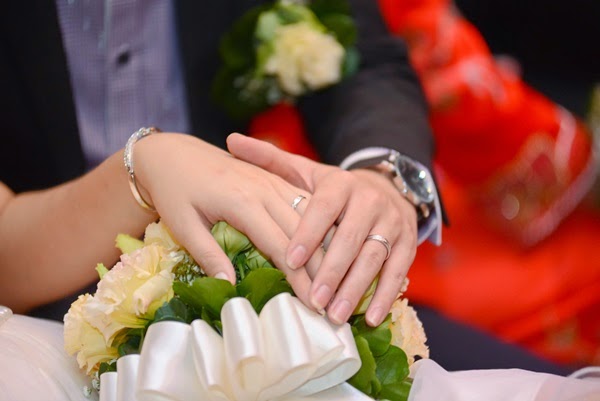 Chinese people always say 男左,女右 (men left, women right) but that's definitely not the case for wedding ring.
Which is the correct finger to wear your wedding ring?
The correct answer is fourth finger of the left hand; for both men and women. The reason is because it is believed that a vein ran directly from the fourth finger on the left hand to the heart. By this, it signifies that you take this marriage by heart.
After waiting for 30 minutes, it's finally time for us to sign the documents and officially become husband and wife. Luckily the wait wasn't too long 🙂
By 10.48 am, everything's done and we can leave already! Phew~~ Really efficient. I thought that we have to wait until at least 2pm :p
But before we left, we took the opportunity to hunt for more nice backgrounds and shoot more photos!
Some people were curious about this so before I end this post, let me explain why I picked Valentine's Day for our ROM.
Why I picked Valentine's Day for our R.O.M.
It feels very lonely to do it on normal days. There's no special programmes like Valentine's Day.
It feels good to celebrate your love with other couples. Seeing other couples happy makes me happy too!
Just because Valentine's Day is the perfect day to celebrate your love and you don't need to worry your spouse will forget your wedding anniversary.
Thank you
GMPS Wedding Film and Photography
for the awesome photos! View this video slideshow to see more photos: