I normally reserve my weekend to recharge by sleeping in but once in a blue moon, I sacrifice a little to support brands I love like innisfree!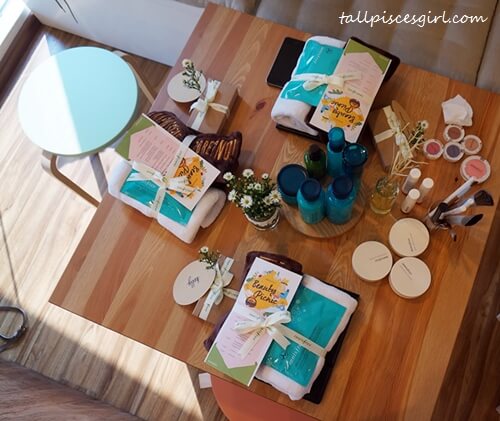 So on one beautiful Saturday morning, I was at Organica Lifestyle @ Bangsar to discover the latest addition to innisfree – innisfree Jeju Sparkling Mineral range.
Now I know why we need to be there bare-faced. We're gonna play with innisfree cosmetics and paint our face pretty!! YAY!!
The reason why this workshop was held at Organica Lifestyle is because the environment resembles Innisfree Jeju House in Korea the most. Even though I haven't been there yet, I can imagine how serene and peaceful the place is. Hope I'll have the chance (and budget) to visit Korea next year!
It's always fun to attend themed events because it makes everyone so in the mood! I'm glad that innisfree Beauty Picnic was held indoors considering that the haze could be bad. Luckily, it wasn't as bad as I expect! Before starting the workshop, we had a deep relaxation meditation session led by Ms. Shantini Iyngkaran, Founder of Organica Lifestyle.
innisfree Jeju Sparkling Water Line is a daily deep hydration skincare range that provides hot spring spa-like sensation, revealing clear and moist skin from within. How cool is that!
All products from innisfree Jeju Sparkling Water range are formulated using pure sparkling mineral water from Jeju Sanbangsan Mountain. The sparkling water is also known as Gumyeongsu (life-saving water) as it cured many illnesses and saved lives.
The very first step to reveal beautiful skin from within is to make your skin feel happy! How? Let's start off by pampering your skin with innisfree Jeju Sparkling Mineral Powder. This easy-to-use carbonic acid powder pack cleans and moisturizes skin with fizzy bubbles, giving it a spa-like effect.
The process was so fun! I felt as if I soaked my face into a bowl of soft drink and the bubbles were dancing on my skin LOL! This Jeju Sparkling Mineral Powder contains Jeju tangerine peel extract that deeply cleanses dirt in the pores, giving an instant brightening effect. Don't be surprised if your skin appear reddish, it just means that your blood circulation is being stimulated!
How to use: Fill a bowl with water (1.5L-2L). Add in Sachet 1 and wait until it dissolves. Add Sachet 2 and stir the water to make fizzy bubbles. Soak your face into the water for 2 minutes or wash your face using both hands to feel the effect of sparkling water massaging your skin. Rinse off with lukewarm water and pat your skin dry gently.
What is so special about Jeju Sparkling Mineral Water?
Pure sparkling mineral water was formed 800,000 years ago
Drawn from the aquifer 535 meters deep underground
Contains 3 types of carbonic acid and 13 types of hot spring minerals
Average temperature of 31°C, lower compared to most hot springs
Before applying skincare products from innisfree Jeju Sparkling Mineral Range, let's prep our skin by strengthening skin barrier and feed it with moisture using innisfree The Green Tea Seed Serum that contains 100% fresh green tea essence. Some might think negatively when they realized the texture is thinner than regular serum but it's designed this way. With watery texture, it is easier for the skin to absorb and it feels lightweight after applying. The correct way is to use it as pre-serum instead of regular serum. FYI, The Green Tea Seed Serum is one of innisfree's best-selling products!
The next step is to deeply hydrate your skin with innisfree Jeju Sparkling Mineral Skin toner. This ethanol-free (alcohol-free) toner is loaded with 88% sparkling mineral water to smoothen skin texture and enhance absorption of skincare products. Skin's pH balance is restored with its acid-balanced formula.
How to use: Soak cotton pad with toner and wipe around the face. You can also use your hands to apply it over your face.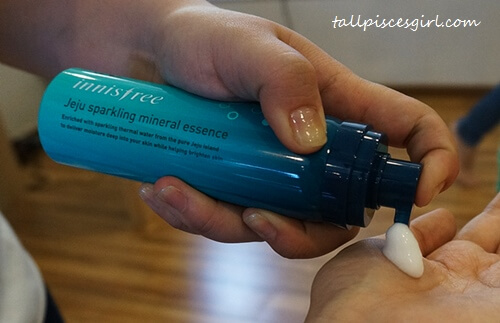 The most crucial product in this range is innisfree Jeju Sparkling Mineral Essence; formulated with Micro Sparkling Technology that produces micro-sized carbonic acid bubbles that are smaller than pores, ensuring penetration of active ingredients. Say hello to clear and moist skin!
What happens when you massage the sparkling bubbles to your skin:
Moisturize skin
Improve skin texture
Balance uneven skin tone
Skin firming
Strengthen skin barrier
Promotes blood circulation
How to use: After toner, pump out an adequate amount (approx. 3cm in diameter or one full pump) and apply over face.
For moisturizer, there are 2 types: innisfree Jeju Sparkling Mineral Lotion for normal to oily skin and innisfree Jeju Sparkling Mineral Cream for dry skin. I'm using innisfree Jeju Sparkling Mineral Lotion that contains 61.8% sparkling mineral water to help improve oil-moisture balance since I have oily skin. Macadamia nut oil in the ingredient helps to prevent loss of moisture and keep skin hydrated. Although I felt that it's a bit sticky while applying it, I don't feel it anymore after massaging it into my skin.
As for innisfree Jeju Sparkling Mineral Cream, it is infused with 69.9% sparkling mineral water. The lightweight translucent fluid texture absorbs fast into the skin and form double moisture layer that stays all day long.
How to use: Take adequate amount and apply over face and neck after toner and essence
Last but not least, spray on innisfree Jeju Sparkling Mineral Mist with 90% fine-textured sparkling mineral water for instant and intense hydration. Can you imagine how fresh it feels like to spray it on during a hot day? I'm bringing this to everywhere I go to keep my skin moisturized at all times! Oil extracted from coconut helps retain moisture on skin without sticky and oily feeling.
How to use: Spray onto skin 3-4 times when it feels dry and need some moisture boosting. Spray 20cm away from the skin while keeping eyes closed. Can be used before/after makeup.
After completing the skincare regime, it's time for makeup and paint our faces pretty! Finally got to try one of their star products: innisfree Long Wear Cushion SPF 50+/PA+++ and it's amazing because the result is just as they claimed! I'll talk about this product in another post though so do stay tuned!
So here's a collage on how my face transformed (left to right) from no-makeup -> after soaking my face into Jeju Sparkling Water -> after innisfree Jeju Sparkling Water regime -> after makeup using innisfree cosmetics
Besides the skin, it is also important to keep our body refreshed. We learned to make our own sparkling water infusion during the workshop. It's very simple: Just put one mint leaf, half a slice of lemon and one teaspoon of raspberry puree into sparkling water.
Throughout October 2015, get a free Sparkling Mineral Water bottle when you purchase innisfree Jeju Sparkling Mineral Essence!
Thanks Organica Lifestyle for preparing us so much yummy and healthy food!!
So happy to receive a bunch of hydrangeas at the end of the session! Tell me, which girl doesn't like receiving flowers, right?
innisfree Malaysia is available at Sunway Pyramid! I heard a new store will be opening soon but the location is still a mystery! Latest update – It's gonna be at Paradigm Mall!! Launching date: 30 October 2015 🙂