Sakae Sushi Malaysia
is celebrating their
18th anniversary
this year by launching a
brand new menu
featuring more than 100 new additions that give customers more choice, exciting new flavours and better value for money. This addition ranges from numerous types of sushi, sashimi to rice, noodles, bento and grilled or pan-fried specialty dishes.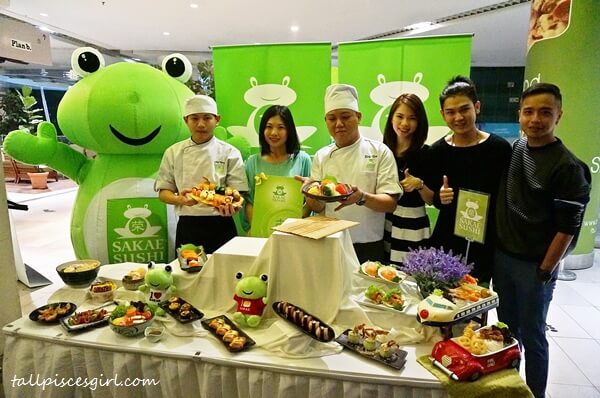 In their new menu,
Salmon Signature
features an array of Sakae Sushi's all time favourite salmon dishes such as Salmon Sashimi, Hana Maki and Salmon Mentaiyaki as well as new creations such as Salmon Cheese Roll, Salmon Zukushi, Salmon Treasures and more. In line with Sakae Sushi's "farm to table" philosophy, only delectable air-flown fresh Atlantic salmon for a luscious melt-in-the-mouth quality. Let's check out what they're offering!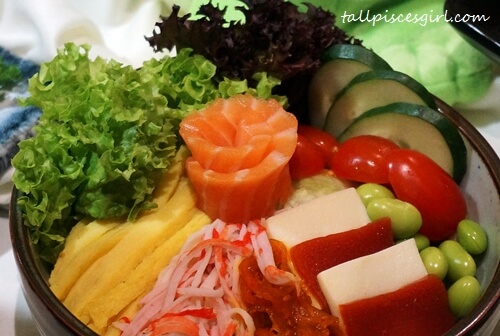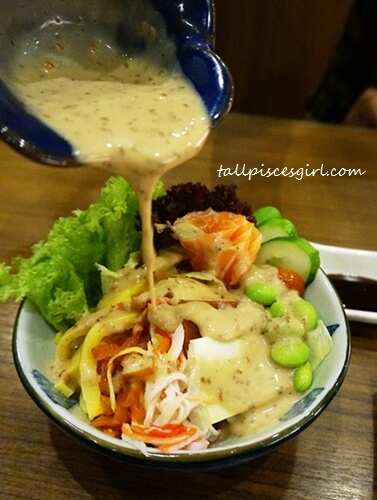 Sakae Salad
is a refreshing and enticing interpretation combining fresh air-flown salmon, seasoned jellyfish, crabstick, Japanese omelette and assorted vegetables served in a choice of either wafu or goma dressings.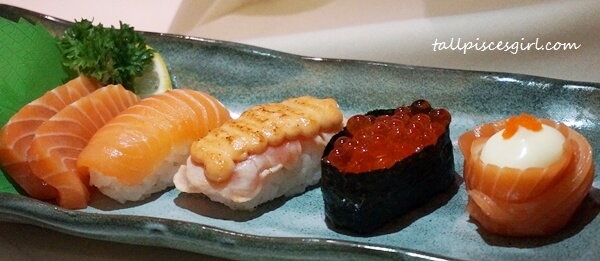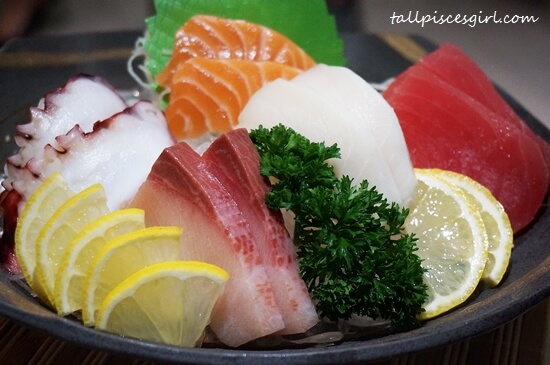 Assorted mouth-watering fresh air-flown Norwegian salmon, yellowtail, tuna, butterfish and octopus.
Fuku Set
is a combination of best-selling sushi – salmon sushi, cheesy tamago sushi, kani fumi sushi, soft shell crab maki, futo maki, kani edamame inari and chuka mekabu gunkan.
Anything with cheese is awesome!
Salmon Cheese Roll
consists of delectable rolls with salmon, crabstick, Japanese omelette and Japanese cucumber topped off with cheese and spicy mayo.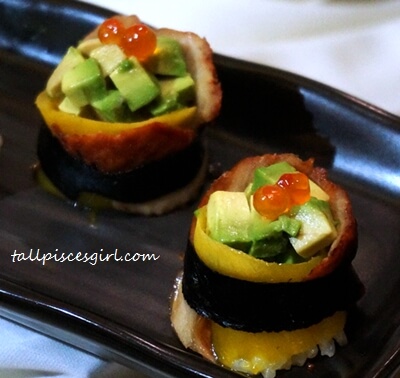 Sumo Roll is surprisingly good! Mouth-watering sushi rolls were layered with sea eel and mango as well as a luscious topping of avocado and salmon roe.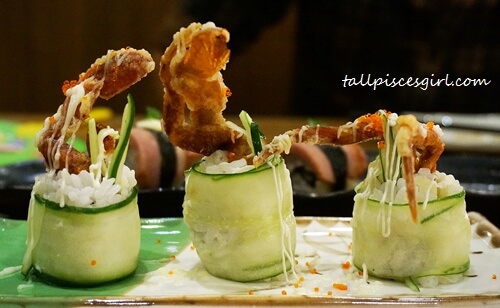 A delectable take on the traditional maki – cucumber-wrapped crispy soft shell crab and flying fish roe drizzled with mayonaise. Apart from chicken, beef and salmon, diners can also enjoy a greater selection of tastes with the brand new smoked duck series. The succulent smoke duck certainly adds a touch of tantalising enjoyment in the form of traditional rolls, noodles, hot pot (Smoked Kamo Maki, Smoked Kamo Ramen, Smoked Kamo Nabe) and more.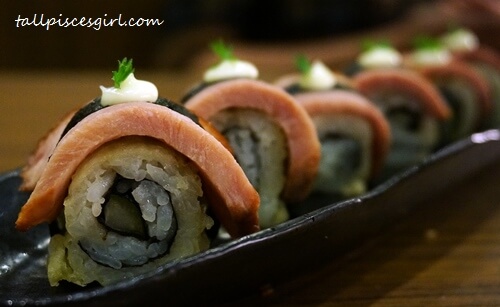 Smoked Kamo Maki
– Fried sushi rolls with Japanese cucumber and seaweed topped with succulent smoked duck. It's really good because the duck meat is thick and well-smoked.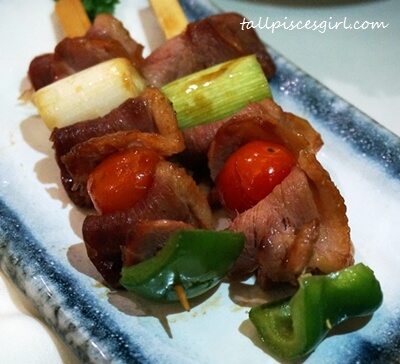 Kamo Kushiyaki
is smoked duck and vegetable skewer with sweet teriyaki sauce. A distinct innovation in this new menu is the use of Nanban sauce in preparing selected dishes to create sumptuous new flavours. Sweet and sour in nature, this sauce makes for a flavoursome addition that local taste buds will surely welcome.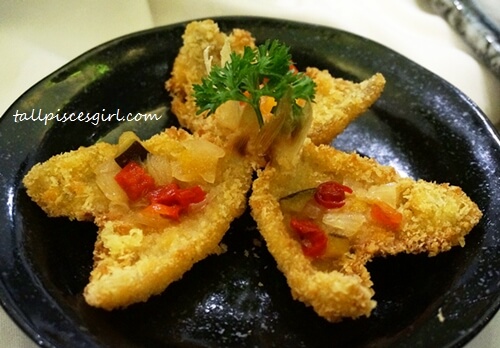 Breaded threadfin bream deep fried to a golden brown crisp and complemented with flavourful Nanban sauce.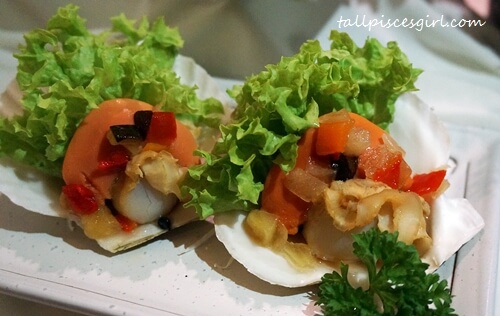 Succulent half shell scallops grilled with Nanban sauce.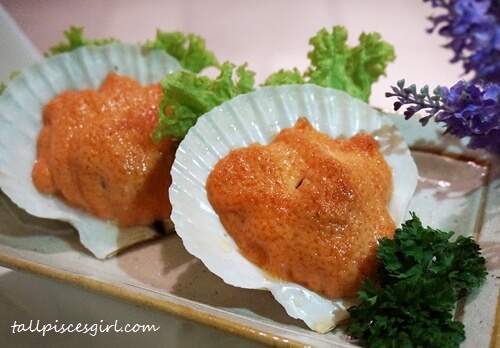 Succulent half shell scallops grilled with cod fish roe. Sakae Sushi is introducing Mini Donburi selections for light eaters. These mini rice bowls comprise of rice with assorted seafood and meat served with various savoury toppings. There are a total of 7 choices of Mini Donburi including Unatama, Chicken Teriyaki, Beef Kinoko, Curry Katsu, Salmon Ikura, Chrirashi and Kani Fumi.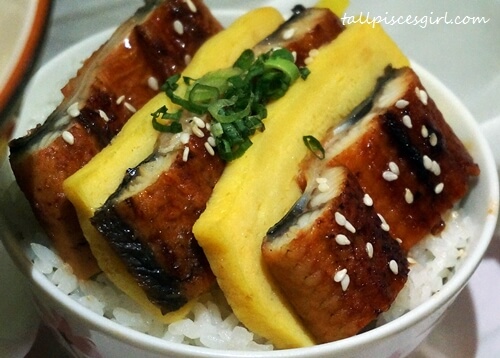 Unatama Mini Donburi is my new favorite! I love eating unagi and these melt in your mouth premium river eel topped with Japanese omelette served on a bed of soft, warm rice is just perfect.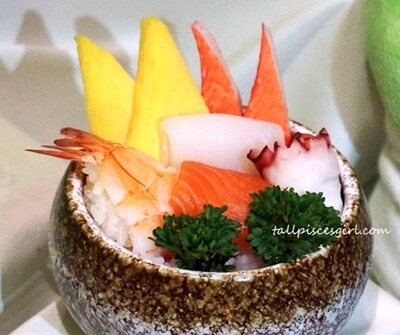 Assorted sashimi like butterfish, salmon and more in mini rice bowl is recommend for those who wish to try more variety of food.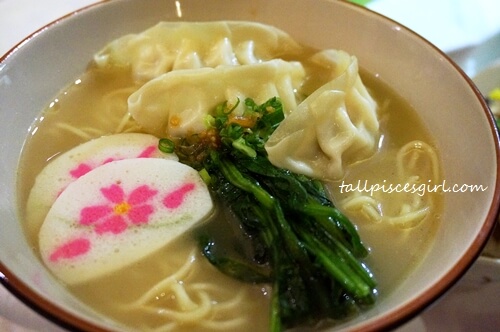 Gyoza ramen
is dumplings, spinach, Japanese fish cake and egg served with ramen in piping hot chicken soup base. This is a great alternative for our Muslim friends since this ramen is halal.
As always, kids who dine at Sakae will also be delighted to see the fun and tasty Kiddy Sets. Whether it is the Fire Engine or Train set, the little ones will surely have a fun time savouring healthy food being served on cute and adorable platters. The new additions to the menu will also see the introduction of new mocktail, floats, coffee (Genmaicha Latte, Matcha Coffee) and Babycino series – Mr. Babycino (Citrus) & Ms. Babycino (Strawberry). Sakae also boast new additions to their dessert menu with its latest rollout including Sakae Sundae, Karinto Manjyu & Ice Cream, Warabi Mochi and more.
Mr. Babycino (Citrus) is a sweet and cute looking "Froggie" concoction of citrus flavoured frothed milk topped with marshmallow.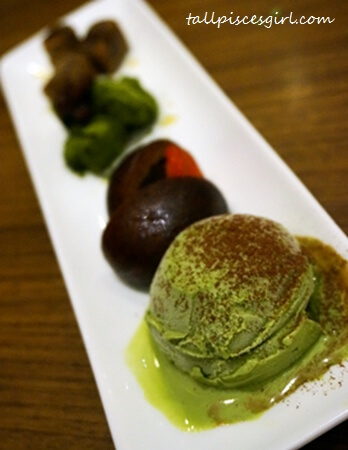 Aside from expanding their food selections, Sakae also has a number of awesome deals to reward patrons in conjunction with their 
18th Anniversary Celebration
. One of them is the
Snap, Post & Win contest
 that will be held from 28 Aug – 31 Oct 2015. All you have to do is take a creative photo with the Sakae Sushi New Menu Photo Standee, upload it to their Facebook or Instagram and hashtag #SakaeAwesome18 #SakaeNewMenu #SakaeSushiMY to stand a chance to win attractive prizes worth over RM 10,000! Don't miss
Awesome RM 8 Deals
too whereby you can enjoy new menu items at a special introductory price, as 18 selected dishes from the new menu will be offered at RM 8 each. The excitement doesn't stop there! Throughout the entire campaign period, surprise Awesome Flash Deals awaits as they will unveil awesome deals on
Sakae Sushi Malaysia Facebook Page
. So remember to stay tuned!