Before the launch of
innisfree Orchid
Range's new packaging and additional products, I was pampered with some products from
innisfree Ginger Oil Range
(and a Paul Frank Eco-bag!). The timing was just right to prepare for Chinese New Year! Big thanks to
innisfree Malaysia
!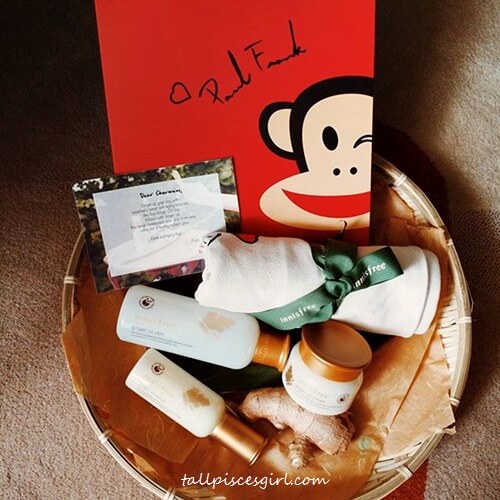 innisfree Ginger Oil Range
I've always loved innisfree for their natural approach to skincare, bringing mother nature's resources to good use. Their formulation is also paraben-free, making it safe for consumers. Ginger has been known as a universal healer since ancient times. I personally like to add a few slices of ginger into my cooking as well because the warmth from it can sooth the digestive system and eliminate gas. That being said, I bet many of us didn't know that ginger can be incorporated into skincare as well. As always, the ingredients from innisfree's skincare products were sourced in the pristine environment of Jeju. This line is designed particularly to address skin aging due to
inner skin dryness
. Ginger Oil Range products is packed with high concentration of
6-Gingerol
, the active ingredient of ginger root that helps strengthen skin defense. The whole line consists of 5 products which are:
Ginger Oil Skin (Price: RM 105 / 200ml)
Ginger Oil Serum (Price: RM 132 / 50ml)
Ginger Oil Rich Serum (Price: RM 132 / 50ml)
Ginger Oil Cream (RM 132 / 50ml)
Ginger Oil Warming Mask (RM 85 / 80g)
Recommended order for Ginger Line skincare regime: Skin > Oil Serum / Oil Rich Serum > Cream > Warming Mask (weekly)
innisfree Ginger Oil Skin
The first step after cleansing is
Ginger Oil Skin
, a highly nourishing toner that contains natural xanthan gum, an ingredient that helps form a moist water protective layer on the skin. Protection is what your skin needs most when it's in very dry condition.
innisfree Ginger Oil Serum
Next, apply 
Ginger Oil Serum
 infused with 40% ultra-fine ginger oil, macadamia nut oil and olive oil. Despite the high oil content, it doesn't have a trace of stickiness and very lightweight. Absorption rate was very fast and skin has a dewy finish after usage.
innisfree Ginger Oil Cream
To provide deep nourishment for the skin,
Ginger Oil Cream
has been formulated with olive wax and ginger oil that melts softly to provide double moisture protection. The cream texture is velvety and buttery that blends well into the skin.
At first, I was worried that the smell of these products are going to be too strong just like ginger tea. I was relieved and grateful that they all actually
smelled pleasantly mild
naturally with goodness of ginger! I'm now hoping to try out the Warming Mask – getting excited just thinking about the warming sensation!