As of today, there are 3 Ippudo branches in Malaysia – Pavilion KL, The Gardens and Bangsar Shopping Centre. The outlet at Bangsar Shopping Centre has a more unique concept compared to the other two with a full-fledged bar and more premium selections in their menu.
In order to bring more excitement on top of their existing menu, Ippudo has been constantly introducing seasonal menu on a quarterly basis. This way, their regulars can always try something new. This seasonal menu will be available from 6th July – 30 September 2015.
Let's start with some appetizers. The first dish we sampled is called Marinated Cream Cheese with Crispy Seaweed. The tiny blocks of cream cheese were marinated with soy sauce beforehand which gives it an amazing flavor.
Here's how you should eat it:
Grab a slice of seaweed.
Put a piece of marinated cream cheese at the center.
Top it with leek and wasabi.
Roll it like sushi.
Pop the whole thing into your mouth and savour the layers of taste that emerged.
I've always loved tempura but this is the first time I get to eat such a huge one – Jumbo Ebi Tempura! Why is it so huge? That's because this is tiger prawn tempura, fried to perfection. I love the moist and firm texture of the tiger prawns.
Don't forget to add in the radish paste into their special homemade sauce and dip your tempura in for best experience.
Among all 3 new side dishes, my favorite was IPPUDO Ocean Roll. Not only it was physically attractive, but the combination of grilled salmon rolled up with avocado, crab stick and seaweed topped with fish roe and special teriyaki sauce just gave me
foodgasm
!
You will be able to taste the texture of the ocean in each bite. Rough texture of crab stick and avocado is complemented with the smooth texture of IPPUDO's special mayo and teriyaki sauce. These 3 side dishes are only available at IPPUDO Bangsar Shopping Centre.
As for main course, Tokushima Ramen is certainly a gem you don't wanna miss. The broth is a unique combination of chicken broth simmered for 5 hours and pork broth simmered for 13 hours. Dark soy sauce was added to create a rich and savoury flavour. Unlike the usual ramen, this was served with IPPUDO straight noodles and topped with a raw egg, generous slices of pork belly (butabara) simmered in onion fused soy sauce, green onions (negi) and bamboo shoots (menma).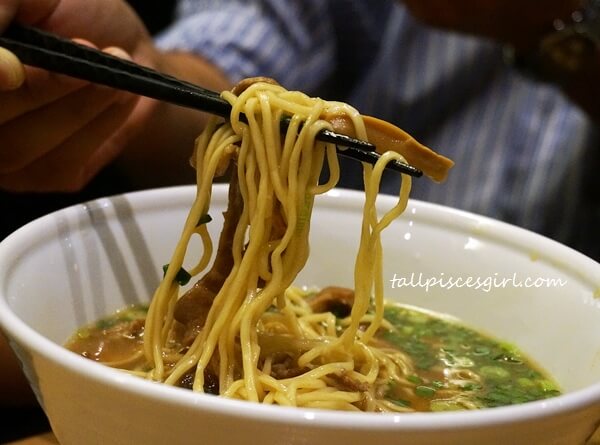 But first, don't forget to get a taste of the uniquely original broth before you mix the raw egg in. It's a personal preference on whether you'd want to mix it in or not. If you prefer thicker and sweeter broth, I'd recommend you to mix the raw egg into the broth. It will bring the taste up a notch!
P/S: Tokushima Ramen is available at all IPPUDO outlets 🙂
Address
: Lot G110 Ground Floor, Bangsar Shopping Centre, Jalan Maarof, 59000 Bangsar, Kuala Lumpur
Tel
: 03-2011 6238 Read about my other visits to IPPUDO here:
IPPUDO Malaysia New 2015 Grand Menu
IPPUDO Malaysia's New Seasonal Menu (Q1 2015)
HAKATA IPPUDO Ramen (一風堂) @ Pavilion, KL