Great food is never enough! Don't you agree? That's why I always feel excited when there are new eateries opening around me! It just gives everyone more choices and with competition, the food scene can be improved! That being said, I'm here to announce a great news to all ramen lovers in Kuala Lumpur – HAKATA IPPUDO ramen is finally here!
Entrance of HAKATA IPPUDO
HAKATA IPPUDO KL from outside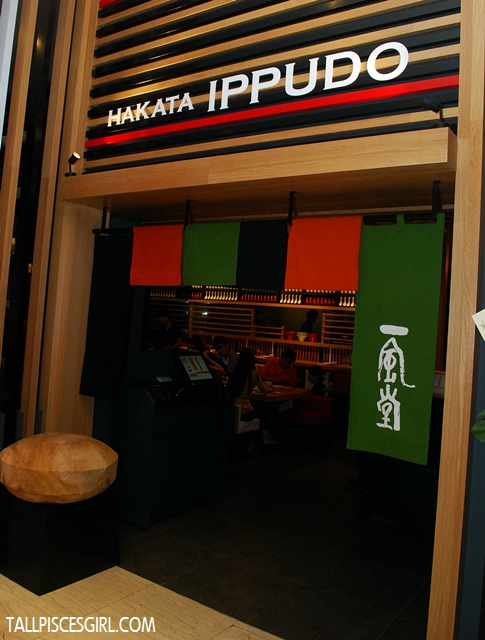 Greeted by energetic and passionate staffs as soon as I walked pass this door – Irashaimase~~
If you haven't known, IPPUDO was founded in 1985 at Japan by Shigemi Kawahara, the internationally renowned Ramen King and CEO of Chikaranomoto Company, which encompasses some of Japan's finest restaurants. Today, there are over 65 stores in Japan, and globally in places such as New York, Sydney, Hong Kong, Singapore, Taiwan, South Korea and Shanghai. IPPUDO has become the most popular ramen restaurant over the years.
Love the dimly lit ambience in the restaurant that gives a casual feeling
I love the fact that they have a tray beneath your seat so you can put your belongings securely!
Hot Green Tea
If you're a fan of Japanese appetizers, you'll certainly love HAKATA IPPUDO as I find that their appetizers are one of a kind ♥. If you're not, feel free to scroll down and read about the ramen reviews but I assure you that it'll be your loss :p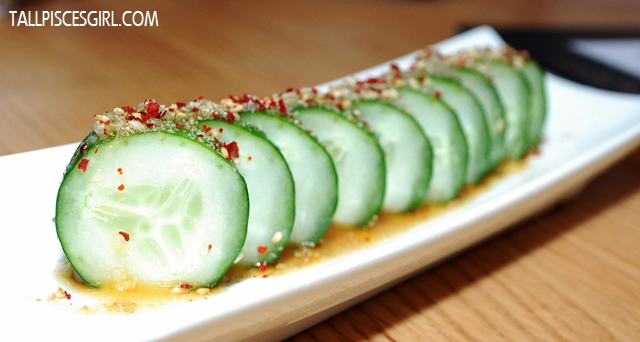 Goma Q Price: RM 9
Goma Q is a refreshing and cold appetizer made of fresh cucumber slices topped with sesame and chilli flakes. The special sauce gives it a sweet flavor, enhancing the taste of this crunchy appetizer. Great choice for health concious people!
Fried Young Corn Price: RM 8
Curry Cheese Haru Maki Price: RM 10
Fans of fried food might wanna try Fried Young Corn, a garlic-flavored deep-fried young corn with seaweed seasoning and Curry Cheese Haru Maki, deep fried spring rolls with a plate of curry cheese sauce to dip in. The Japanese curry cheese sauce is very addictive and the cheese blended very well in the sauce. Definitely a great snack!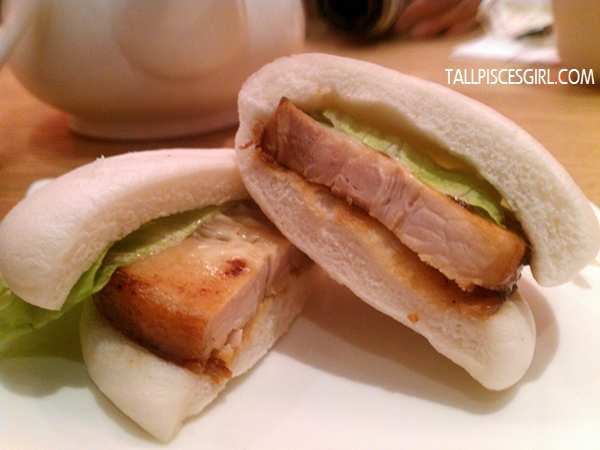 Pork Bun Price: RM 7
From the time we saw the menu, Pork Bun is the most anticipated appetizer of all! Apparently, it's an all-time favorite in IPPUDO! It certainly didn't let me down as the steamed bun was soft and fluffy and most importantly, the succulent braised pork tastes very good coupled with IPPUDO's original sauce.
Spicy Shrimp Mayo Price: RM 15
The lightly battered shrimps in Spicy Shrimp Mayo was deep fried and eaten with their home-made spicy mayonnaise dip. I love the texture of the succulent and fresh prawn oozing with sweetness although the mayonnaise doesn't really tastes spicy.
Hakata-style Soup Gyoza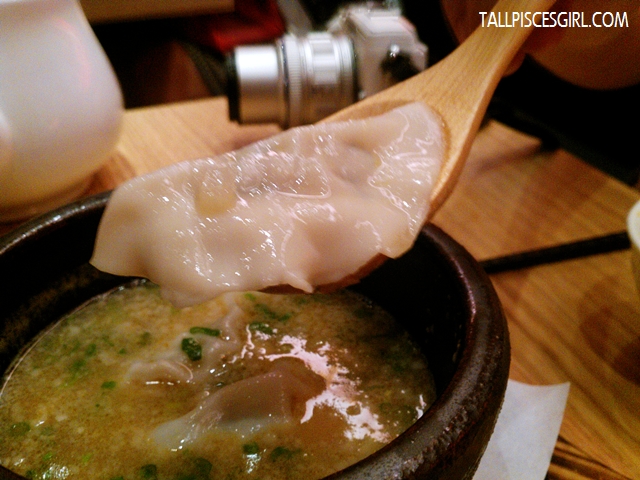 Gyoza
Hakata-style Soup Gyoza is a great alternative to the dry pan-fried gyoza as this one is boiled gyoza that comes with IPPUDO's original tonkotsu broth plus some added ginger! Perfect for soup lovers, it's smooth and flavorful!
And now, let's head to the
ramen department
, shall we?
Shiromaru Motoaji Price: RM 26
The most classic Hakata-style ramen,
Shiromaru Motoaji
is definitely a must-try especially if you're a first timer because I believe that the classic one should be good enough or else you can forget about the rest. They're serving ultra thin noodles in IPPUDO's original tonkotsu broth with belly chashu, bean sprouts, kikurage & spring onions. The tonkotsu broth was flavorful but yet not too thick, making it less salty compared to other ramen chains like
Yamagoya ramen
.
Belly chashu
has a good balance of fat, some to melt in the mouth and some to chew.
Akamaru Shinaji Price: RM 28
Akamaru Shinaji is known as the refined, modern-style ramen as they have enhanced the IPPUDO original tonkotsu broth with special blended miso paste, chilli and fragrant garlic oil to suit local taste that demands mild spiciness in their classic recipe. I'd certainly choose this as tummy warmer on a cold rainy day!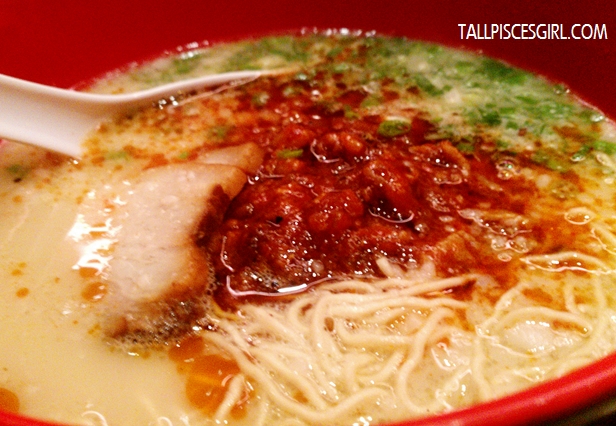 Karaka-men Price: RM 28
Karaka-men
was the spiciest among all 3 ramens that I've tried since it is categorized as 'IPPUDO Spicy Tonkotsu' in the menu. IPPUDO's original tonkotsu broth was mixed with special spicy miso and served with ground pork and spring onions. As a person who has low tolerance towards spicy food, I think it is still tolerable but I would prefer Akamaru Shinaji more.
The one thing I love most is their service. Noticing that we took quite a long time shooting the ramen, they offered (and insisted) to change a new bowl for us because they wanted us to try it as soon as it was served because leaving it for too long will affect the texture of the ramen to become soggy and coarse. Although customers are allowed to choose whether they want the ramen to be soft, normal or hard, but the staffs strongly recommend that we order the hard one. The reasoning is because normally Malaysians will take some photos, cool off our food by blowing on it, etc. so after all these gestures, the texture of ramen will be in best consumption condition if you order it hard.
Oh my! Look at those succulent belly chashu!
Even he can't resist the temptation!
Last but not least,
A Charmaine-was-here shot :p
Address:
Hakata Ippudo (一風堂)
Lot C4.07.00, Connection Level 4,
Pavilion Kuala Lumpur,
168, Jalan Bukit Bintang,
55100 Kuala Lumpur
Tel: 603-2110 6233
Opening hours: 11am -11 pm