What is the main hobby of Malaysians? Singing, dancing or reading? No, I believe it should be… EATING!!! And that is all because Malaysia has all the best food! Don't you agree? My friend in Finland just complained that she misses Malaysia already because we have a wide variety of choice over here! There's Malaysia, Italian, French, German, Korean, Japanese food and so much more! So off we went on one fine Saturday to one of Malaysia's food haven, Malacca!
An entourage of press & bloggers were to drive the newly launched car, Nissan ALMERA to Malacca. The excursion dubbed 'Eat, Play & Drive with Nissan' was flagged off by Alex Tan, Senior General Manager of Wilayah & Southern Region, ETCM at their Southgate, Cheras showroom. There were a total of 5 Nissan ALMERA and 5 other Nissan cars that lead the way and take care of us :p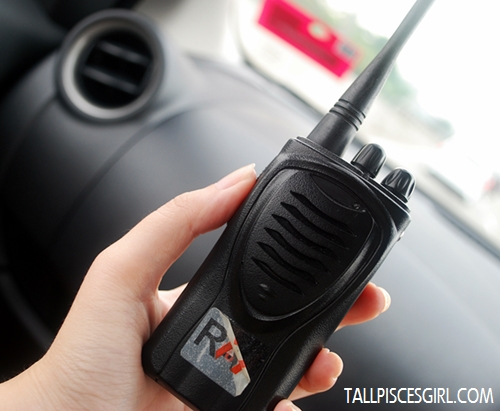 All communications are via walkie talkie! It's kinda fun!!
On the way to our first stop: Aunty Koh Cendol, we stopped at R&R Seremban for a break and photo session.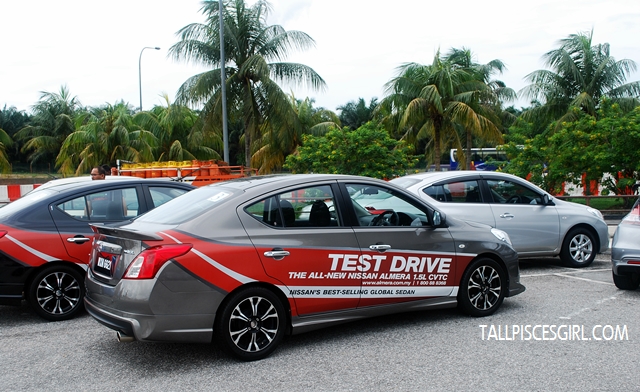 Sophisticated Nissan Almera
A group of us at R&R Seremban! So sunny!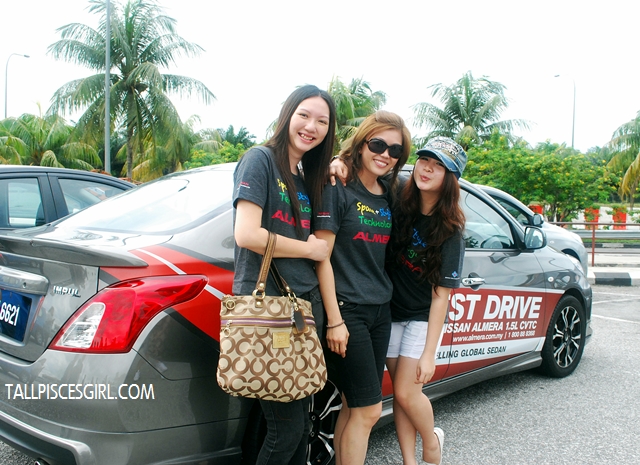 Yours truly, pretty Kelly and cutie Eunice!
April and I!
While everyone was busy taking photos, something unbelievable happened! We found a girl (Hui Ping) inside the trunk!! Nissan Almera's "Surprisingly More" tagline is really true!
Hahaha just kidding… she actually went in there to see how spacious the trunk is. I was kinda surprised by the size too. I think can it can actually fill in 6 Hui Pings inside XD
Hi Hui Ping! How was your stay in there?
And finally… it's my turn to drive!!! Teehee!! The guys were all scared to death because they don't trust female drivers' skill pffftttt!!!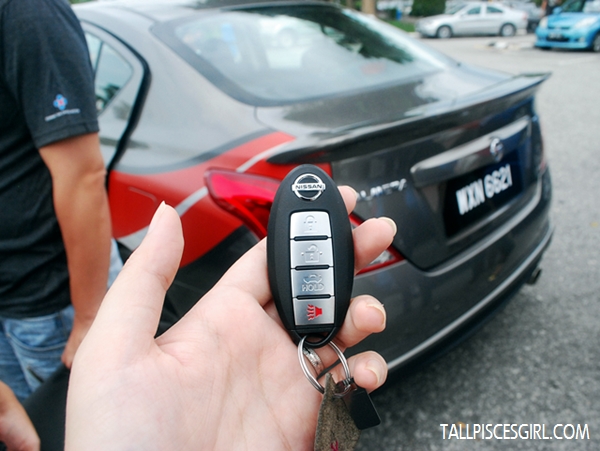 Love the keyless remote!
Another nice feature of the Nissan ALMERA is its locking system. Unlike some other keyless entry systems which still require you to press a button on the remote control, the ALMERA's intelligent key does not require you to touch the controller.
When in close proximity to the car, pressing a small button on the front door handle locks and unlocks the door conveniently allowing us to travel safely while heading to various destinations during this food excursion.
Nyahaha! *excited*
The spaciousness of this popular B-segment sedan is undeniable. Both the front and back seats are roomy enough to be comfortable for a long legged person like me. As I always travel outstation by car, level of comfort is the top priority for me. At a starting price of RM 66,800, it is totally value for money!
No key needed! Just press the Start/Stop Engine button!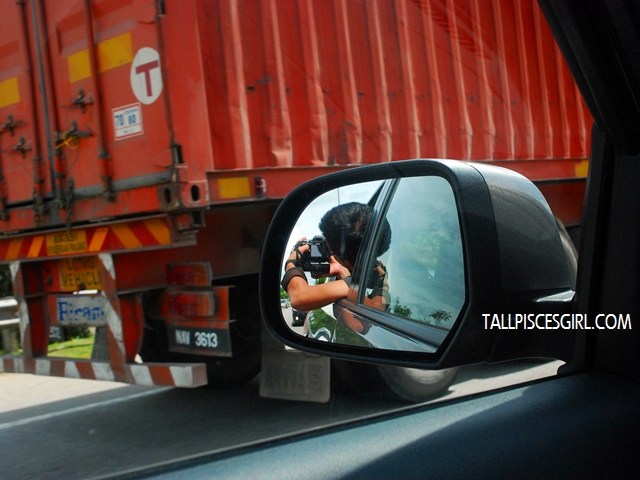 A candid shot of Sam shooting the cars behind
4 out of 5 Nissan ALMERA in the convoy all lined up at D-Paradise, Pantai Klebang
After our food tour ended, the sky has gone dark already. I totally love the blue and orange color combination on the dashboard. It's so cool!!
Nissan ALMERA continues to enjoy overwhelming response since its official launch a few months ago in Malaysia. Globally, it is Nissan's best-selling sedan in its class. Customers are raving about the surprisingly more upscale technology features and spaciousness that are usually found in more premium vehicles. Nissan ALMERA stands out with its competitive price which supports Tan Chong's commitment to provide affordable car ownerships to more Malaysians.
The on-the-road price (inclusive of insurance, road tax, registration fee and ownership claim fee) for Peninsular Malaysia will be as follows:
Grade

Variant

Price (RM)

E

1.5 A/T

66,800.00

1.5 M/T

69,800.00

V

1.5 A/T

76,800.00

VL

1.5 A/T

79,800.00
The all new Nissan ALMERA comes with a
3-year or 100,000 km warranty
(whichever comes first).
For more information, please contact their Customer Service Hotline at Toll FREE line: 1800-88-8368 or visit
www.nissan.com.my
. Test drives can be arranged at your nearest Nissan showroom.
Last but not least, a very big thank you to Hui Ping for the invite and Nissan for organizing this fun trip! Stay tuned for my write-ups on the food we enjoyed!
Here's a list of places we went that day:
Restoran Kota Laksamana
Klebang Coconut Shake
Ria Seaview Village, Seremban