Just looking at the photos of the
previous instalment of Hennessy Artistry
has got me all excited over again! Drinking, dancing and catching up with friends had been so much fun! Although I'm still slightly sick, but I've cancelled all events until Friday to focus on my recovery so that I won't miss the
pinnacle of H-Artistry 2012
this Saturday (
2nd November
) from 8.30pm onwards at
Malaysia International Exhibition and Convention Centre
(MIECC), Mines Resort City!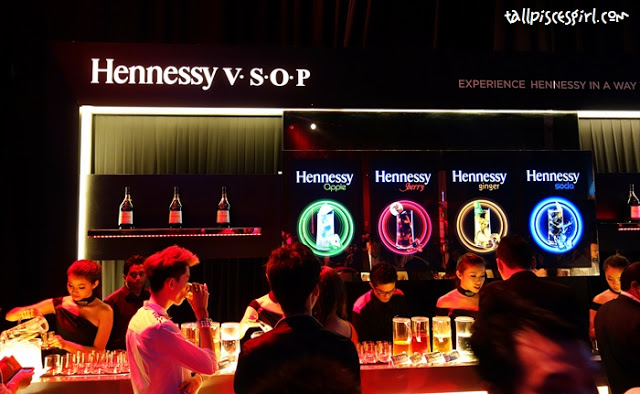 Had fun with Hennessy 360 Cam
This time around, it will feature a stellar line up of artists from around the world, as well as a trademark mix of sights, sounds and party vibes befitting of a phenomenal climax for 2012's blazing H-Artistry series. More than 3,500 guests will party at the red and black themed venue while enjoying long drinks from
Hennessy Art of Mixing Zone
, featuring the
Hennessy 360 Cam
.
Party goers will be in for a roller coaster ride of musical genres, styles and cultures from Korea and Australia to the US and UK. Artists set to perform at the H-Artistry finale are: Winner of X Factor and UK's R&B darling Alexandra Burke; world-renowned Australian DJ vixen Havana Brown, K-Pop boy band heartthrobs Block B, and Las Vegas' edgiest DJ Starkillers a.k.a. Nick Terranova. Collaborations, epic mash-ups, spectacular blends and fist-pumping remixes will be aplenty throughout the night, complemented by the signature Hennessy V.S.O.P. long drinks: Hennessy Apple, Hennessy Berry, Hennessy Ginger and Hennessy Soda.
Details of performing artists:
Alexandra Burke
Alexandra Burke
R&B – UK
Alexandra Burke from North London is the 2008 winner of The X Factor, a three-time chart-topper on the singles chart (her debut, a stirring cover of Hallelujah, sold 105,000 copies on its first day of release) and the creator of a UK number 1 album, Overcome, that features collaborations with the likes of Flo Rida Ne-Yo and RedOne. She can belt out a ballad and she brings energy in abundance once the tempo shifts up a gear.
Like all great pop music, her latest album "Heartbreak On Hold" effortlessly wraps lyrical sadness in songs that make you want to dance. From the frustrated stomp of first single Elephant – a song written about a relationship that was slowly stalling to the exuberant throw-your-cares-away dance rush of second single Let It Go, Heartbreak On Hold is an album that acknowledges the hard times but offers a window of opportunity for people to forget about it all.
Havana Brown
Havana Brown
DANCE – AUSTRALIA
As the only female DJ to sign a major label recording deal in Australia, Havana Brown has delivered on Universal Music's expectations with multiple releases of her Crave compilation series, all charting and spurning successful national and international club tours. DJ Havana Brown has since put out some hugely successful tracks, and continues to take over Malaysian dance floors and airwaves with the euphoric track "We Run The Night" ft. Pitbull.
Starkillers
Starkillers
ELECTRO HOUSE – USA
Formerly known as Nick Terranova, Las Vegas talent Starkillers has been cutting a swathe through the bolshier end of the global house music scene over the last few years with his tough-edged, eclectic sound.

He's succeeded without the hyperbole that surrounds so many other artists, his popularity speaking for itself with two of Beatport's Top 25 biggest-sellers of 2009 (including a Number 1 during the same year with his remix of Armand Van Helden's classic The Funk Phenomenon), and more sales smashes over the last two years. Then there's his Essential New Tune accolade from Pete Tong and an IDMA (International Dance Music Awards) nomination for his anthem Discoteka, and acclaimed remixes for some of the biggest names in the world – including Robbie Rivera, Paul van Dyk, Paul Oakenfold, Jerome Isma-Ae and iiO.
Block B
Block B
K-POP – KOREA
Block B was among the hottest K-Pop rookies to debut last year, and they have come a long way since. With three hugely successful records out, namely New Kids On The Block, Welcome To The Block and Do You Wanna B, Block B is one of the fastest rising K-Pop boy bands internationally, and have garnered lots of attention as well as a huge following throughout Asia.
Bringing hip-hop and K-Pop into the mix at the H-Artistry finale at MIECC, Block B is another crucial ingredient in the excellent mix of musical styles and genres that represents what H-Artistry stands for – The Global Art of Mixing.
Join in the H-Artistry finale this 3 November by watching this space for your chance to win invites:
www.h-artistry.com.my
. Also be sure to download the
MY Hennessy App
NOW from the App Store or Google Play onto your iOS and Android devices. H-Artistry is open to non-Muslims above the age of 18 only.
Note:
H-Artistry – The Global Art of Mixing strongly advocates responsible drinking and works towards ensuring the safety of each and every guest at the event. Among the safety and security measures implemented at the upcoming H-Artistry finale on 3 November are:
The H-Artistry Party Shuttle service will be implemented for the upcoming H-Artistry finale this 3 November. Guests are strongly encouraged to fully utilize this FREE shuttle service from various key locations across the Klang Valley to get to the H-Artistry venue at MIECC in MINES Resort City. Keep it locked on at www.h-artistry.com.my for details.
There will also be a subsidized taxi service made available for H-Artistry in collaboration with Sunlight Taxi. Keep it locked on at www.h-artistry.com.my for regular updates and details. Visit www.sunlighttaxi.com or call 1300 800 222 to book your ride to H-Artistry.
The organizers of H-Artistry strongly encourage guests to fully utilize the H-Artistry Party Shuttle and the H-Artistry Party Taxi services, as parking spaces at MIECC will not be available.
A chill-out zone within the venue will be set up for party goers to relax after the party has ended. A free-flow of mineral water will be provided for everyone.
Food and drink vendors will be made available outside the event venue for guests to relax and recharge after the party.
The Red Cross will be on standby throughout the night in case of any emergencies.
Shuttle bus locations
: