If you're headed to MyTOWN Shopping Centre, Cheras for some shopping or catching up with friends and family, remember to check your Shopee app for some attractive Deals Near Me from participating merchants.
Pay with ShopeePay at MyTOWN Shopping Centre
ShopeePay offers a variety of deals that you need, from food to entertainment. You're sure to find something amazing! Take advantage of ShopeePay when you use it as your preferred payment method at MyTOWN to enjoy discounts and more savings.
Rejuvenate Yourself
Consider pampering yourself with a facial and body massage after a long working day. Purchase Beauté Library's facial and massage ShopeePay Vouchers for only RM1 to enjoy treatment packages at special prices and pay with ShopeePay at the outlet. These vouchers are valid until 31 December 2021, so you have plenty of time to plan for your me-time and make an appointment.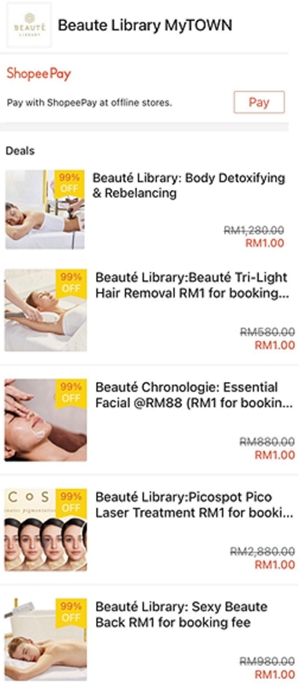 Get a Fresh Look
Haven't had your hair cut in a while? Tame your mane at Jadioc Barbershop or Kwik & Ez and enjoy an RM3 cashback (minimum spend of RM15) when you pay with ShopeePay!
Bag a Bargain
Are you planning for a trip with friends and family once interstate travel is allowed? Check out Travel for All as they offer suitcases, pouches, backpacks, laptop bags from various brands like ELLE, HUMMER, Pierre Cardin, and POLO CLUB. Remember to purchase the ShopeePay Voucher for 1 sen beforehand if you are getting a bag. This voucher lets you bag home an RM4 cashback if you spend a minimum of RM10 and pay with ShopeePay at the outlet. The voucher is valid for 7 days from the date of purchase.
Eat to Your Heart's Content
After all the walking around, shopping and exploring, who doesn't love some food & drink? There are so many options at MyTOWN Shopping Centre to choose from, so let "Deals Near Me" help you find your next meal!
Nando's: Get a RM3 cashback with a minimum spend of RM5; and if you want something sweet to complete the meal, consider Nando's Choc-A-Lot Muffin which is only RM1.90.

Nando's Deal and Cashback on ShopeePay

Boat Noodle: Receive a RM10 cashback when you spend a minimum of RM25 or enjoy 60% off on its Makan Sorang Combo, Makan Together Combo or Makan Semeja Combo when you purchase the deals on Shopee.
myBurgerLab: Treat yourself to some juicy burgers and a RM3 cashback when you spend RM15 and above, or a 40% cashback (capped at RM4) with no minimum spend.

myBurgerLab @ MyTOWN Cashback on ShopeePay

Street Churros: End a hearty meal with some good 'ol churros and a yummy RM3 cashback, minimum spend RM15. Additionally, if you fancy its Filling Churros or Churros Fries, remember to get the 1 sen ShopeePay Voucher to enjoy it for RM1.90 instead of RM7.90.
For more deals and savings, check the Deals Near Me in-app portal on Shopee and type 'Mytown' in the search bar. Remember to read the terms and conditions of the vouchers and stay safe!