With the world becoming more and more traveler's friendly, many people are moving house more frequently. Whether it's to be closer to family, live in another state for a season, or because of work, you might have to change your address more frequently than expected.
Changing your address on a regular basis might cause a few unforeseen problems. You will have to inform all governing bodies, financial institutions, and other subscriptions that you changed your address to continue receiving your mail.
In some cases, because of technical or communication barriers, your new address might not end up fixed on a system. This will result in you not receiving important tax notices from IRS, bank statements, federal notices, and other bills. Since you don't want to lose out on receiving important news, it will be smart to opt for mail forwarding services that will take care of all your mailing needs on your behalf.
If mail forwarding services are a new concept to you, then stick around for a closer look.
What is a Mail Forwarding Service?
It's a very easy and simple process, that can be used by anyone from around the world. The service allows you to create a permanent virtual physical address. All your mail, both urgent and regular, will be sent to this virtual address. It can then be forwarded to your new address in a jiffy.
No matter where you are, you will be able to receive magazine subscriptions, tax notices, paper statements, bills, federal notices, and healthcare information from your insurance company without having to notify any of the institutions.
For those moving within the United States of America, there is an option to fill in a 'change of address' document at the local post office or online. When you move within the US, you can notify the USPS that will permanently change it in their database, once they receive any of your mail an automatic system will forward it to your new address. Even though the previously mentioned option is perfect for those who will be making one permanent move; either moving abroad permanently or to a new city for a long term, it isn't a permanent solution. Especially for those planning to move around quite a lot.
For those planning on traveling around and who won't have a physical base for a few more years to come, a post forwarding service is the next best option. All parcels, envelopes, bills, and subscription magazines will be sent to one specific address. Once it reaches this address, a post forwarding service employee will be able to sign for your package on your behalf or scan the documents; with your legal permission, of course.
The post forwarding service will notify you via email whenever they receive new mail and you'll be able to direct them to take further actions. Learn more about mail forwarding services here: https://en.wikipedia.org/wiki/Mail_forwarding.
What Services Do Mail Forwarding Service Provide?
Different mail forwarding services have different basic provisions. The most basic services they provide include:
Signing for packages, parcels, and important documents on your behalf
Notifying clients whenever they receive postage
Opening envelopes and documents on your behalf
Scanning documents into a PDF document and emailing it to you
Forwarding packages, parcels, and envelopes to your current physical address
Most of these services are included in a monthly fee paid by the customer. Depending on your plan, your mail forwarding service might only accept a certain number of packages, parcels, and envelopes on your behalf. For any excess post, you will be charged an additional fee. Other extras that can be added will be for the service to deposit cheques, shredding and recycling confidential papers, high quality security, and the utmost secrecy.
Many businesses use mail forwarding services for the sole purpose of implemented security, to keep confidential information sent through the mail safe and secure. This will either include the secure shredding of documents or recycling. As well as the secure and protected storage of files, confidential information, media, and other industry specific storage.
Other additional services might include vehicle registration, finding registered agents, and applying for residency to a specific state.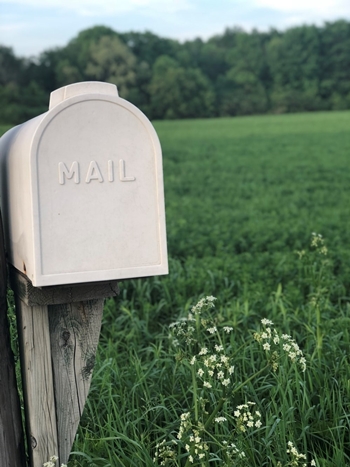 In most cases, individuals will be interested in either virtual mailbox services or traditional mailbox forwarding. This means that you can either receive your mail on your device or receive the specific parcel, package, or envelope at your new address.
No matter how big the package is, your forwarding service will be able to sign for it on your behalf. For more information on different package and types and sizes visit this guide.
For virtual mail forwarding, one can sign up for a plan that best suits your needs. After answering a few questions and filling out a few necessary forms, your account will be set up. Registration usually includes signing an agreement with the mail forwarding service's terms and conditions, as well as providing legal permission for the service to handle and open documents on your behalf. It's important to note, that opening someone else's mail is a federal offense and that it's extremely important to give permission through the right channels to avoid run ins with the law.
Clients might also need to provide their current addresses to receive future parcels. It's important that you update your address once you move again, especially if you want to receive packages and parcels or even a new bank card.
Once you've finished your registration you can log in to your profile or online portal and view your virtual mail on the cloud. Opting for a virtual mail forwarding service will not only make it easier to organize your documents, but it will avoid the pile up of envelopes on the kitchen counter. Especially envelopes containing junk news and spam. You will also have the option to receive it whenever its convenient for you, or when you are back at a base.
Virtual and traditional mail forwarding services are part of the future and it's making our lives that much easier.