Mid Autumn is the best time to gather and have a great meal with family members at Malaysia's First Ever Tea Restaurant, Purple Cane!
Inspired by the traditions of Tea Culture, Purple Cane Tea Restaurant unites traditional and novel tea lifestyle into their cuisines. Uniquely prepared, they infuse diversified tea in every dish to bring out the natural aroma and flavor of food. As a flavor enhancer, tea adds a subtle and refined taste.
Purple Cane Restaurant Mid Autumn Menu 2020
This Mid-Autumn, let's welcome the full moon with a grateful heart by celebrating with family and friends at Purple Cane Tea Restaurant. Choose from their selection of 4 specially curated Mid Autumn Family Set. As usual, all the dishes in these menus are infused with tea and designed with your health in mind. Each set caters for 4 pax and is priced from RM88 onwards. The best thing is, they have sets to cater for both vegetarian and non-vegetarian diners!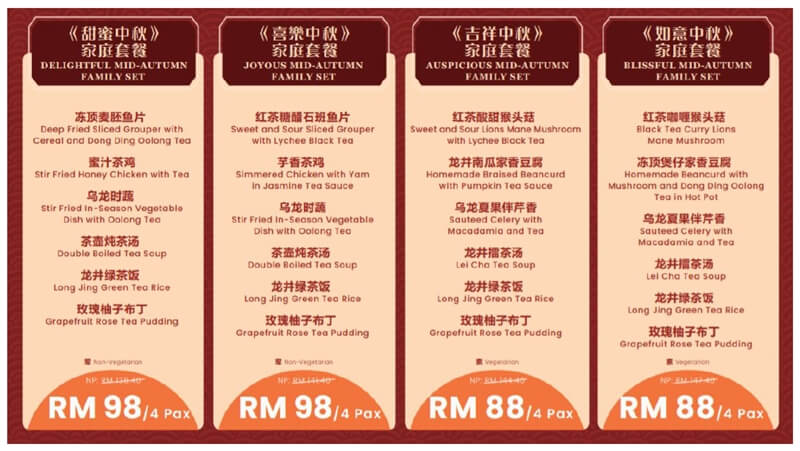 I had the opportunity to try their Joyous Mid Autumn Family Set, which is a non-vegetarian set menu.
Sweet and Sour Sliced Grouper with Lychee Black Tea (红茶糖醋石班鱼片)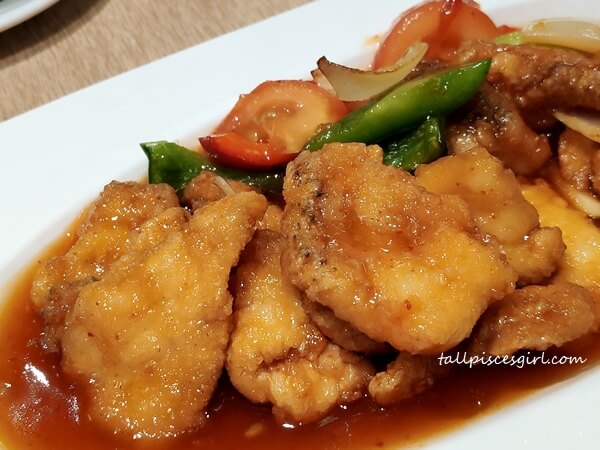 Sliced grouper fried til crispy before cooked with lychee black tea and mildly tangy sweet and sour sauce. I love how tasty the sauce is, not too sour for my liking.
Simmered Chicken with Yam in Jasmine Tea Sauce (芋香茶鸡)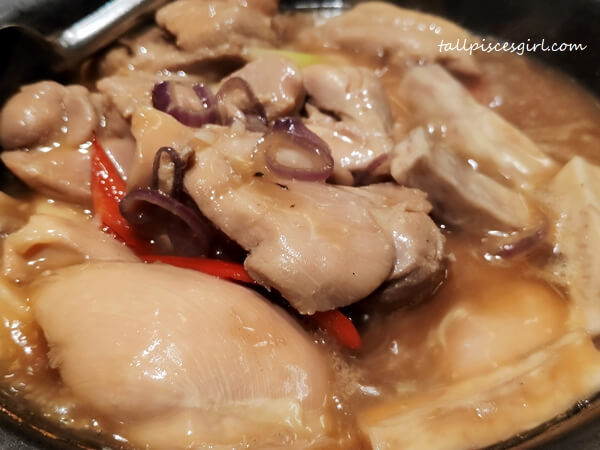 I appreciate the tender and juicy chicken cubes. They're so easy to savor especially for kids. Both chicken and yam were simmered perfectly in Jasmine tea sauce that goes very well with a bowl of warm Long Jing Green Tea Rice (龙井绿茶饭).
Stir Fried In-Season Vegetable Dish with Oolong Tea (乌龙时蔬)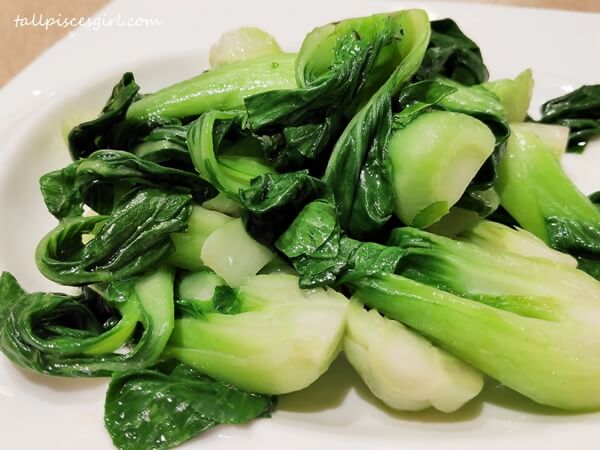 Stir fried vegetable is pretty common in Chinese household but what's unique at Purple Cane Restaurant is the fact that they stir fried them with Oolong tea so we can experience the health benefits of tea and gives the dish a unique flavor.
Double Boiled Tea Soup (茶壶炖茶汤)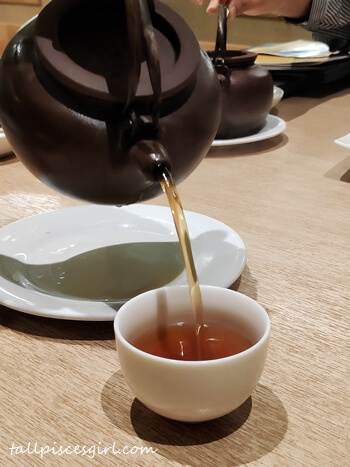 Have you ever seen soup in a clay teapot? This is a first for me! For this set, they're giving 2 pots of double boiled tea soup for 4 person. This tea soup has been double boiled for 8 hours to ensure the essence from all the ingredients were extracted out.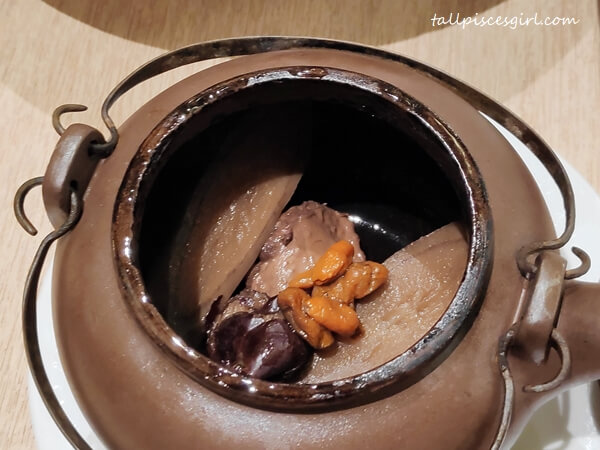 Ingredients include chicken, lotus root, red dates and goji berries. Naturally sweet and nourishing!
Grapefruit Rose Tea Pudding (玫瑰柚子布丁)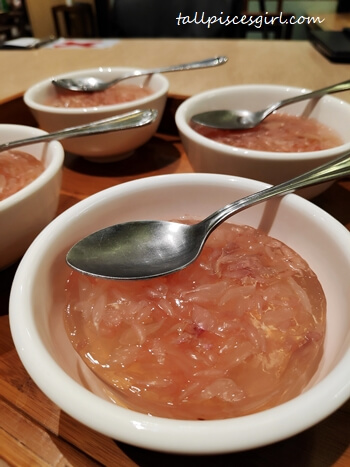 End your meal with their exclusive dessert just for Mid-Autumn season – Grapefruit Rose Tea Pudding, only available during this season and while stocks last. The grapefruits were delivered fresh from Ipoh and the flesh were extracted by the staffs themselves. That's a lot of hard work! I can feel the explosion of juices in my mouth with every spoonful. So refreshing!
Purple Cane Food Delivery Online
You have the option to dine in at Purple Cane Tea Restaurant outlets (Shaw Parade / Mid Valley Gardens) or have these 4 specially curated Family Sets delivered straight to your home.
Order Purple Cane food online: https://purplecane.oddle.me/en_MY/
Other Mid-Autumn Promotions
1. Purchase with Purchase (PWP) 50% off Tea & Mooncake Set
Enjoy 1 Tea Mooncake of your choice with 1 Pot of Mi Lan Xiang Oolong Tea or Rose Tea at 50% off. Read my review of Purple Cane Halal Tea Mooncake to see what mooncakes they're offering!
2. Buy 1 Free 1 Pudding Drink
Enjoy 4 of their handcrafted tea pudding drinks with Buy 1 Free 1 Promotion.
All their dishes are designed to be low-salt, low-fat, and low-seasoning, so you can enjoy great delicious food without feeling guilty. Purple Cane Tea Restaurant is the ideal dining place for tea lovers and health conscious individuals who appreciate healthy food without compromising taste and quality.
Address:
Purple Cane The Gardens
Lot LG206, The Gardens Mall, Mid Valley City,
58000 Kuala Lumpur
Purple Cane Shaw Parade
Lot L1-01, Shaw Parade, Changkat Thambi Dollah, Off Jalan Pudu,
55100 Changkat Thambi Dollah, Kuala Lumpur