The sincere exchange of blessings is the warmest start of the year! As a professional gift hamper brand in Malaysia, Jin Ye Ye 金爷爷 has been accompanying us to carry on the tradition of gifting and ushering in a sweet and wonderful Chinese New Year. Jin Ye Ye Chinese New Year Hamper is the most suitable gift basket for New Year as it is packed full of blessings and well wishes to family and friends.
金爷爷 Jin Ye Ye Chinese New Year Hamper
In the Year of the Rat in 2020, Jin Ye Ye strives to work hard to come up with various gifting options by the theme of "Good Luck and Prosperous Wealth". They have made great efforts to break through the traditional hamper stereotypes by including extraordinary high quality healthcare and wellbeing products that stand out in the market. Now, Jin Ye Ye has become the customers' favorite brand of seasonal gifts during Chinese New Year.
Jin Ye Ye has also collaborated with legendary Hong Kong TVB actress, Nancy Sit to promote the upcoming Chinese New Year hamper series.
"Good Mom" Nancy Sit as Jin Ye Ye's ambassador
Nancy Sit has been in the showbiz for more than 60 years. Many of us will remember her starring in classic dramas like "A Kindred Spirit", "Virtues of Harmony", "Return of the Cuckoo" and many other TV series. She has penetrated the hearts of audiences with a good mother image and a synonym for kindness, happiness and blessing. This is her second year as the spokesperson of Jin Ye Ye.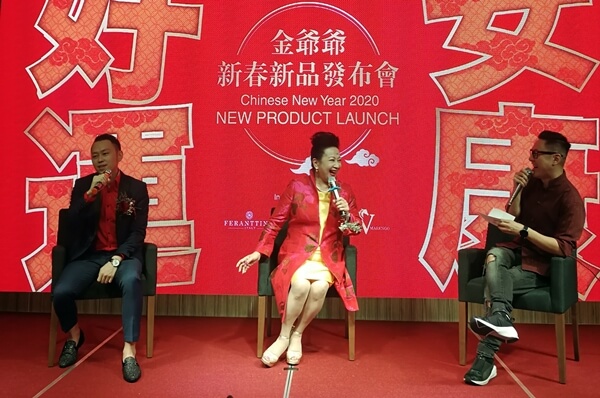 Nancy Sit specially flew all the way from Hong Kong to attend the launching ceremony in Malaysia at Noble Mansion, Jaya 33. She shared her gift-giving experience during the launch. With a smile, she revealed her excitement for the upcoming Lunar New Year as this is the time for family members to gather together for family reunion dinner. "Apart from that, I will visit and reunite with my relatives to deliver good wishes to them during the New Year," said Nancy adding that the whole festive feeling is very strong.
According to Nancy, it is a must to give gifts during Chinese New Year. Every year, her biggest headache is to find the right gifts to give when visiting her relatives and friends. But now, she doesn't have to worry about finding the right gift as Jin Ye Ye's hamper series is tailor-made to suit the needs of different people and this made her feel that it is full of sincerity. No matter you are the gifter or the receiver, you will definitely feel the intimate blessings that Jin Ye Ye has prepared for everyone.
Jin Ye Ye Shares "Good Luck and Prosperous Wealth"
In this upcoming year of the Rat 2020, Jin Ye Ye launched a brand new gift basket series themed "Good luck and Prosperous Wealth". As the saying goes, "health is the greatest wealth in life". With a healthy body and great aura, good luck will come and you will have a clear mind to manage everything smoothly! Therefore, Jin Ye Ye hopes that this hamper series can bring great luck and good health through the year to the receiver and gifter.
Jin Ye Ye Chinese New Year Hamper series are able to cater the need for different people with the idea of "Good Luck", "Good Health", "Prosperous" and "Fortune"! In terms of packaging, Jin Ye Ye also combines elegance and creativity for a perfect gift decoration that is popular with consumers and business people. Founded in 2008, Jin Ye Ye has grown a well-established sales network now. There are as many as 200 sales outlets throughout Malaysian shopping malls, and online sales are also very successful.
Jin Ye Ye's mascot is inspired by the God of wealth. The God's face is full of smiles and spring breeze, symbolizing the endless luck and blessing.
Managing Director of Jin Ye Ye, Alan Tan said "We have always been in the quality, packaging and meaning of the gift basket. Constantly innovating, I hope that this fine tradition with heritage can continue". For online purchase, head to
https://www.jinyeye.com.my
.