Kuchai Entrepreneurs Park has been well-known for being a hip and happening place for bar-hopping and wine-and-dine. Recently, I was introduced to Eco Wine, a specialized store that focuses on wine, craft beer and liquor.
Eco Wine has been around for 5 years and has been a trusted place where people source for imported alcohol which is not easily available elsewhere.
I love the vibes here – this is the perfect place to chill after a long and hectic day in the office and enjoy some good wine.
Have you tried
craft beer
before? I love to try different types of beers. Craft beers are produced by small and independent microbrewery and crafted by their very own brewmasters, so it's an interesting take compared to the regular beers by macrobrewery. We tried Cali American Pale Ale and Stay Puft Marshmallow Porter Dark Ale by Tiny Rebel Brewing that night, and personally, Stay Puft Marshmallow Porter Dark Ale is really really good!
Hidden Kitchen @ Eco Wine, Kuchai Entrepreneurs Park
But I can't imagine drinking alcohol without food. Luckily, this is where Hidden Kitchen @ Eco Wine came into the picture! 6 months ago, a pair of lovely local Chinese couple decided start this wine and dine concept so wine drinkers can have some food before and during their wine session. Trust me, it's better for your stomach and with the correct pairing, your wine can taste a lot better!
Together, this pair cooked up a storm with their home cooked recipes and has a strict rule of NO MSG because they believe that good tasting food comes from good ingredients! They offer a wide variety of fusion food selections from finger food, Japanese Kushiyaki to local favorites. With an experienced cook, they can handle Chinese, Japanese and Western style really well!
Let's start with their signature of light bites, Kushiyaki (Japanese Skewers) which is perfect to pair with craft beers. Each Kushiyaki dish comes in 2 sticks per portion.
Oh, this is heavenly! The ratio between the lean and the fat meat is just nice. Plus, the sweet and spicy combination makes it a very nice dish to pair with any alcoholic drink.
If chicken is your thing, this tender and juicy chicken meat will make you go ooh-la-la. How thoughtful of them to include some greens in the skewer too.
Crispy enoki bites wrapped with succulent pork loin got me salivating!
The texture of this Ebi Shioyaki is so good! I can't get enough of this firm and crisp fresh prawn although I have to say that it's quite spicy. This calls for more wine!
Fans of lamb, make sure you order this Lamb Shioyaki cos you're going to love how well-marinated it is and how nice it is to pair with a glass of quality red wine. Moving on to their snacks selection, they offer quite an extensive types to choose from, you'll be surprised!
How about some craft beer and fried chicken wing? Sounds like how Koreans pair their food, right? Well, it has been proven, so let's just follow and you'll never go wrong! I love the taste of Marmite Chicken Wing the most, but if you're an adventurous spicy food lover, do challenge the Spicy Chicken Wing that has spiciness Level 30!!
Nam Yu Pork is another Chinese dish which is well-received by many patrons here for being a good pair with their red wine selection. Absolutely love the crispy outside, tender inside pork belly cut.
Can't resist all these snacks when I chill with friends cos they're so good and perfect for sharing! I especially liked the calamari rings, it's not fried til oily!
These Porky Fries are pretty addictive. Once I took a bite, I really can't stop! Goes well with any type of alcohol.
Who says you can't pair wine with Chinese food?
You'll be surprised at how the taste of your wine enhanced to a different level after trying! They highly recommend pairing their Pork Rib/Pork Meat Curry with wine.
Everyone loves their Pork Curry! This is the crowd-pleaser and highlight in the entire night, so make sure you don't miss this. It goes well when paired with mantao because obviously you can't waste the delicious curry with fiery sambal.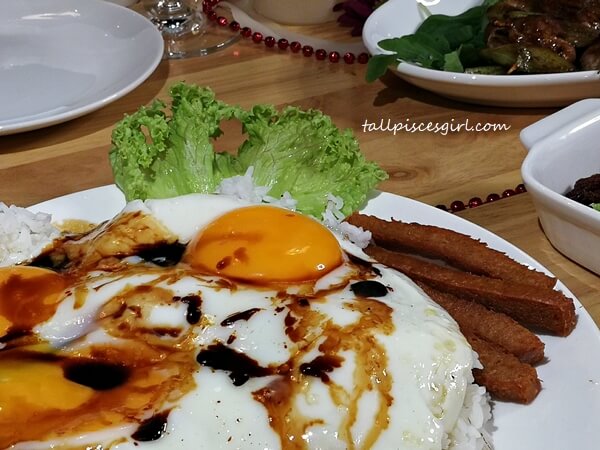 Eggs + Rice + Soy Sauce = Our Childhood Memory! Nothing could go wrong with this awesome combination that brings back childhood memories. Love their catchy Chinese name = Wang Pat Dan that engraved in my mind.
Feeling posh? Wine are best paired with cheese platter! Enjoy some high quality cheese with their Ham & Cheese Platter – they certainly did not disappoint! ♥
Canape & Party Platter are available for custom-made party packages. Contact them below to make your reservations!
Promotion of the month
: Purchase a bottle of wine and get RM 50 discount for second bottle!
Address
: Hidden Kitchen @ Eco Wine 12A, Jalan Kuchai Maju 11, Kuchai Entreprenuers Park, 58200 Kuala Lumpur
Tel
: 013-218 9953 (Racheal) / 012-323 3018 (Lai Ming) for booking of custom-made party packages
Opening Hours
: Monday-Friday 12pm – 2am Saturday – Sunday 1pm – 2am
Facebook Page
:
https://www.facebook.com/ecowinekl