FREE food and beverages, anyone? It's definitely a YES for me!
'Taste of Paradigm' @ Paradigm Mall Petaling Jaya
Paradigm Mall Petaling Jaya, the iconic suburban mall is organizing 'The Taste of Paradigm – Spend and Be Rewarded' campaign from 19th August – 17th November 2019 to reward their loyal shoppers and fellow food lovers. As a friendly neighborhood mall in the vicinity of Petaling Jaya, they not only offer unmatched shopping and leisure experiences but also provide their customers with close to a hundred F&B choices that promise to tantalize their tastebuds. Ms. Selena Chua, Chief Executive Officer of WCT Malls is excited to offer their loyal customers an opportunity to be rewarded with free food and beverages at their mall through the 'Taste of Paradigm' campaign. Paradigm Mall PJ has recently completed the first phase of Asset Enhancement Initiative (AEI), dedicating the entire LG level to the mall's first and only food court – Food Arcade. Food Arcade brings a mix of high-quality food and beverages outlet with a variety of flavors from authentic Malay, Middle-Eastern, Italian, Javanese, Thai, Hong Kong to Taiwanese food. The mall has brought in a number of new F&B options:
Nene Chicken
Waffuru Café
Sedap Sedap
T Bun
SRK Noodle House
Farmers Street
Nam Heong – Authentic Ipoh Delights and Delicacies
Nam Heong Ipoh is offering a wide variety of delicious timeless, authentic Ipoh food from appetizers, mains, snacks to drinks. I'm spoilt for choice! It's really hard to pick a favorite one since I really love a lot of their dishes.
For breakfast and my comfort food, I'll go for President Toast (Roti bakar). The crunchy bread texture paired with butter is very addictive. Alternatively, I sometimes go for President Flaky Croissant – a Westernized version of roti bakar. Pair these with Nam Heong Ipoh White Coffee would be perfect! For mains, I normally order Nam Heong Chicken Hor Fun – tasty chicken soup with slurpy hor fun makes my tummy happy.
Don't forget to try Ipoh famous Ipoh Caramel Egg Custard, egg tart and chicken sou as snack too. Having these without the need to travel to Ipoh is just bliss!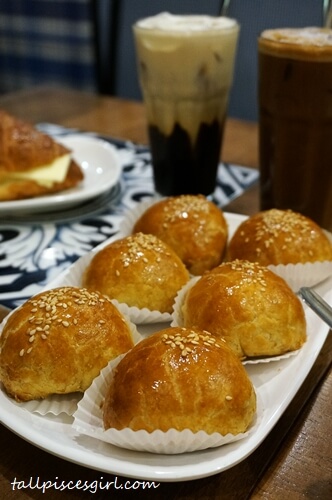 Location: Lot 56(P) & 59(P), Level CC, Paradigm Mall
Goku Raku Ramen
If you have never tried Horikiri Style ramen,
Goku Raku Ramen
is the place to go! It was introduced by a famous ramen connoisseur, Mr. Teruhisa Shimizu.
I had some tender and juicy minced pork meatballs paired with sweet and sour sauce, Niku Dango before our ramen arrived. If you like gyoza, try their Spicy Gyoza too!
Their excellently flavorful broth was simmered for long hours to bring out its exquisite taste. Plus, their ramen are made daily to ensure freshness!
Ramen lovers simply cannot resist this flavorful broth. Ade of pork bones boiled over medium to high heat for more than 10 hours where the essence is extracted and emulsifies to creamy consistency and hearty flavor. Location: Lot 26 & 27, Level 2, Paradigm Mall
Molten Chocolate Cafe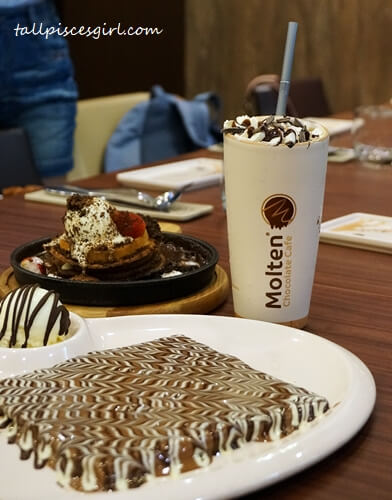 If you're an avid fan of chocolate, let me introduce you to chocolate heaven of PJ! Molten Chocolate Cafe offers delectable and rich indulgence that satisfies any dessert junkie.
Taste their irresistible Central European and American flavors of chocolate from a variety French crepes, Belgian pastries and waffles. Cocoa lovers would definitely dig in to Brownies Crepe with Ice Cream.
I like the Molten Cream Puff too. Cream Puff drizzled with chocolate and if you want more chocolate, just dip into the chocolate sauce!
Location: Lot 02, Level G, Paradigm Mall
Suki Cha
Originated from Japan, Suki Cha is a contemporary Japanese tradition brand that serves a variety of tea to help you recharge after a whole day of shopping. Their signature teas include Hoji Tea Berry, Hoji Tea Honey Lemon, Honey Lemon Sencha, Matcha Latte and Black Tea Latte with Pearl. There's option to add topping like Tokyo Flan to pair with your drink!
Location: Lot 55A, Level CC, Paradigm Mall
Seaweed Club
Seaweed Club brings you a all the yummy comfort food with a touch of healthy seaweed in its ingredient. Their signature is Seaweed Popiah which is filled with shredded carrot, cucumber, and sweet turnip coupled with mayonnaise sauce and chicken floss.
The Chicken Pumpkin Porridge and Nourishing Seaweed Soup are some of my favorites. I think it would be perfect during rainy days because it warms the tummy and body in general. Such a great comfort food.
Nyonya Kuih Pai Tee and Potato Salad Ice Cream were very interesting too! Will be back for more! Location: Lot 35P, Level LG, Paradigm Mall
Warung Mama
Looking for traditional Malay food? Then, be sure to visit Warung Mama to satisfy your cravings for authentic Malay food like Laksam, mee kari, soto ayam, and nasi kukus.
I especially like their Nasi Kukus Daging Hitam. Juicy, tender beef is just great with the perfectly cooked nasi kukus.
Finishing my meal with a bowl of delicious cendol made me feels so Malaysian now that it's the month of August!
Location: Lot 59P, Level LG, Paradigm Mall I'm anticipating more exciting brands to join Paradigm Mall soon such as Mr. Chizu, An Viet, Daboba, Harum Manis, Salad Atelier and GinGer Thai! So make sure you don't miss this exciting 'Taste of Paradigm' campaign and reward your tummy with more delicious food!
Mechanics:⁣
Collect a Taste of Paradigm passport from Concierge counter.⁣
Get a stamp for every RM30 spent in a single receipt at any F&B outlets in @paradigmpj will be eligible to collect a stamp.⁣
Redeem FREE food / beverages upon achieving a certain number of stamps.⁣
* T&C apply⁣ For full contest details, kindly visit
http://www.paradigmmall.com.my