Ramen
has been one of Japan's staple food and favoured meal since noodles were introduced from mainland China in 1872. Over the century, ramen has developed into various styles with distinct soup types. At Goku Raku Ramen, you will discover their "
Horikiri Style
" ramen as introduced by noted ramen connoisseur, Mr. Teruhisa Shimizu.
Goku Raku Ramen @ Paradigm Mall
Ultimate Black
's ramen was topped with Japanese char siew, homemade braised pork belly, bean sprouts, spring onions, bamboo shoot strips, seaweed, lava egg, fish powder and fragrant garlic oil. The best thing about Ultimate Black is the thick flavorful soup that they've boiled for 14 hours – I can say that it's one of the best that I've ever tasted! I find that their soup is not as salty as other ramen joints as well.
To bring the soup to another level of awesomeness, we've tried adding
collagen balls
and
spicy miso
paste. The collagen balls melted almost immediately after we put them into the soup. The taste of the soup didn't change much but it has gotten a little thicker. The ladies loved the collagen enriched soup and never left a drop of it.
For a more unique variety, Goku Raku has introduced
Tan Tan Ramen
, a fusion between Japanese and Szechuan style for an extra kick. Japanese dry ramen was topped with stir-fried minced pork, cucumber, spring onion, Sze Chuan pepper and pine nuts. The combination with Onsen Egg is better tasting as it made the noodle less dry.
Kakuni Curry Rice
was served with braised pork belly, curry sauce, shredded chili and topped with soft boiled egg. However, this dish was a bit lacking as the taste and fragrance of Japanese curry was too mild. Nevertheless, I still enjoyed the braised pork belly!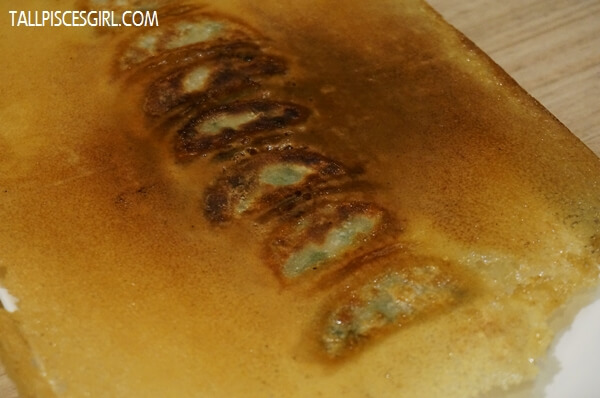 We definitely cannot miss trying Gyoza in a Japanese Ramen shop. And we had the chance to try Goku Raku's signature pan-fried Gyoza – 
Utsunomiya Yaki Gyoza
with the right amount of minced pork fillings inside.
I can't resist meatballs especially these
GokuRaku Meatballs
! The minced pork meatballs went very well with their sweet and sour sauce. Too bad we were all quite full already so I only had one.
Last but not least, we had
Annin Tofu
which is Almond Pudding with tofu-like texture. It's a love or hate relationship with this dish because some people might not like the taste of almond. To me, it was OK because I'm addicted to the tofu texture.
Address
:
GokuRaku Ramen
Lot 2-26 & 2-27, Paradigm Mall, 47301 Kelana Jaya, Petaling Jaya
Tel
: 03-7886 5774
Business Hours
: Daily 10 am – 10 pm