As city dwellers, a break from the hustle and bustle of the city is much appreciated. There's a Chinese idiom that says "Rest, is for us to be able to continue on a longer journey". As a nature lover, I'm glad to find the perfect place for a back to nature retreat and experience kampung life without breaking the bank.
Rimba Alor Orchard Villas Melaka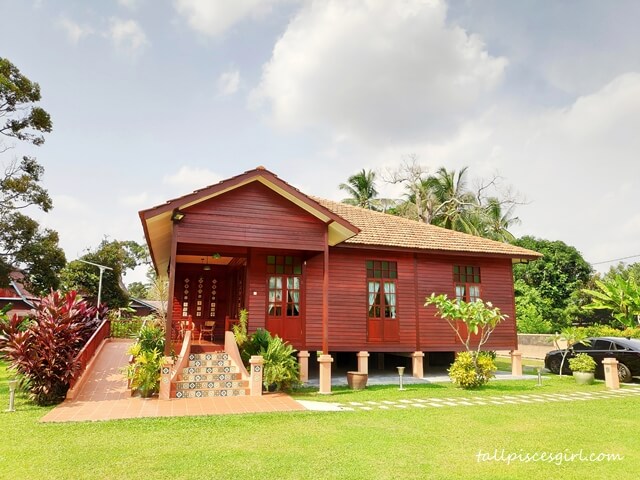 Located 25km before Melaka City, Rimba Alor Orchard Villas is a hidden gem in a village which is dated more than 500 years at Melaka Pindah, Alor Gajah. It offers a private and quiet hideaway with 2 traditional raised wooden Malay Nyonya style villas.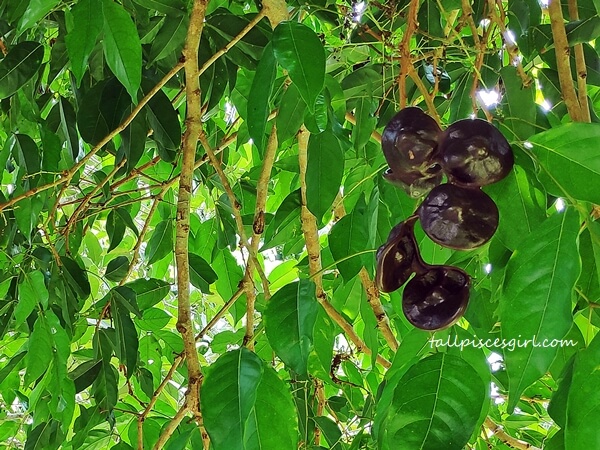 Surrounded by lush greenery, both Villa Rimba and Villa Alor are located at a comfortable distance of just around 150m opposite of each other. Tuan Haji Kaspur Mat, the manager of Rimba Alor Orchard Villas brought us to a tour around the 1.7-acre orchard that has a variety of food trees including a 90-year old durian tree. For people who spent their entire life in the city, this would be an eye-opening experience. I truly appreciate this sharing session as I totally have zero knowledge on fruit trees and plants. It's good to be able to learn and see them up close!
The best thing aside from seeing and learning is, guests are able to taste them too! YAY!!! We plucked our own rambutans from the tree itself and savored them immediately. Mr Kaspur also got us some fresh mangosteens and coconut water with the help of his gardener as welcome snacks. Other fruit trees at Rimba Alor Orchard Villas Melaka include banana, avocado, guava, cempedak, jering, lime and soursop. Thanks to the charm of nature, there are also 2 kelutut (stingless bees) beehives here where the honey is well-known for its medicinal and healing properties.
Villa Alor (Priced at RM 800 per night)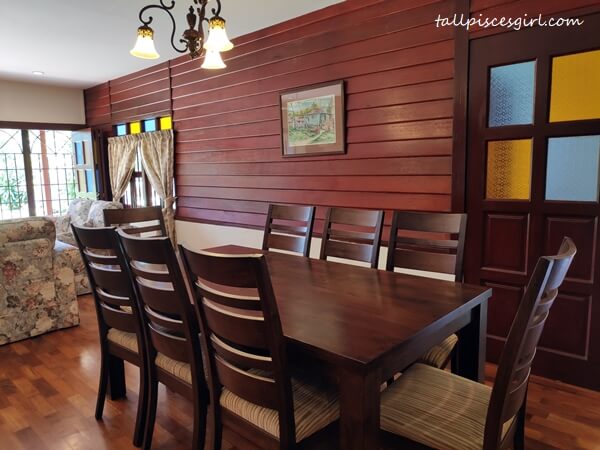 Villa Rimba and Villa Alor has 4 bedrooms each which can accommodate 16 people in total. If you have a large family, don't fret, they can provide another 4 single rollaway beds upon prior request at a small fee. Hence, each villa will be able to accommodate a maximum of 10 people.
Villa Rimba (Priced at RM 900 per night)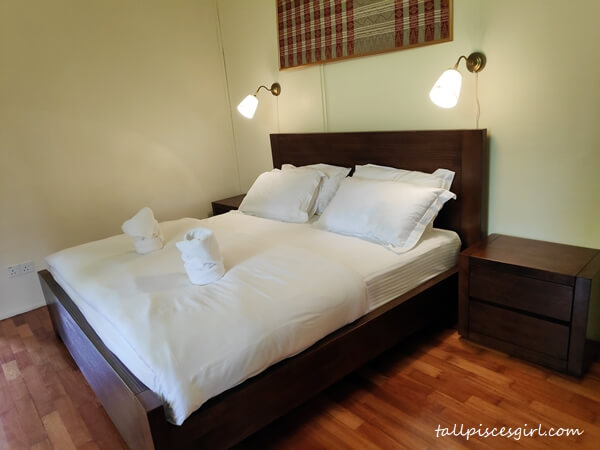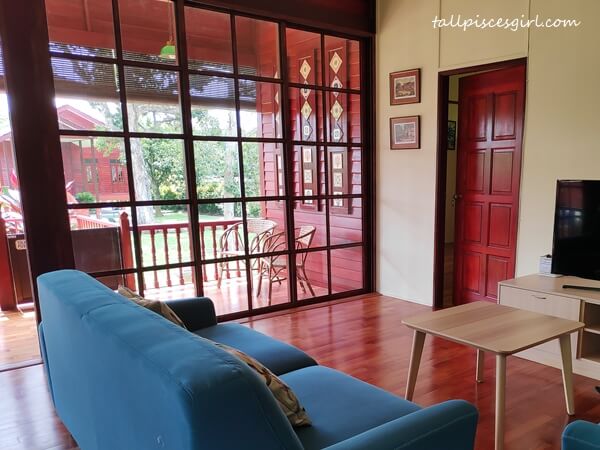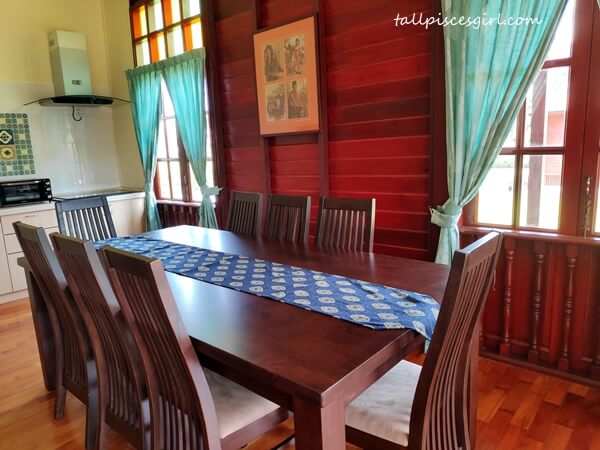 The rich cultural heritage of Malacca is displayed through the curved staircases decorated with colorful Peranakan style tiles, and colorful stained glass on doors and windows.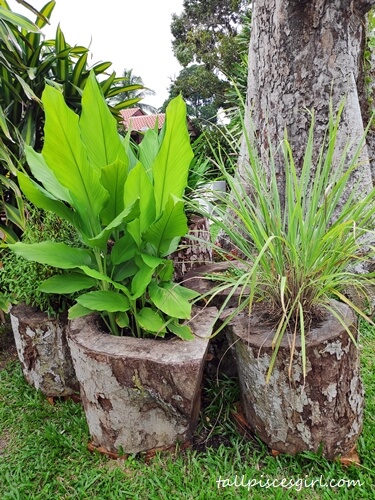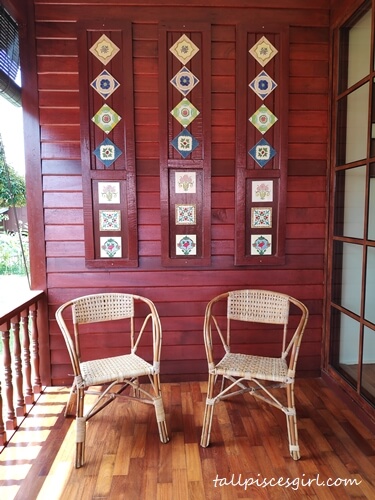 I also love how they repurposed the many items from the old kampung house to be decorations or other useful things in the vicinity to maintain the history of old kampung vibes. I'm a true supporter of zero waste and I think they should be applauded for this!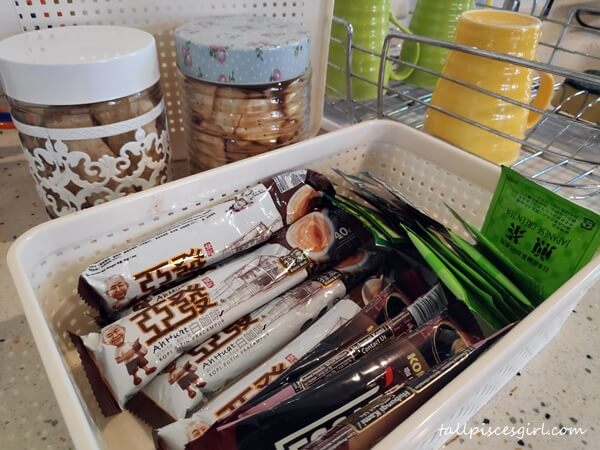 On the inside, the villas are equipped with air-conditioner, water heater, kitchenette, refrigerator, oven, water dispenser, and light snacks like biscuits, coffee and tea so you can enjoy the peace and serenity in a kampung without sacrificing comfort.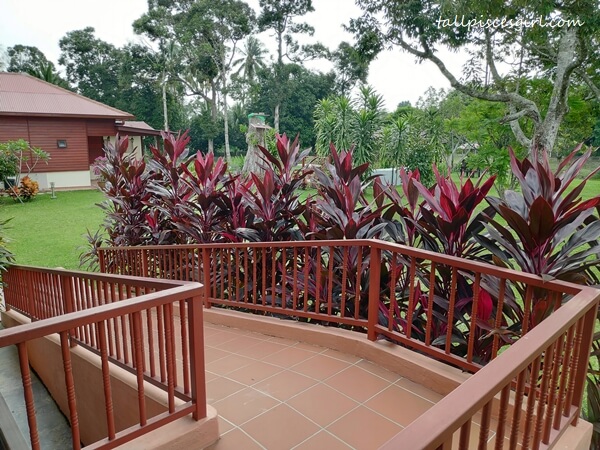 Both villas are wheelchair friendly.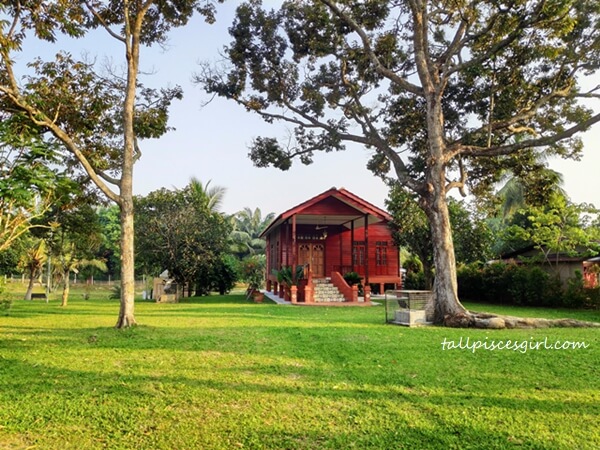 The rooms are very cozy and the beds were made perfectly with clean white sheets. Everything from the comforter, pillow and bed are comparable to a 4-star hotel. Toiletries like toothbrush, toothpaste, shampoo, bath gel, and bath towels are provided as well. It was truly a bliss to be waken up by the sound of chickens crowing during the dawn.
For those who fancy fishing or just want to train their patience, you'll be thrilled to know that they have an 8 feet deep fishing pond with a variety of fishes. Among them include tilapia, haruan and keli fish. After some sweaty activity, you can head to the outdoor shower to freshen up. The underground spring water comes from the well next to it.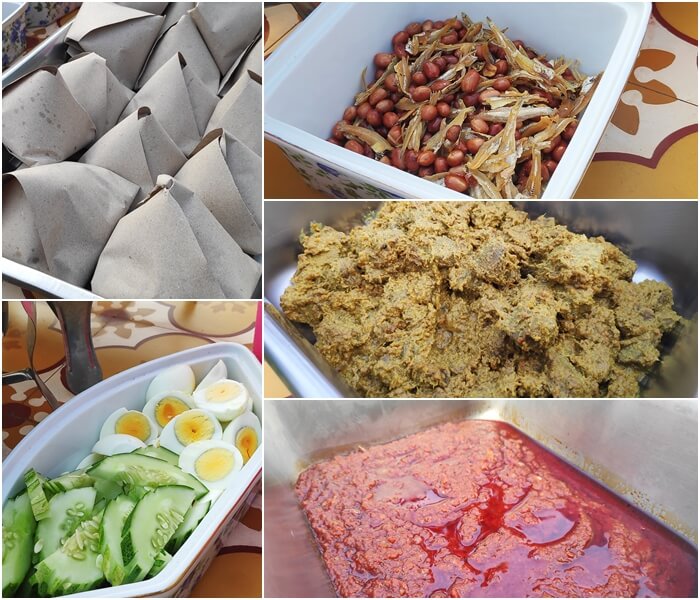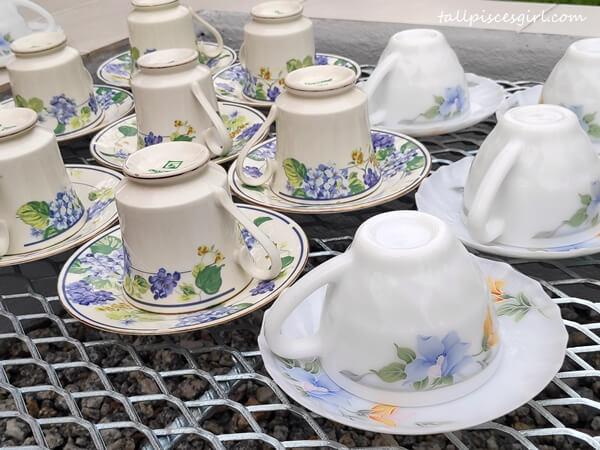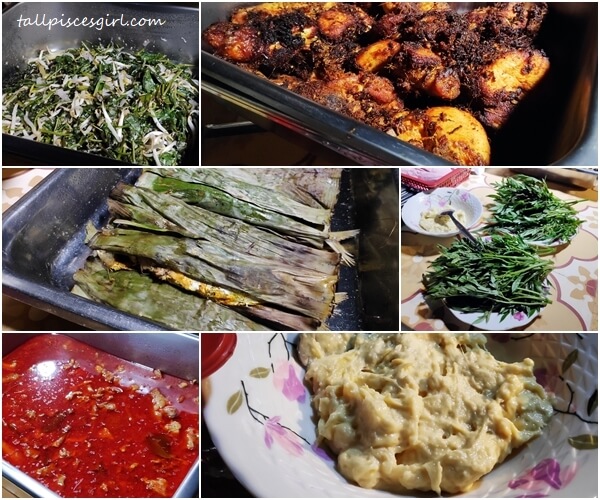 Under the shade of a 90-year-old durian tree is the outdoor barbeque area. Just so you know, you can approach Mr Kaspur for breakfast, lunch, tea, and dinner arrangements. The food are all catered by the local communities around the village. It's good to be able to give back and support the locals.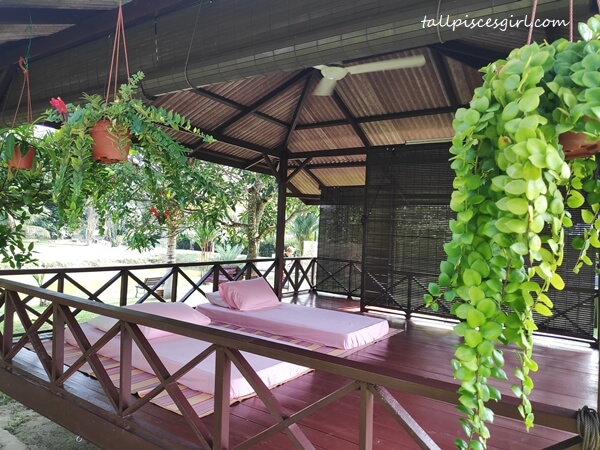 Shades are highly appreciated considering our Malaysian weather. Be it sunny days or rainy days, we can just relax in the wooden gazebo overlooking the pond. If you fancy getting a traditional massage or reflexology, masseurs are just a call away. Wooden blinds are readily available for total privacy.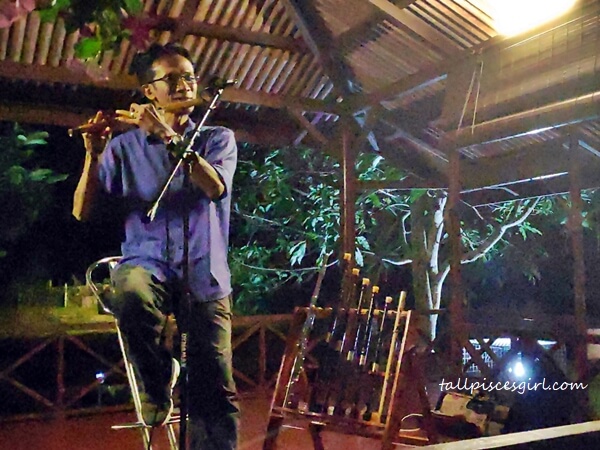 This gazebo will also be the place where performances will be held should you wish to request for live performance by the 'Dondang Sayang' group from Kg. Alai, Melaka or traditional flutist.
We truly enjoyed the immersive performance by solo flutist, Tawfan Inmala bin Asjhad Zaenie during our dinner. We were amazed by his ability to play hit songs of many languages from different generations using a variety of flutes. Think Top of the World by Carpenters to Despacito by Luis Fonsi. The music really made a difference to our dinner ambience.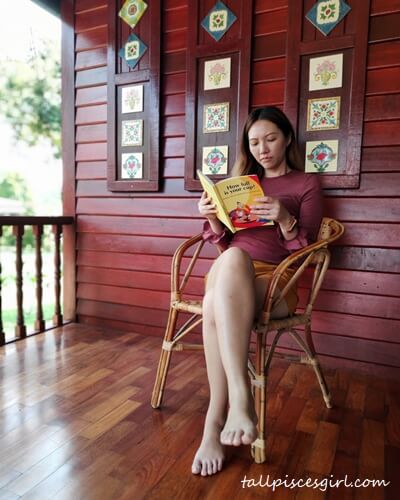 All of us have been talking about booking Rimba Alor Orchard Villas Melaka for next Chinese New Year! I think this is a great idea especially for people whose kampung is in KL. Now you literally have a real kampung. Let's balik kampung!!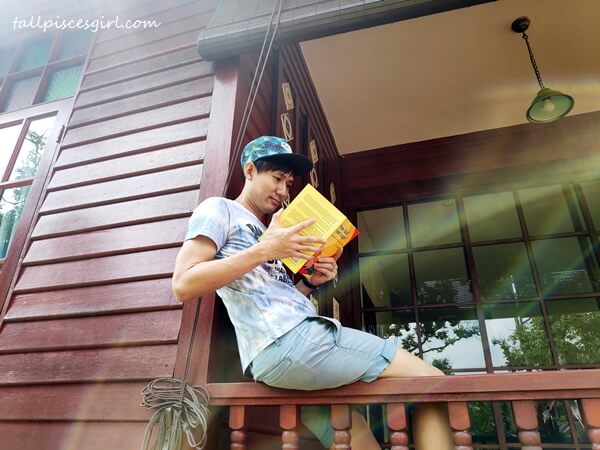 Last but not least, we felt the highlight of this brief but fun staycation comes from interaction with the hosts (including the cats!) and fellow bloggers whom I haven't been able to meet much lately.
Address:
Rimba Alor Orchard Villas
Batu 15 1/2,
Jalan Haji Abdul Rahman, Melaka Pindah,
78000 Alor Gajah, Melaka
Tel: +60193256582 (Tuan Haji Kaspur Mat)
Website: http://www.rimbaalororchardvillas.com
E-mail: rimbaalormelaka@gmail.com
* A security deposit of RM 200 per villa is required