It was a historical event for avid gamers last Saturday as Taiwan Excellence Esport Cup (TEEC) partners with Predator for their 9th Tournament Qualifier.
Taiwan Excellence Esport Cup Partners with Predator
In collaboration with the Taiwan External Trade Development Council (TAITRA) and Taiwan's Bureau of Foreign Trade (MOEA), the TEEC tournament was launched in April 2019 as an initiative to engage with Malaysians through community events such as e-sports, to further the introduction of technological advancements and consumer product exports from Taiwan.
Held at Cove Esports, Subang Jaya, this event has attracted a total of 32 teams and over 200 attendees from all over Malaysia. These teams were competing under 3 main e-sports titles: Counter-Strike: Global Offensive (CS: G0), DotA 2 and League of Legends.
Attendees who were not competing were treated to an exciting DotA 2 – 1v1 matchup. Everyone cheered in a thunderous roar when there were winners for specific criteria like first kill, first tower taken, and more.
Aside from that, attendees also queued up to try out the newly launched Predator Triton 900 laptop. Priced at RM 15,999, the laptop is equipped with a 360 degree rotating 4K IPS LCD display, six-core 9th Gen Intel Core i7 processor, Nvidia RTX 2080 graphics card, and 3268 of DDR4 RAM.
"Predator is always excited to partner stakeholders of the gaming industry, including esports. Our arsenal of gaming devices is helping gamers, both professionals and enthusiasts to conquer new worlds. Events such as TEEC provide another avenue for Predator to engage with audiences as we bring new technologies and innovations to the market," said Mr. Jeffrey Lai, Senior Product Manager of Acer Malaysia.
Mr Muhammad Hadi lmran Ruslan, Chief Operating Officer and Event Manager of Cove Esports expressed, "We have tirelessly put in our efforts to create the right infrastructure and environment for today's young winners. We recognize that it's our duty to contribute to the e-sports scene by setting the benchmark for the community with our facilities. We want to bring out the best in people and we will stop at nothing to ensure that."
During Taiwan Excellence Esport Cup 9th Tournament Qualifier, other esport consumer product brands under the umbrella of Taiwan Excellence also showcased their products to the community.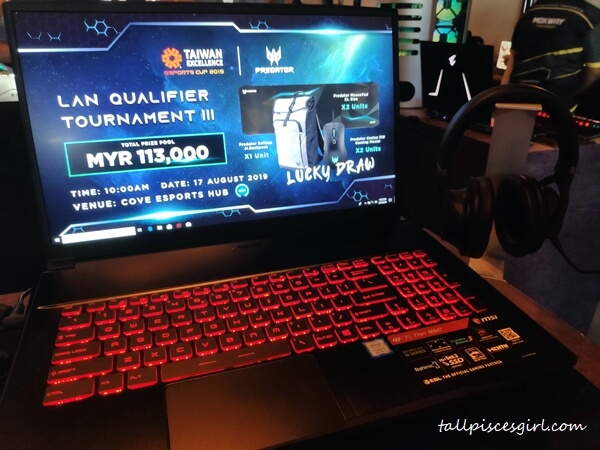 The final LAN qualifier will be on 7 September at Battle Arena, Petaling Jaya where the Taiwan Excellence Esports Cup qualifying series will end. The grand finals will be held at Berjaya Times Square from 11-13 October. The champions of CS: GO, DotA 2 and League of Legends will win RM 10,000 each, and the winning team for the CS: GO category will further receive a golden ticket to Taiwan to battle with four other countries – Taiwan, Thailand, the Philippines and India for a US$2,000 grand prize. The tournament is still open to the public for registration for the 10th Qualifier stage. If you're an avid gamer, you won't want to miss this! For more information on Taiwan Excellence Esport Cup, kindly visit
https://www.taiwanexcellence.org/en