New Executive Chinese Chef Tommy Choong Chan Hoo of One World Hotel's Zuan Yuan Chinese Restaurant has a star-studded resume. This culinary wizard brings over his conspicuous passion for cooking, together with 20 years of expertise in Chinese cuisine. Choong's goal is to achieve what is referred to as "clarity" — seemingly simple dishes executed with skill and subtlety, to bring out the ingredients' natural flavors and textures. This makes the quality of ingredients critical to him, for even the most basic dishes! This is definitely the vibe I felt when tasting his dishes – so simple yet so unique and tasty!
Chef's Signature at Zuan Yuan, One World Hotel March 2019
For the month of March, he is proud to debut some of his masterpieces and I'm so lucky to be able to sample them!
九层塔沙律生蚝煎蛋 Pan Fried Omelette with Oyster, Thai Basil Leaves and Mayonnaise Dressing
If you dislike raw oyster, this one's for you! The fresh oyster and omelette were lightly pan fried to perfection. Then, it was topped with Thai basil leaves, Mayonnaise dressing, and fish roe for extra oomph. I really love his rendition of Oh Chien.
金汤带子绣球羹 Braised Superior Soup with Scallop Dumpling and Saffron Flower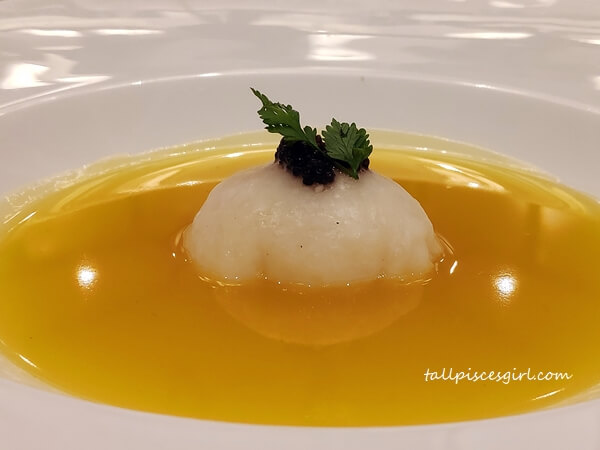 For the first impression, this soup certainly looks more like Western style soup than Chinese style. I don't really mind though because it was extremely delicious to the core. The superior soup has a sweet taste thanks to the yummy chicken broth based. Chef Tommy Choong put a lot of effort on the dumpling which was seated nicely at the center of the plate. The outside layer was actually made using scallops and when I took a bite, there were two huge and bouncy prawns inside! I personally love prawns in dumpling because it resembles Hong Kong dim sum.
合桃蒜片煎牛柳粒 Pan Fried Cubed Tenderloin served with Chef's Signature Sauce
Introducing the star of the menu – Pan Fried Cubed Tenderloin served with Chef's Signature Sauce which sent everyone to foodgasm! Another fusion dish, the cubed tenderloin was marinated with black pepper and Western sauces before pan fried to perfection. I'm amazed at the time precision when cooking the cubed tenderloins because it turned out really tender and juicy! Also not forgetting the crunchy and caramelized walnuts with white sesame seeds which complements the dish as a whole. I wish I could bring some home as snacks!
菘露油三鲜菇炒露顺 Stir Fried Australian Asparagus with Assorted Mushrooms and Truffle Jus
Although this dish looked the most ordinary, but the taste and aroma was absolutely amazing. I like the crunchy texture of Australian asparagus pair with assorted mushrooms, especially eryngii (king oyster mushroom). Goji berries enhanced the color of the dish and gives it a tinge of sweetness, while truffle jus enhanced the aroma.
窝贴小棠菜 Crispy Fish Cake with Minced Baby Cabbage served with Sweet Bean Sauce
This Crispy Fish Cake with Minced Baby Cabbage is probably the best fish cake I've ever had. On the outside, it was crunchy with bits of white sesame seed. On the inside, minced baby cabbage was paired with the fish cake to give it a hint of sweetness and crunchiness.
荷叶笼仔12头鲍鱼糯米饭 Braised 12 – Head Abalone with Wild Rice wrapped in Lotus Leaf
We were pretty full by now, but our stomach quickly made some way for this dish when we got a whiff of the aroma. The mouth-watering braised 12-head abalone was absolutely tasty. The rice wrapped in lotus leaves was very flavorful too as Chef Tommy added in some Canadian Wild Rice, diced mushroom, and Chinese Chicken Sausage. I think the lotus leaves played an important role too as it not only added aroma to the dish, but also taste. We also learned something new from Chef Tommy – do you know that Wild Rice is not rice but it is actually
aquatic grass
? This specially crafted promotion runs from 1 March – 31 March 2019. The specialties are priced from RM48.00 nett per portion. Expect a taste of adventure in the flavors, tastes and textures of dishes prepared with the finest ingredients at Zuan Yuan, One World Hotel Petaling Jaya.
Address
: Zuan Yuan Chinese Restaurant One World Hotel, First Avenue, Bandar Utama, Petaling Jaya
Tel
: 03-7681 1159
E-mail
:
zuanyuan@oneworldhotel.com.my
Business hours:
Monday to Friday: Lunch 12.00 noon to 2.30 pm Dinner 6.30 pm to 10.30 pm Saturday, Sunday and Public Holiday: Lunch 10.00 am to 2.30 pm Dinner 6.30 pm to 10.30 pm