I have introduced
AmLife bedding
to my beloved readers last year. I can't stress enough how important it is to get enough quality sleep. We spent almost half of our lives sleeping and while sleeping, our body heals itself.
AmLife Celebrates World Sleep Day 2019
This year, AmLife International Sdn. Bhd. returned with its World Sleep Day tribute. Together with the World Sleep Society, AmLife presented a sleep health showcase at Sunway Resort Hotel Petaling Jaya. With their new tagline, "Life, Redefined," AmLife is set to help Malaysians achieve better health through better sleep, thus redefining their lives. After repositioning themselves as a total sleep health expert, they are looking into more holistic ways to improve sleep quality and explore different sleep-related aspects such as health, beauty, and wellness.
Founder and President of AmLife, Mr. Lew Mun Yee is a firm believer in natural healing through deep sleep. Hence, he developed a full solution to help people regain health through good sleep. He said, "AmLife believes that everyone should have dreams and should chase after them. In our journey to realizing our dreams, we need to have a healthy body to pursue those destinations, and more importantly, enjoy the journey and the fruits of success." The slogan for this year's World Sleep Day is "Healthy Sleep, Healthy Aging". AmLife incorporated this theme and introduced their innovative, sleep health products which included the debut of the AmPower Platinum Blanket.
AmLife AmPower Platinum Blanket
AmLife AmPower Platinum Blanket uses an
anti-aging technology from Japan
which assures its user not only quality sleep, but also to wake up feeling restored, refreshed and rejuvenated.
AmPower Platinum Blanket is 100% made in Japan using platinum fibre and superior cotton. As the result of the latest weaving technology based on a scientific proportion consisting of 14 types of natural ore, it can withstand multiple washing and scrubbing.
AmPower Platinum produces one trillion vibrations per second that helps change the structure of water molecules in the human body. With a smaller cluster of water molecules, they become more active, ensuring our body stay hydrated and healthy.
This in turn helps promote the lymphatic circulation, accelerate toxin removal from the body, and strengthen the body's defense against against wind, cold, and dampness.
10 Benefits of AmLife AmPower Platinum Blanket
Effectively activate body fluids, delay cell aging process
Help to rejuvenate and refresh the skin
Promote lymph circulation
Promote quality of sleep
Initiate metabolism and detoxification
Restore immune system
Enhance slimming effect
Increase concentration
Improve muscle flexibility
Regulates body temperature – protects body against influences of wind, cold and dampness
Special price for my followers!
Original price for AmPower Platinum Blanket (single): RM 8,600 Special price for AmPower Platinum Blanket (single): RM6,880 Original price for AmPower Platinum Blanket (double): RM11,100 Special price for AmPower Platinum Blanket (double): RM8,880 To get this special price, call Evi: 012-2160266 and mention the promo code: AL07 Promo code valid until
30 June 2019 only
.
Future of AmLife
In order to break into the total sleep health market, AmLife is working on more sleep products in the pipeline which includes supplements to improve wellness. This is expected to be introduced later this year, which are projected to provide a Year-on-Year growth of 80%. Giving insights on the Sleep Health survey by The Nielsen Company, Mr. Edward Yong, AmLife's Health Consultant said, "9 out of 10 Malaysians suffer from one or more sleep problems, with 78% Malaysians feeling that poor sleep could cause health-related issues, and 47% said that it can cause beauty or skin problems. Everyone agreed that it is important to seek solutions when facing sleep disorders, with 43% Malaysians looking at natural solutions to aid with better sleep."
Also present at the event were international speakers cum sleep experts, Dr. David Samson, Assistant Professor in Biological Anthropology at the University of Toronto Mississauga, Canada, and Dr. Koyabu Miki, Integrated Chinese & Western medicine practitioner from Japan.
Key points from Dr. David Samson
:
Humans rely on sleep for cognitive function, yet sleep the least of any primate
Sleep is critical for a strong mind as poor sleep has been linked to mental disorders, for healthy aging whereby quality sleep protects adults from age-related cognitive decline, and to reduce the physical signs of aging
An estimated 300 million people in Southeast Asia suffer from insomnia, and sleep apnea, among others
Key points from Dr. Koyabu Miki
:
Sleep is important to let the brain and body get rest, on top of ensuring the hormones are balanced, and improving immunity to diseases
To ensure we age healthily, we need to ensure we practice good sleeping habits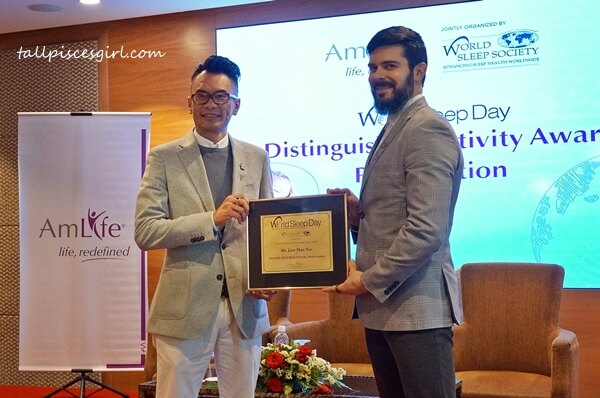 To recognize AmLife's effort to promote sleep quality in the international arena and their efforts in sleep education in the region, the World Sleep Society, an international organization founded by the World Sleep Federation and World Association of Sleep Medicine, presented the 2018 Distinguished Sleep Award to AmLife during the event. This is AmLife's second time winning this award. AmLife will continue to bring more natural sleep-aids that does not require medication or invasive injections into the Malaysian market.
HRV Test
During the event, I also took the chance to experience their free HRV (Heart Rate Variability) test. Through this test, I'm able to find out more about my autonomic nervous system and my result was normal. So glad to know that! For more information about AmLife, please visit
www.amlife.com.my
.