Noticing a sharp increase rate of insomnia and sleeping disorders within Asia Pacific, sleep health specialist Am Life International Sdn Bhd decided to organize Amlife World Sleep Day CSR Campaign to address these issues during their sleep care showcase at One World Hotel, Petaling Jaya. If you know me well enough, you'll know that I also always suffer from insomnia when I had coffee past 3.30 pm. Yes, it's that bad! In fact, sleep disorders impact 45% of the world's population.
Amlife World Sleep Day
The theme for this year's World Sleep Day is "Join the Sleep World, Preserve Your Rhythms to Enjoy Life". Hence, Amlife highlights the importance of quality sleep and their impact under the microscope. International sleep and health specialists were invited to Amlife World Sleep Day to present some key revelations and the unveiling of Malaysia's first national sleep survey conducted by Nielsen Malaysia. Key revelations include:
9 in 10 Malaysians suffer from sleep disorder
The average Malaysian only gets approximately 6 hours (against recommendation of 7-9 hours) sleep a night
Top causes of sleeping problems amongst Malaysians are stress, anxiety and depression
Consequences of sleep disorders include headache, fatigue, trouble thinking or concentrating and shoulder and neck pain
Malaysians agree it is important to seek solutions when facing sleeping disorder. However, 40% of them do not know the way
43% Malaysians prefer natural solutions when it comes to sleep better
What can you do to cure insomnia?
Very often, we know what we need to do in order to have a healthier life. For example, healthy diet, regular exercise, and ample rest/sleep. However, the lack of discipline to do it consistently is a huge problem! Thank goodness for Amlife, they introduced their first home-based medical sleep healthcare bedding with scientifically-proven Electric Potential Therapy which enables us to "create health from sleep" by prompting the body's natural healing process. This means health can be improved without medication, injection, nor invasive therapy. This solution is very effortless and convenient because we don't need to change our lifestyle or habits.
We will not forget or too lazy to use it. We sleep everyday!
Amlife's sleep treatment mattress is 100% imported from Japan. It was mooted and co-developed with Japan technologist which utilizes the scientifically-proven Electric Potential Therapy and Thermotherapy to promote holistic health.
Technology of Amlife Mattress
Electric potential therapy: Restores cell to optimal functionality
Thermotherapy: Envelop the customer with soothing and comfortable warmth to a deep sleep mode to promote body repair and healing
Electric potential therapy originated from Japan as early as 1928 with 40 years of clinical studies. Electric potential therapy is now recognized and certified by the Japan's Ministry of Health as a medical technology that can improve the following 8 symptoms: Headache, Severe insomnia, Shoulder / neck pain, Constipation, Indigestion, Cold hands & feet, Nerve / muscle pain, Chronic fatigue.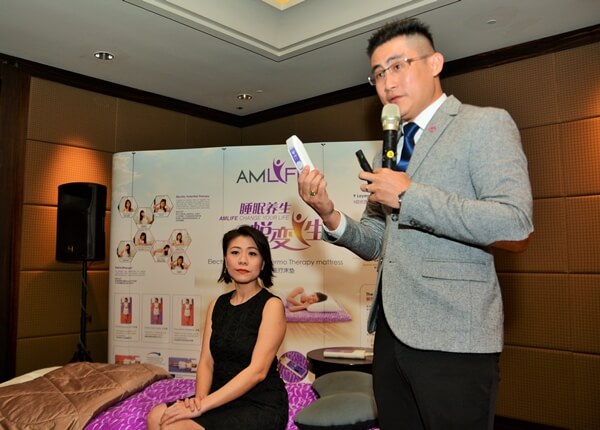 Today, Amlife's electric potential thermotherapy mattress has been certified by the Ministry of Health Japan, Malaysia and Taiwan as a medical equipment. It has also cleared several stringent screenings including
ISO 9001:2008 certification
International Quality Management. The bedding equipment would essentially be an electric potential carbon fibre thermotheraphy mattress complemented by 'high performance health pillow' and 'Hokutolite blanket' which could improve healthcare and prevent diseases.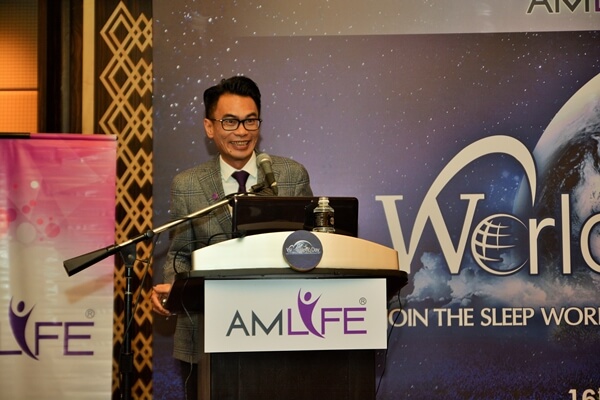 According to Mr. Lew Mun Yee, President and Founder of Amlife, they have been collaborating with the World Sleep Society and several authoritative and prestigious organizations in the sleep technology industry to advocate sleep care initiatives. Last year, the joint congress of World Association of Sleep Medicine (WASM) and World Sleep Federation conferred the World Sleep Distinguished Award in Prague to Amlife — making Malaysia the only Asian country to receive the prestigious Award. This year, Amlife had rolled out its regional roadshows targeting strategic audiences including the general public with sleep health talks, workshops, tips & solutions in key Asia Pacific countries – Taiwan, Singapore, Indonesia and now Malaysia. Mr. Lew said the current "sleep crisis" brings forth a sound "sleep economy" as people are beginning to take sleep quality very seriously. The relation of one's health is strongly linked to good sleep has been established firmly in people's mind. The market will continue to grow with good momentum and the "quality sleep market" industry will be a major trend in the future.
Amlife has invited Professor Dr. Laura Palagini, a renowned psychiatrist and an expert in sleep from Italy to advocate the importance of quality sleep. She touched on sleeping disorders in relations to mental health, a host of cardiovascular diseases and even Alzheimer's disease. With over two decades of research experience in biological, clinical psychology and an expert in sleep disorders, Dr. Laura explains circadian sleep timing is regulated by factors within the body but also by factors outside the body, environmental factors such as sunlight and lifestyle. "Disrupting circadian sleep timing impairs the sleep machine which regulates sleep. Sound sleep is one of the three pillars of good health along with a balanced diet and regular exercise. Sleep disorders impact health quality and trigger problems such as obesity, diabetes, weakened immune systems, various psychological conditions such as depression, anxiety and psychosis. Ultimately, our well-being & life quality, social & work productivity issues get compromised," explained Doctor Laura. This is why we should sleep and wake up at the same time everyday.
Dr. Koyabu Miki, a Western medical specialist / professional who also has extensive knowledge in Traditional Chinese medicine from Japan presented on sleep disorders and their adverse effect on our body, with focus on our immunity system and women's health. He also explained many modern lifestyle diseases have caused countless people to be immobile and bedridden. By using the revolutionary technology of electric potential therapy from Amlife mattress, these diseases can be prevented. Amlife is currently available in Brunei, Singapore, Hong Kong, Indonesia and Taiwan.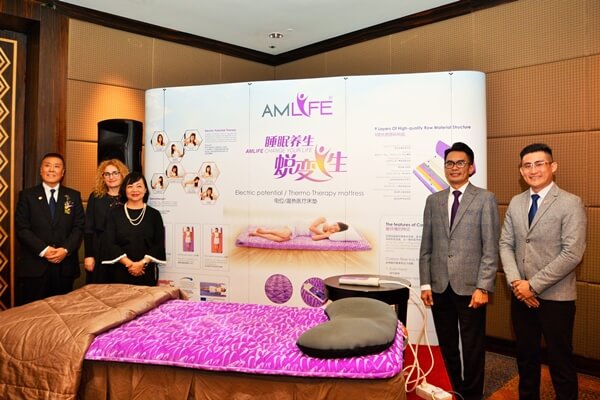 For more information on Amlife and Amlife products, kindly visit
www.amlife.my
.