In conjunction with Lee Kum Kee's 130th anniversary and to strengthen its efforts to promote Chinese culinary culture in South East Asia, Lee Kum Kee Hope as Chef Programme was introduced in Malaysia for the first time.
Lee Kum Kee Hope as Chef Programme
For this Hope as Chef Programme, Lee Kum Kee will be partnering with the Malaysia Selangor and Federal Territory Ku Su Shin Choong Hung Restaurant Association (KUSU), a reputable professional Chinese cuisine chef training centre in Malaysia. Through this scholarship programme, the renowned sauces and condiments brand hopes to nurture and encourage a new generation of young professional chefs to cull their recipe to success with its mission to ensure the longevity of the Chinese culinary culture and continuously promote it to the future generations.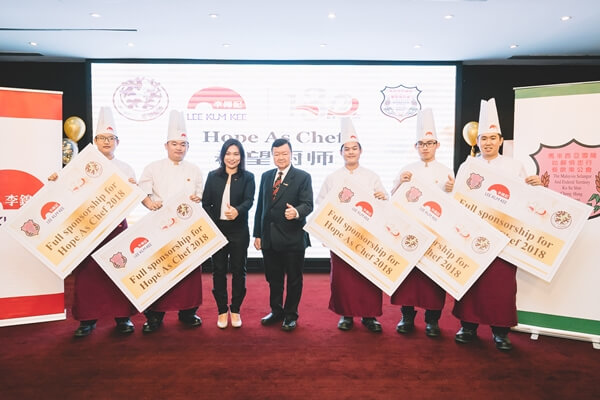 Lee Kum Kee believes in making a positive impact to the local community with a special focus in empowering young talents. With their mission of "Promoting Chinese Cuisines Worldwide", they hope to create a platform for aspiring chefs in Malaysia to further hone their crafts in realizing their dreams through this scholarship programme, and in the long run contributing towards the development of the Chinese culinary industry.
In honor of its 130th anniversary, Lee Kum Kee will be awarding over RM250,000 to 13 outstanding students of KUSU Chef Training Programme, supporting their 8-month culinary training leading to the completion of their diplomas. The organization aims to advance these future chefs' education through this programme and hopes to encourage many more young aspiring chefs in this region.
Lee Kum Kee Hope as Chef Programme was first rolled out in China over 8 years ago and has helped 540 aspiring youngsters with passion for oriental cooking, contributing towards the development of the Chinese culinary industry and promoting Chinese cuisines worldwide. With partnership with KUSU in Malaysia, the programme will be providing practical and useful training to develop and nurture talented chefs to be future professionals.
We had the chance to wrap our own dumplings whereby the fillings were marinated using Lee Kum Kee soy sauce. It turned out really tasty especially after dipping it into the sauce which was a concoction of different Lee Kum Kee sauces such as char siew sauce, chilli oil, chilli sauce, and soy sauce.
For more information on Lee Kum Kee Malaysia and recipe sharing, kindly visit https://malaysia.lkk.com/my/en/Kitchen/.