To have great, healthy skin, sounds quite simple. But in order to achieve it, is it really that simple? Riding on the Hallyu wave, Korean skincare e-commerce giant, Althea decided to launch their own skincare. And the focus of their skincare is the same as the range name: Althea Bare Essentials.
Althea Bare Essentials
The truth is, the conventional K-beauty routine requires 10 steps! Not everyone has the time for this, especially those who are working full-time and having a few kids to take care of. I really salute women who can manage this.
Noticing an encouraging demand in the market for basic skincare that can restore skin health, Althea Korea decided to do some R&D in this field. The result, a 3-product regime made with natural ingredients for urban woman. I've been using all 3 products for 2 weeks and here's my honest review about each product.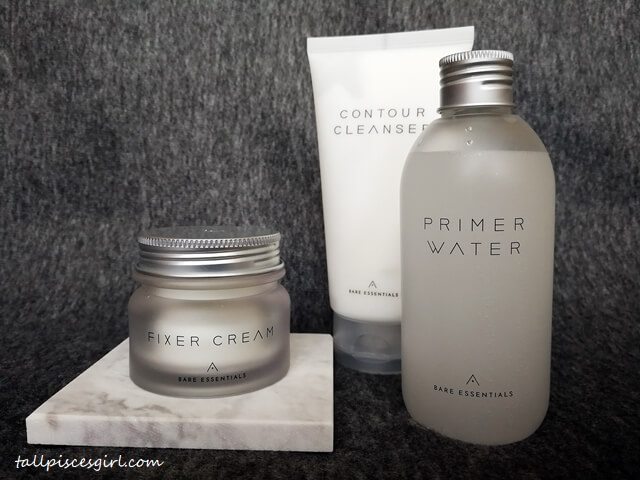 The packaging of all the products in this range is LOVE! Minimalistic and sleek, it's gonna look so good when displayed on my dressing table. The look and feel does have a close resemblance to MUJI products as both are also basic and minimalistic themed.
Unboxing video:
Althea Bare Essentials: Contour Cleanser
Contour Cleanser is the first and most important step because in order to have great skin, we need to make sure our pores are clean and able to absorb the skincare products that followed. Contour Cleanser has a rich texture and it is a foaming cleanser that lathers up very easily. Hence, I only needed a small amount to cleanse my whole face. You will find micro capsules in it which is supposed to help exfoliate away dead skin cell. However, I find that the amount is too little to really help. Sometimes, there are only 3-4 random micro beads that came out. It is also said that it can improve blood circulation to achieve V-shaped look. I'm not sure how it's supposed to work, but I honestly don't feel a difference on the shape of my face after using it. To be fair though, it's not like I have water retention problem in the morning. I hope that Althea Korea would consider coming out with gel cleanser in the near future because it's more suitable for oily and combination skin. My skin feels softer after using gel cleanser as compared to foaming cleanser regardless of brand.
Ingredients:
Ice plant – Hydrates and calms redness
Lemon myrtle – Rich in vitamin C and antioxidants to strengthen the skin
Price: RM 23 (150g)
Althea Bare Essentials: Primer Water
Although it is called Primer Water, don't be fooled by the wording. When I dispensed it out, I was surprised by the texture! The texture actually came out thicker than water; like a pre-serum instead of toner. With its patented "dewdrop" formulation, it's not too thick either so our skin can absorb it better. I'm totally loving this because it feels super hydrating. Plus, the smell is very very pleasant, almost therapeutic!
Ingredients:
Snow lotus – Smoothens skin texture and brightens up the skin
How to use: Pour out a small amount onto your palm and gently pat onto the face for better absorption
Price: RM 43 (200g)
Althea Bare Essentials: Fixer Cream
I've been wondering why their moisturizer is called Fixer Cream. So my guess is, it's suppose to help you fix all the imperfections on your skin, that's pretty straightforward! Powerful moisturizing ingredients like Trehalose, Wild Green Tea and Baobab Tree Extract are packed into this little jar to ensure lasting hydration throughout the day for radiant skin. I like how dewy my complexion looks and yet without stickiness after applying it. The scent is stronger than Primer Water but at an acceptable level for me since it is pleasantly scented. I find that Korean skincare doesn't smell as strong compared to Western brands. Hence, we have the perception that Korean products are more natural.
Ingredients:
Trehalose – Powerful humectant that retains moisture on the skin
Wild Green Tea – Hydrating, skin soothing and pack with antioxidants
Baobab Tree Extract – Non-greasy moisturizing agent that helps promote collagen production
How to use: Scoop out a small amount and gently pat onto the face or massage upward direction to promote lifting effect. Start less and scoop out more products if needed.
Price: RM 50 (50g)
Overall, Althea Bare Essentials series is doing what it claims well. Only 3 steps to achieve healthy skin is definitely achievable! With the affordable price, there's no reason why you shouldn't get it.
If you get the whole set, you'll also be entitled to 10% discount and get a complimentary beauty mirror (while stocks last).
Buy now: https://my.althea.kr/
New to Althea Korea? Sign up here and receive 20% off on your first purchase!