GUINNESS, being Malaysia's and Ireland's favorite stout, celebrated St. Patrick's with a vibrant two-day festival at The Gasket Alley, Petaling Jaya.
The happening weekend with the largest Slainte in Malaysia was filled with live performances, fun and games, GUINNESS-infused bites, and of course – cold, creamy GUINNESS stout.
GUINNESS St. Patrick's Festival 2019
The atmosphere was abuzz with excitement as we enjoyed the GUINNESS creations and a cold, creamy stout. We were entertained with performances from local artists Church Mouse, Froya, Donamarie, Jumero, Kyoto Protocol, Diplomats of Drum, RYOT JONES and more, as well as stand-up comedy from Prakash Daniel which infused St. Patrick's fun and laughter to the event.
There were plenty of awesome GUINNESS-infused bites and Irish delicacies for foodies to perfectly pair with their cold, creamy GUINNESS stout. Among them include a spectacular GUINNESS stout roast, Dublin Coddle, sliders and oysters.
Those with a sweet tooth indulged in GUINNESS stout Baileys Ice Cream Floats and GUINNESS stout iced coffee from the cocktail bar, as well as GUINNESS stout popcorn, brownies and a unique GUINNESS stout sorbet.
A festival would not be complete without exciting games and enticing prizes. Some crowd favorites during GUINNESS St. Patrick's Festival include the famous GUINNESS Draught Two Part Pour challenge and the Long Bar challenge, which saw festival-goers sliding a bottle of GUINNESS stout along a long table to accumulate points. Two winners have each been awarded a trip for two to Dublin to be part of the GUINNESS X Meatopia festival – a weekend-long love affair of meat, drink, fire and music!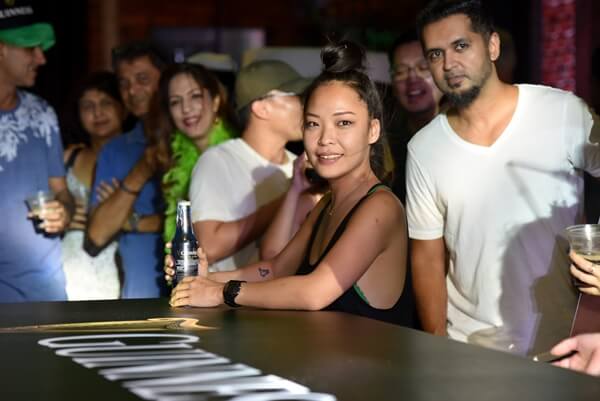 There were plenty of other opportunities for festival goers to win prizes on the spot, including custom GUINNESS tattoos from Electric Dreams, Beard On grooming products and leather key chains by Attached Leather Co. To win, revellers tried their hands at Irish slang and busted a move in the Step Dance Challenge.
With the party in full swing, GUINNESS stout lovers stepped up to prove who had the best 'GUINNESS-tache' – the creamy GUINNESS stout foam which covers the upper lip when taking a deep drink. As the evening went on, revellers joined in on the largest 'Sláinte' in Malaysia alongside a parade of Irish dancers, performers and stilt walkers.
Even though the main festival is over for another year, the month of March is still filled with St. Patrick's fun as GUINNESS stout lovers can enjoy their favorite brew with amazing promotions all-month long. When you purchase two sets of GUINNESS stout at participating bars and pubs, you'll get to receive an exclusive GUINNESS pillow that comes in three designs (while stocks last).
To find out where you can take part in the St. Patrick's festivities happening in March, kindly visit www.facebook.com/GuinnessMalaysia.