Hey, there isn't much time left til Mid-Autumn Festival! If you haven't gotten any mooncakes yet, head over to Dynasty Restaurant @ Renaissance Kuala Lumpur Hotel to grab some handcrafted pork-free mooncakes and capture the spirit of Mid-Autumn Festival. No matter what, I will surely purchase some mooncakes for me and my family because this traditional delicacy is a must-eat during the festivities!
Pork-free Mooncakes @ Renaissance Kuala Lumpur Hotel
These delectable mooncakes will be available for purchase at
Dynasty Restaurant, Renaissance Kuala Lumpur Hotel
from 29 August to 4 October 2017 and at Mid Valley Megamall from 14 September to 4 October 2017.
Offering a total of 12 types of baked and snowskin mooncakes using
pure and natural ingredients
, classic selections such as the Pandan lotus paste with single salted yolk, low sugar White lotus paste with single salted yolk, Bamboo charcoal green tea black sesame and Red bean paste are perennial favorites on the menu annually.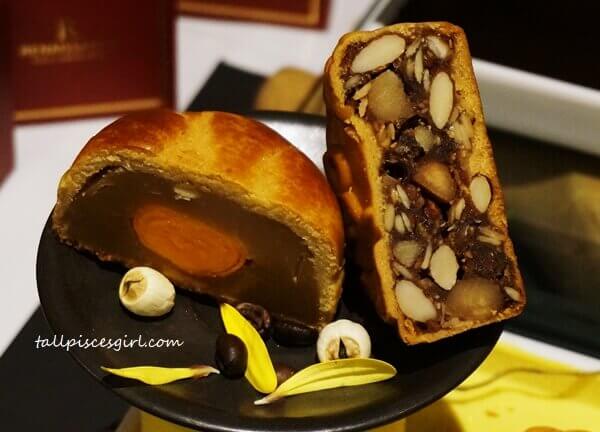 If you're looking for something more unique, check out their modern take with
memorable new flavors
for this season that includes Red pitaya lotus paste with mango, Honey lotus paste with chocolate, Yam paste with single egg yolk, Alisan tea paste with green tea and Chinese chestnut paste with egg yolk.
Besides the conventional sized mooncakes, Dynasty Restaurant is also offering a range of
baked mini mooncakes
. I personally love the mini sized ones because they're perfect as snack!
Packaged in their elegant signature boxes with any choice of 4 pieces of traditional mooncake, 6 pieces of baked mini mooncake or 6 pieces of mini snow skin, it's the ultimate choice as gifts for business associates, family and friends.
Discounts and Specials for Dynasty Restaurant Pork-free Mooncakes:
Free delivery to one (1) location (within 5km radius of Renaissance Kuala Lumpur Hotel) for purchase of 20 boxes and above. Additional charges apply for locations outside 5km radius.
All pre-paid orders of minimum 10 boxes before 16 September for pick-up between 14 September to 4 October 2017 will receive a 25% discount.
Selected credit card discounts apply.
To place your order or for more info, call 03-2771 6692 or email
rhi.kulrn.fb@renaissancehotels.com
.