Lunar New Year comes earlier this year! Hence, don't forget to make a reservation for the precious yearly get-together session with family members.
Zuan Yuan Chinese New Year Set 2017
Celebrate the auspicious Lunar New Year with extravagant dishes specially crafted by
Chef Kong
who helms the kitchen of
Zuan Yuan Chinese Restaurant, One World Hotel
. I'm so looking forward to find out more information regarding Zuan Yuan Chinese New Year Set 2017. This year, the 3 top notch set menus offered by Zuan Yuan aims to convey the wishes and hopes for a prosperous New Year.
Here's a preview of our scrumptious tasting session.
Who doesn't love thick slices of fresh salmon? Our meal started brilliantly with
Premium Yee Sang
accompanied with fresh, thick salmon slices!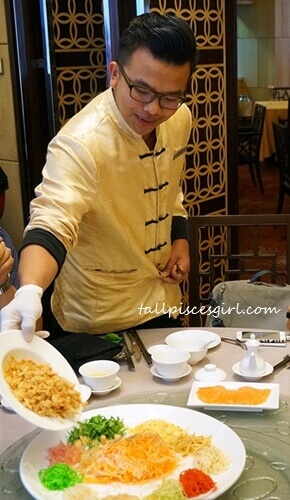 While the waiter was pouring ingredients onto the plate of Yee Sang, he uttered all the auspicious phrases! Salute! And he's not even Chinese. I'm sure everyone will be pleased to hear all these good wishes during Chinese New Year.
For a better, prosperous year, let's toss the Yee Sang high high, up to the sky! HUAT AHHHH!! I really enjoy the tangy Yee Sang, it increases my appetite for the coming dishes.
The specialty boiled soups that are good to warm up our tummies make the best starters. The flavorful 
Braised Deluxe Sea Treasures Soup with "Song Rong" Mushroom
is definitely a class above the competition as it was packed with crab meat.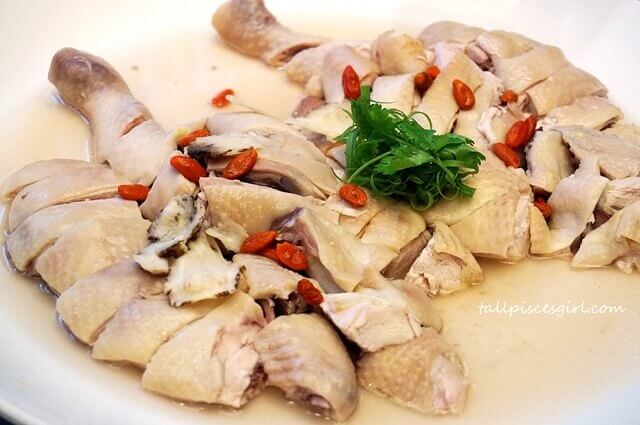 Steamed Village Chicken with Chinese Herb
hits close to home because this is how I always prepare my chicken. The usage of herbs makes it more beneficial for overall well-being and fragrant.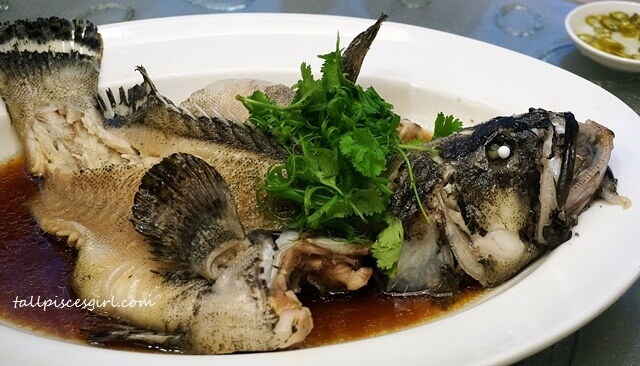 Everyone of us were digging into this tender 
Steamed Dragon Garoupa with Superior Soy Sauce "Hong Kong" Style
! Through the method of steaming, we can truly taste the freshness from this Dragon Garoupa.
Wok fried to perfection, 
Wok Fried Sea Prawn Coated with Crumbs and Golden Garlic
was a very delectable dish that satisfies all the prawn lovers.
Braised Dried Oyster, Flower Mushroom and Sea Moss with Superior Oyster Sauce
might be quite a common dish but it didn't stop us from enjoying it because it's the deliciousness that's most important. The gravy with superior oyster sauce would be awesome to accompany with rice.
During a banquet or dinner session, most people would skip the steamed rice because of being too full. Although we were feeling full too, but we just couldn't resist the super fragrant 
Steamed Rice with Fried Yam, Preserved Sliced Duck and Sausage in Claypot
! The smell made us all hungry again. It was a very satisfying dish.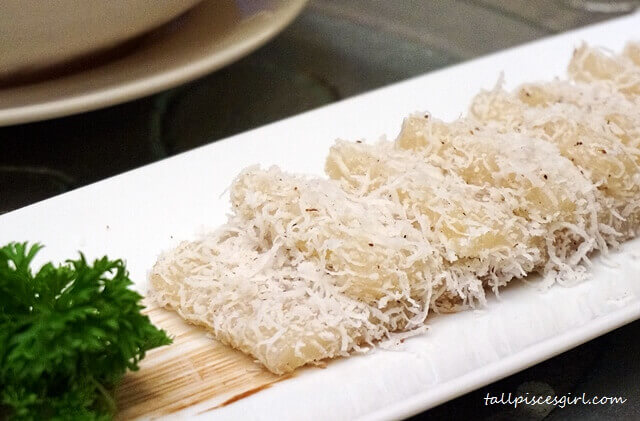 To end our reunion gathering with a sweet note, we had 
Steamed Coconut "Nian Gao"
and 
Dried Pear Soup with Red Date, Snow Fungus, Snow Lotus Seed and Peach Gum
. I especially loved the Dried Pear Soup because it is so soothing and peach gum can replenish our collagen level!
*I wanna be pretty pretty this Chinese New Year*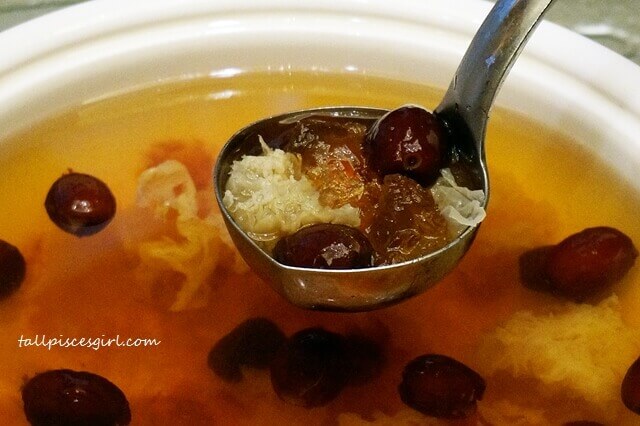 Zuan Yuan Chinese New Year Set 2017 are priced at RM1,738.00 nett, RM1,988.00 nett, and RM2,218.00 respectively for a table of ten with a complimentary bottle of wine. It is available daily for lunch (12 noon to 2.30pm) and dinner (6.30pm to 10.30pm) from
13 January to 11 February 2017
. For more information or reservation, kindly call 603-7681 1159 or email
zuanyuan@oneworldhotel.com.my
.