Executive Sous Chef Kok Chee Kin
and his team is set to tantalize our tastebuds again this
Chinese New Year
with specially created Festive Menus made available from
11 January until 11 February 2017
at
Dynasty Restaurant, Renaissance Kuala Lumpur Hotel
. Lunar New Year is incomplete without gathering with loved ones for great food. With a wide range of food from festive Dim Sum selection to Treasure Pot (Poon Choi), Set Menus, Claypot Waxed Meat Rice and a variety of Yee Sang for prosperity, there's something for everyone at Dynasty Restaurant.
Dynasty Restaurant Chinese New Year Menu 2017
The must-have dish during Chinese New Year is definitely
Yee Sang
as it signifies the renewal of life. Dynasty Restaurant offers 6 types of Yee Sang for diners to choose from: Salmon, Fruity Fiesta, Jellyfish, Lobster & Salmon, Yee Sang of 5 treasures and Mini abalone & salmon. We had the Salmon Yee Sang and it's so delicious, we wiped the plate clean.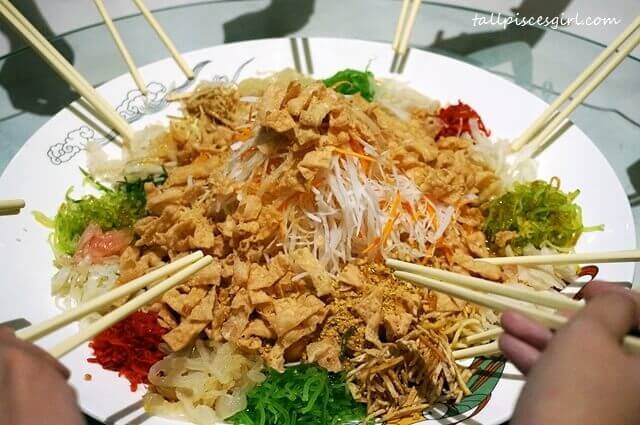 Chef Kin focuses on the use of traditional ingredients while emphasizing on light and fresh flavors to ensure guests can indulge in healthy wholesome dishes.
Totally impressed by the decoration of this dish. Plus, everything in Fortune Combination Platter tastes great!
Say no to shark fin! I noticed that many restaurants are switching them to seafood-based soup instead. Kudos to Renaissance Hotel for doing this as well. Ying Yang Scallop Soup with Dried Seafood tastes as good as shark fin's soup!
Fish is not to be missed during Chinese New Year to ensure prosperity throughout the year. I'm loving the texture of this fresh and smooth steamed live tiger-dragon grouper in my mouth.
Braised Pork Knuckle here is so tantalizing as the meat was very tender and flavorful! I just can't help but getting a few more helpings. And yes, I'm the type of girl who will eat fat meat.
Want more laughter this year? Then you gotta indulge in these Golden Prawns with Spicy Minced Garlic!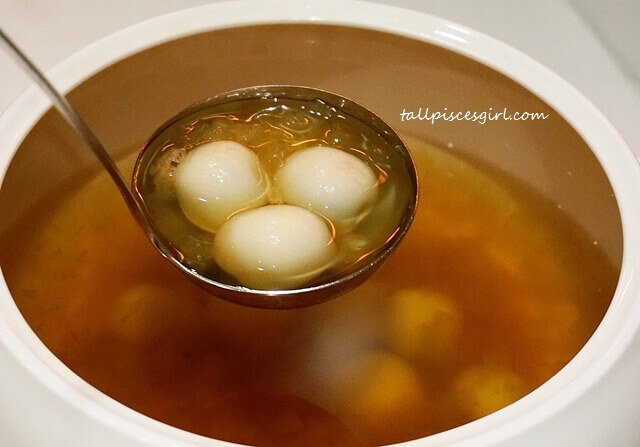 Ended my meal with a nourishing dessert. How blissful! Aloe Vera and white fungus are all good for beauty effects. I also love eating Tong Yuen during CNY gathering as it signifies togetherness.
Last but not least, pastries!! Chef Kin is so creative to come up with different shapes for the pastries. The one that got the most attention is the strawberry-shaped pastry! Chef Kin has created
3 festive set menus
for Chinese New Year that comes with Yee Sang and Dynasty's fortune pastries. They are Happiness at RM1,688nett, Fortune at RM2,088nett and Longevity at RM3,288nett for table of ten (10) persons.
Happiness Set (RM1,688nett)
Salmon yee sang
8 treasure soup with dried seafood
Poached farm chicken with mushroom in superior stock
Steamed live sea grouper with ginger sauce
Grilled butter prawns
Sun-dried oyster, fatt choy, flower mushrooms and pork
Supreme golden fried rice with seafood
Double-boiled dried bamboo cane with aloe vera, fungus and tong yuen
Dynasty's fortune pastries
Fortune Set (RM2,088nett)
Salmon yee sang
Fortune combination platter
Ying yang scallop soup with dried seafood
Steamed live tiger-dragon grouper with scallion and ginger
Braised pork knuckle with mushroom and sea cucumber
Golden prawns with spicy minced garlic
Wok-fried glutinous rice with assorted waxed meat
Double-boiled dried bamboo cane with aloe vera, fungus and tong yuen
Dynasty's fortune pastries
Longevity Set (RM3,288nett)
Lobster and salmon yee sang
Emperor's sea treasures and abalone soup
Barbecued suckling pig
Abalone, dried oyster, whole conpoy and fish maw
Steamed live soon hock, homemade soy and cilantro
Poached farm chicken with kailan in superior stock
Glutinous rice with assorted waxed meat and shell abalone
Double boiled dried bamboo cane with aloe vera, fungus and tong yuen
Dynasty's fortune pastries
Besides the above, Chef Kin created a 6-course and a 7-course set menu for two persons and are priced at RM288++ and RM498nett respectively. Group of six persons are covered with a 9-course set menu at RM1,088nett. Choose the 7-course Prosperity Treasure Pot set menus suitable for five (5) persons if you would like to overwhelm your family and friends with lavish meals. These menus come with Yee Sang for diners to toss their luck and good fortune. What I love about Dynasty Restaurant Chinese New Year Menu 2017 is that they have customized sets for different amount of diners instead of sets for just 10 pax.
Dynasty Restaurant is open daily for lunch from 12.00noon to 2.30pm and dinner from 6.30pm to 10.30pm. Dim Sum breakfast is served from 9.30am to 2.30pm on Sundays and Public Holidays.
Address
: Dynasty Restaurant, Level 1, East Wing, Renaissance Kuala Lumpur Hotel Corner of Jalan Sultan Ismail and Jalan Ampang, 50450 Kuala Lumpur
Tel
: 03-2716 9388
E-mail
:
rhi.kulrn.fb@renaissancehotels.com