Cafes are mushrooming in Malaysia but there's only a few that made it to the top. One top notch cafe that I'm gonna introduce today is
DOUTOR Coffee
that has recently opened in
Sunway Velocity Mall
.
DOUTOR Coffee
DOUTOR is a coffee roasting plant turned cafe brand that debuted in Harajuku, Japan. After
37 years
, DOUTOR has passed the test of time by serving
high quality food and beverages
. They now have over 1,200 outlets throughout the world and finally reached Malaysia!
DOUTOR Malaysia holds firmly to their '3 FRESH' philosophy – freshly roasted, freshly ground, and freshly brewed to ensure that the customers can enjoy freshest quality coffee. Aside from coffee, DOUTOR also serves food that are prepared fresh upon order to ensure freshness and deliciousness.
You will find a touch of Japanese element in their food and beverages. Their friendly staffs and excellent customer service also reminds me of high Japanese standards.
Beverages @ DOUTOR Coffee, Sunway Velocity Mall
This Chinese New Year, DOUTOR Malaysia has introduced 2 new items into their menu. With these coffee varieties, coffee lovers can enjoy coffee that has Chinese New Year vibe! These striking red drinks are Frozen Red Velvet Mocha (with coffee) and Frozen Red Velvet Chocolate (without coffee). Don't miss this! I personally loved
Frozen Red Velvet Mocha
; it's my first time enjoying Red Velvet as a beverage!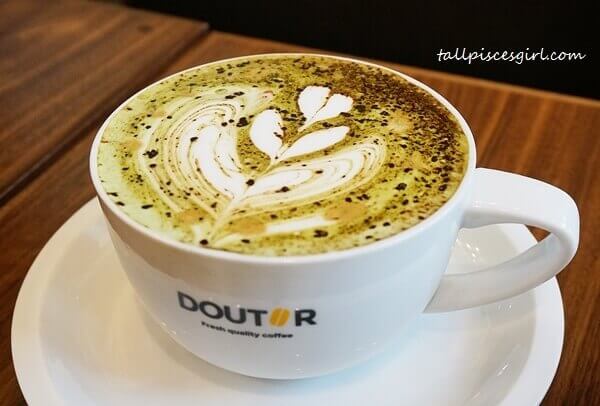 I'm actually not a big fan of anything with added green tea but
Military Latte
, one of their signature coffee, is surprisingly good! The perfect ratio between matcha green tea, espresso, cocoa, and milk is what makes Military Latte tastes so smooth and there's no bitter aftertaste. Definitely a must-try!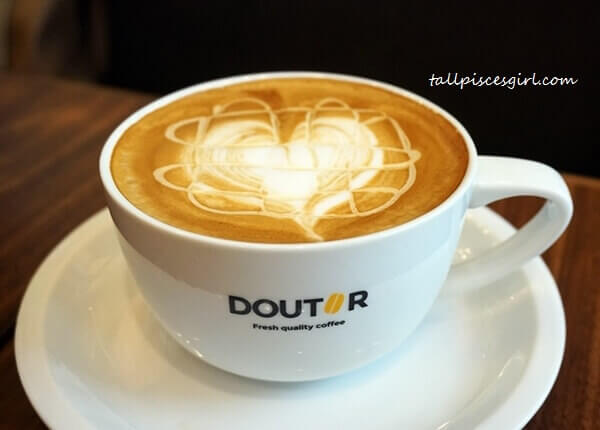 On the first impression, I expected Honey Cafe Latte to be as sweet as honey milk. Imagine my surprise when I finally tasted it and discovered that it isn't as sweet as I thought. The honey taste is just right so there's no need to add in sugar. I love the pleasant sweetness from the honey that blended well with coffee.
If you love your coffee cold, there's a refreshing variation – Frozen Honey Latte for you to try. Just perfect to cool down during a hot sunny day.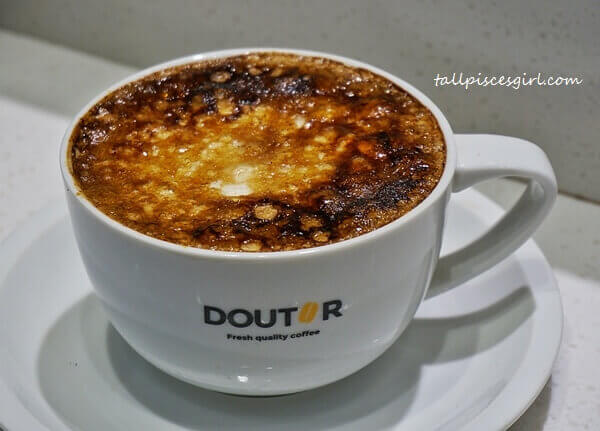 Another signature coffee from DOUTOR is Creme Brulee Latte. Have you ever tasted Creme Brulee as a beverage? This is definitely my first time, and it's very unique.
There's a layer of melted sugar on top of the coffee that's meant to be broken before consuming. When I tried it, it tastes a little sweeter than Honey Cafe Latte but it also has a hint of roasted taste, making the flavor deeper.
If you prefer your coffee to be prepared the classic way, do try out Classic Latte and Hand Brew Coffee. They're equally good.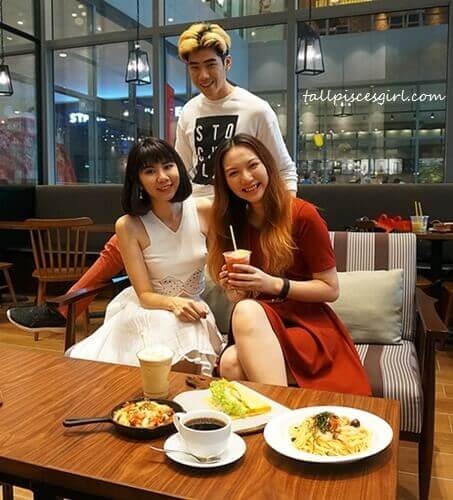 Food @ DOUTOR Coffee, Sunway Velocity Mall
To go along with your cup of coffee, you can also grab some pastries and main meal there. Their pastry ingredients were imported directly from France!
What do you get when you make croissant into waffle shape? You get
Croffle
! Croffle is getting a lot of hype now and I like the version from Doutor Coffee; it has a crunchy sugar layer on top!
Chocolate Croissant looks so sinful but yet hard to resist. The premium chocolate filling inside tastes so so delicious and not overly sweet.
For those who loves Japanese fusion food, you've gotta try Teriyaki Chicken & Tamago Sandwich. It comes with generous amount of Teriyaki chicken, egg mayo, lettuce, tomato, and wasabi mayo.
If you prefer classic sandwiches, they have Tuna Cheddar Sandwich. The tuna spread and melted cheddar fillings were almost overflowing from the toasted brioche loaf. Yums!!
Shrimp, tuna, egg mayo, lettuce, tomato, onion, wasabi mayo and rice all wrapped up in a thin sheet of omelette egg. The rice was cold just like the ones in sushi. It's a very unique Japanese food selection here but I believe not everyone can accept it.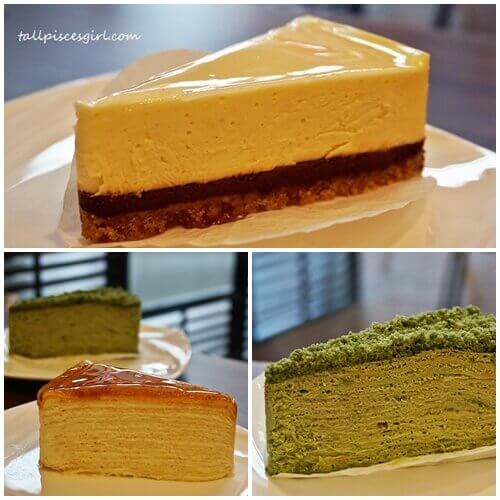 A slice of cake always goes well with a cup of coffee. They're like fork and spoon. My favorite cake from Doutor is Creme Brulee Mille Crepe because it tastes so velvety smooth. For a while, I thought I was eating ice cream!
Ratatouille Doria is a dish full of mixed vegetables like capsicum, cucumbers, eggplants, and onions plus sesame rice at the base baked in Ratatouille (tomato) sauce. For a touch of sinfulness, it is topped with melted mozzarella cheese! Tastes something like pizza but with rice.
Shrimp, shimeji mushroom and spaghetti cooked al dente topped with mentaiko, nori and spring onion. I love the springy prawns, though the spaghetti tastes a bit too mild for me.
Address
:
DOUTOR @ Sunway Velocity Mall
Lot G-28, Sunway Velocity Mall, Lingkaran SV, Sunway Velocity, Jalan Peel 55100 Kuala Lumpur
Business Hours
: Daily 10am – 10pm
Facebook Page
:
Doutor Malaysia
Instagram
:
@doutormy
Other branches
: AEON Bukit Tinggi, Klang and AEON Mall Tebrau City, Johor