Pratunam Market
is one of the major markets in
Bangkok
that's popular for offering the best deals on clothing and accessories.
Pratunam Night Market @ Bangkok
When in Bangkok, never ever miss the night markets here. Not going to night markets is equivalent to never been to Bangkok. I was really glad that Pratunam Night Market was the first destination of our trip because the clothes here are super cheap! And I realized that the price at Pratunam Night Market is the lowest compared to other shopping places like MBK Mall and Platinum Mall.
Tip:
If you found something you like here, just grab it! There won't be same stall selling same stuff there so there's no need to compare price.
Pratunam Market actually covers a large area but we only toured the area from 
starting point at the intersection of Ratchaprarop and Phetchaburi Road
, in front of The Palladium World Shopping Mall. Map: If you're not staying around Pratunam like I did, you can easily reach there via:
Airport Rail Link Ratchaprarop station (550 m walking distance)
BTS (Bangkok Train Service) Chit Lom station (1 km walking distance)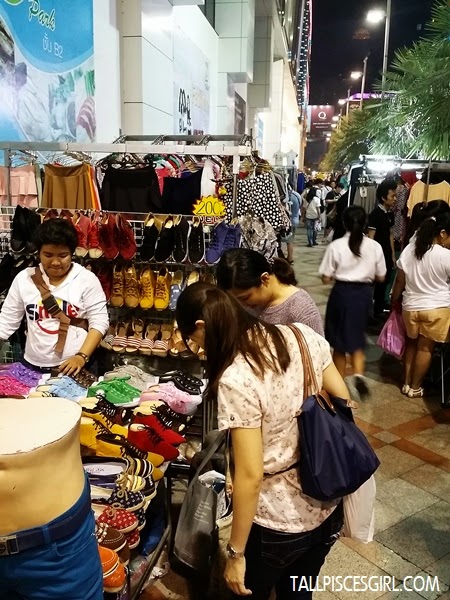 Although the price is already pretty cheap, you can still ask for a better price if you buy in bulk e.g. 3 pieces or more. Please be considerate and don't continue to haggle if they already said no discount though. Coming with a group of friends would be of great advantage cos you can share the bulk purchase with them.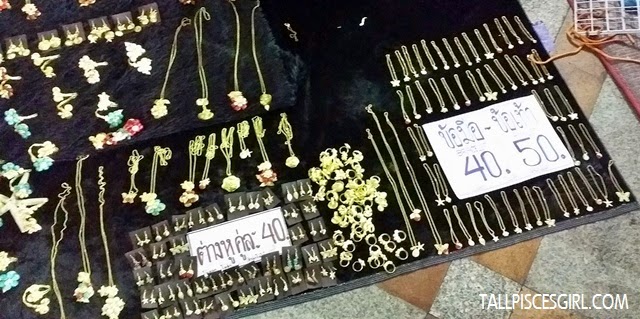 Price aside, what impressed me most was the abundance of customized accessories such as hand made bracelets, rings and bags!
I was particularly attracted to this stall that sells woven bags in front of
Palladium World Shopping Mall
. At first glance, it looks unattractive but the special thing about it is: you can customize its look! How? You just need to choose your favorite
decoupage paper
design from the stacks (it's a tough choice to make!) and hand it to the seller. He'll take it from there. There are different kinds of bags available – purse, envelope bag, tote bag and even phone cases, all priced differently.
The first step to decoupage the bag is to cut out the paper according to the bag's size. Then, a layer of glue was spread thinly onto the surface and blown dry.
When it dried thoroughly, the decoupage paper is ready to be pasted onto the bag. It takes approximately 30 minutes for the whole process to be done and could take very long if they get a lot of orders. You can place your order and pay first, then stroll around Pratunam Market while waiting for it to be ready.
I got a decoupaged Samsung Note 3 phone casing for 150 baht (RM 15). What do you think? Is it nice? =p They also sell some normal type casing at 100 baht each. If you buy more, you can get it at 150 baht for 2. It only lasted for 3 months though cos when my phone emitted heat, the glue will melt and the decoupage paper started to came off. I guess it would be better to buy a bag instead of phone casing >.<
Well, we initially planned to eat dinner here but guess what – we shopped for 3 hours non stop! Clumsy Boy bought us some street food to cure the grumbling stomach first. Don't miss one of Thailand's specialties – fresh fruit juice! I seldom eat fruits but pomegranate juice is simply irresistible because they're selling it cheap and it's good for the skin (Vitamin C).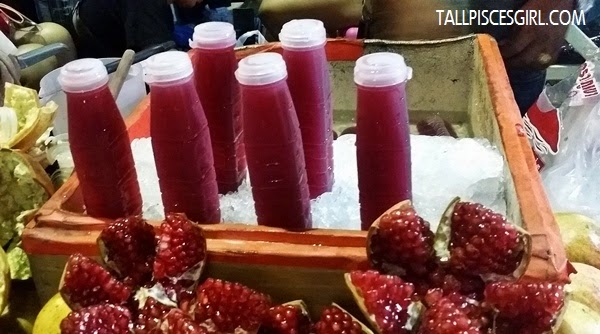 Proper meal wasn't available at Pratunam Night Market (mostly were street food) so we stopped by a local restaurant along
Makkasa Post Office
to have our dinner. I didn't see any restaurant name but the lot number is 133/46, Ratchathewi.
All the food were delicious and affordable! Love eating at where the locals eat because I'll be able to taste the food that they normally eat. The portion of Fried Chicken with Lemongrass was too big, it took us some time to finish it. Fuh~~ And that's all we did in our
Day 1 in Bangkok
. We only had precisely half day after reaching Bangkok.For more information on Pratunam area, check out
Pratunam on Wikipedia
. If you want to stay near Pratunam Market, I'd recommend
Hotel de Bangkok
which I personally think is more than decent =) P/S: Sorry for the blurry photos… my phone camera doesn't perform well under low lighting =(
Update (8 March 2016):
Traders at Pratunam Market were forced to move as early as 8th March 2016 by Bangkok Metropolitan Administration due to complaints of insufficient walking area. The traders will move to either Bangkapi market, Tha Din Daeng market or the market in Soi Phetchaburi 29. I'm not sure if this will affect Pratunam Night Market as well.