I always heard guys complaining about their girlfriend being too high maintenance – facial la, hair treatment la, waxing la, manicure and pedicure la, blah blah blah… but all these are essential right?
Or else how to look good in front of you and lock your heart? =p
Anyways, I do admit that manicure and pedicure is not cheap but there's not much choices out there.
One session of pedicure costs at least RM 40
these days. But I guess I've found the perfect alternative to replace expensive and time consuming pedicure sessions! Plus, it is so handy I can bring it to anywhere I want!
INTRODUCING SCHOLL VELVET SMOOTH EXPRESS PEDI ELECTRONIC FOOT FILE!
#MYVelvetSmooth
♥ Ergonomically Shaped Soft Touch Handle ♥ Specially-designed
Micralumina Replaceable Head
♥ Gentle & Effective Rotating Action ♥ Battery Operated ♥ Ready to use After talking to my girl friends, I realized that many girls have dry, cracked heels and calluses especially those who love wearing high heels. Although I seldom wear high heels, but I walk a lot because sometimes I wanna save on parking fee so I'll choose to park further and walk to my destination.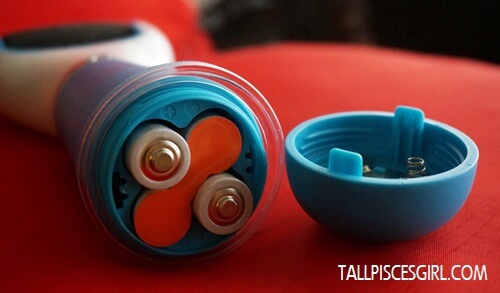 For first use, remember to unscrew the base of the device in clockwise direction and remove the red insulator tab. Then, screw it back until secure. 4 AA batteries were included in the packaging.
How to use Scholl Velvet Smooth Express Pedi Electronic Foot File
Remove the protective roller cover before use. (skip this step for first time use)
Twist the silver ring to the left to turn it on and gently glide the roller head over hard skin and the dead skin will gradually exfoliate.
Turn off and check if you have thoroughly removed all dead skin. If not, turn on and repeat until the level of smoothness you desire is obtained.
Wipe or rinse feet to remove excess dead skin particles.
Apply moisturizer and massage onto your fabulously smooth happy feet! =)
Are you ready to see the result of my review?
Scholl Velvet Smooth Express Pedi Electronic Foot File
works like magic! Just rolling rolling rolling~~~ Keep rolling rolling rolling~~ and ta-dah – I have smooth and soft feet already! Tonight I can use my feet to seduce Clumsy Boy liao hahahaha just kidding lah! XD During the whole process, there wasn't any discomfort because the skin is too hard so no feeling already. BTW, I came across an episode of
女人我在最大
 (15/7/2014) that also recommended Scholl Velvet Smooth Express Pedi Electronic Foot File. What a coincidence!
Cleansing after use
Remove the roller head from the device by pressing the eject button on the side and gently pull the roller away.
Rinse the roller head under the tap.
Clean the body of the device with a damp cloth .
Dry both the roller head and main unit with a clean dry cloth.
When it is all cleaned, cover it with the protective roller cover.
When it became less effective, you can get a roller refill to replace it. Each roller can be used approximately 12 treatments on both feet. To experience Scholl Velvet Smooth Express Pedi Electronic Foot File, come to 1 Utama Shopping Centre (in front of Watson) from 6-10 August 2014, 10.30 am – 6.30 am.
Scholl Velvet Smooth Express Pedi Electronic Foot File is
available at all major pharmacies at RM 129.90
while roller head refill pack is priced at RM 49.90 each. Hop to
My Velvet Smooth
website to redeem an
RM 10 discount voucher
for Scholl Velvet Smooth Express Pedi Electronic Foot File.