Blu Med Ristorante e Bar has been one of the most talked about restaurants in Mid Valley area since they opened their doors last year. In order to keep up with the competition, Blu Med has revamped their menu and came up with some new tantalizing dishes. I was fortunate to be able to try them before they officially offer to their customers.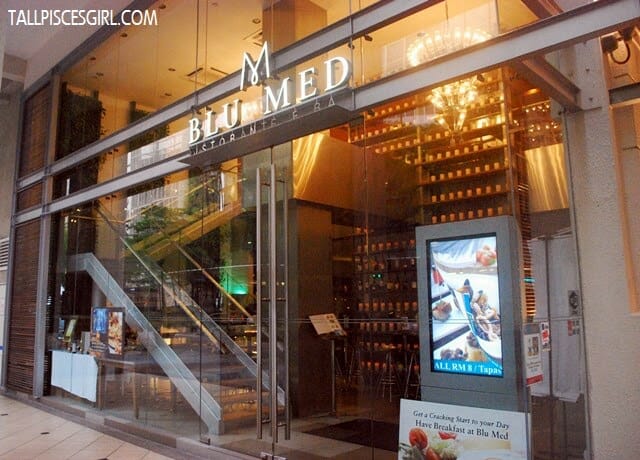 Blu Med @ Boulevard Mid Valley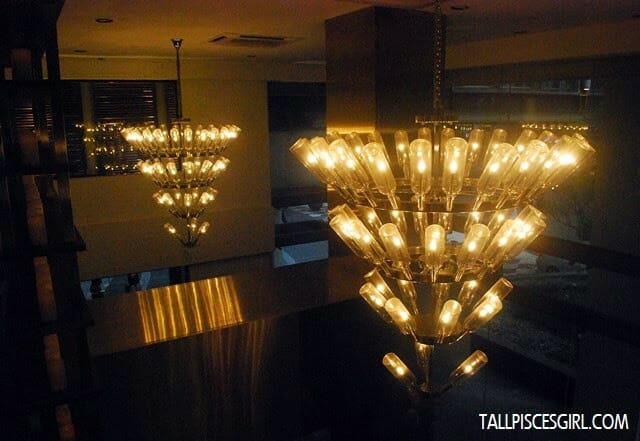 These lamps were made of wine bottles and glasses!
I have briefly introduced Blu Med in my previous post so if you're curious about it, do visit my post
here
.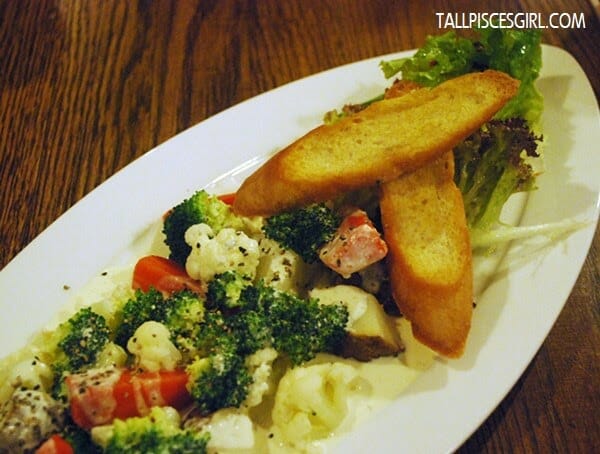 Steamed Vegetables
Price: RM 29.90
For starter, we had Steamed Vegetables which is basically mixed salad with blue cheese, Parmesan cheese, cream sauce, carrot, broccoli, cauliflower, potato and toasted garlic bread. I love the salad; it went well with the cheese sauce and I'm sure the cheese lovers are going to love it too! The toasted garlic bread was a little too tough for me though.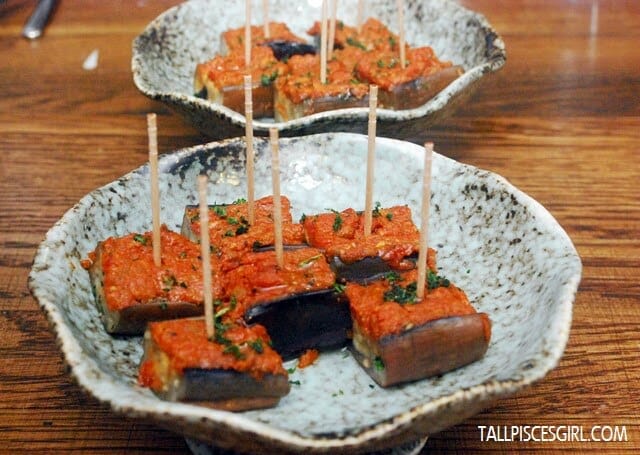 Eggplant Siciliana
Price: RM 5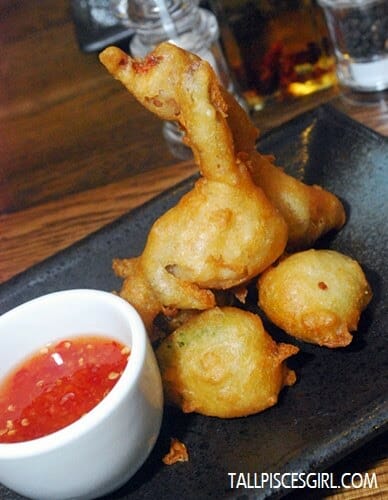 Soft Shell Crab & Broccoli Tempura
Price: RM 15
I almost couldn't believe that I can actually order Tapas from RM 5 onwards! That's a steal! We first tasted Eggplant Siciliana, baked eggplant with tomato sauce mixed with capers, anchovies, olive oil and garlic. It was great to open up our appetite due to the sourish taste from tomatoes!
Since their Executive Chef is a Japanese, I'm not surprised when there's some Japanese touch in their new dish – Soft Shell Crab & Broccoli Tempura. Fried perfectly until golden brown, they taste awesome with Thai sweet chili sauce.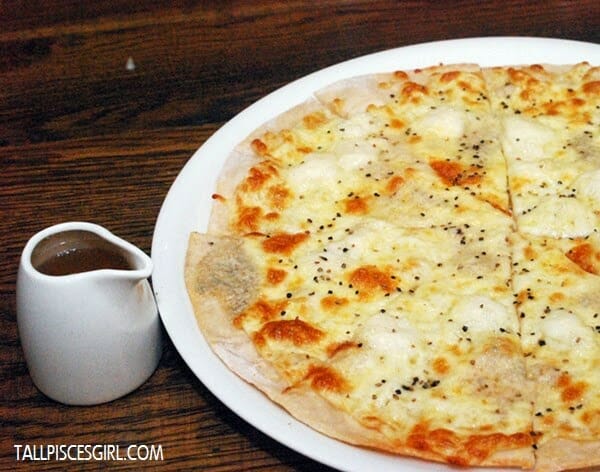 Quattro Formaggi Pizza
Price: RM 48
I've never tasted sweet pizza before in my whole life so I was a bit skeptical when I was presented with Quattro Formaggi Pizza with honey. The pizza was made using 4 types of cheese: blue cheese, mozzarella, taleggio, parmesan with black pepper sprinkled on top. It's amazing that the salty taste from cheese and sweetness from honey can complement so well with each other! I'd definitely recommend this to cheese aficionados out there.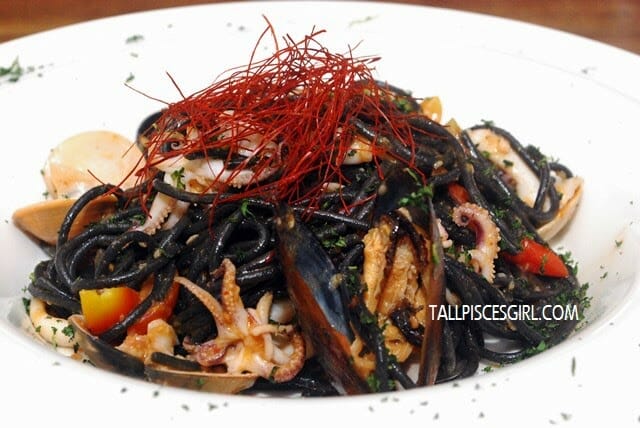 Squid Ink Spaghetti
Price: RM 29.90
The second main course that we've had was Squid Ink Spaghetti! This reminds me of a friend who shared me a photo of him with gross stained teeth after eating it somewhere. So, I immediately took a photo of my teeth first before having a taste of it. But guess what? Not a single stain on my teeth! The chef definitely deserved a praise for this because many girls' first date will be saved!
Besides, there was an abundance of clams, mussels, squids and cherry tomatoes to accompany this dish. It's a seafood galore!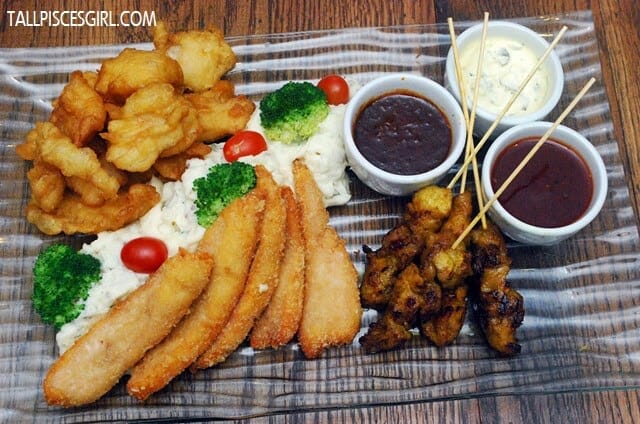 Executive Combo Set
Price: RM 59.90
Variety seekers would love to share this with friends as the Executive Combo Set offers deep fried dory fish, chicken satay and chicken breast served with velvety mashed potato salad. The mashed potato salad was one of a kind. The chef cleverly added pickles, bits of beef bacon and fresh potato to enhance the taste and texture of it.
Strawberry Caipiroska
Price: RM 26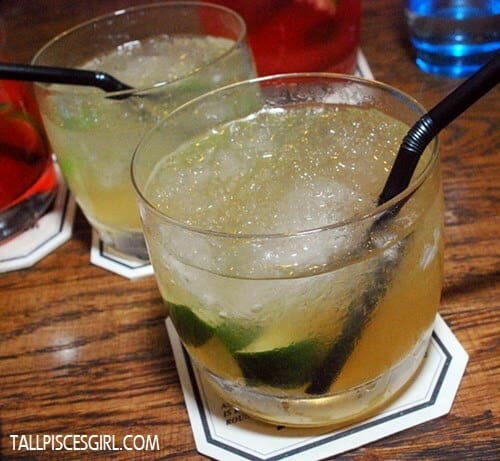 Caipirinha
Price: RM 26
We had some
cocktails
to complement our gastronomic journey –
Strawberry Caipiroska
(Absolut Kurant, fresh lime chunks, golden brown sugar, soda water, strawberry puree and lime juice) and
Caipirinha
(Cachaca Rum, lime chunks, golden brown sugar, ginger ale and lime juice). I personally prefer Caipirinha because it's good to have some tangy drink after a heavy meal and also, I like Rum more than Vodka. Somehow, there isn't much strawberry taste in the former.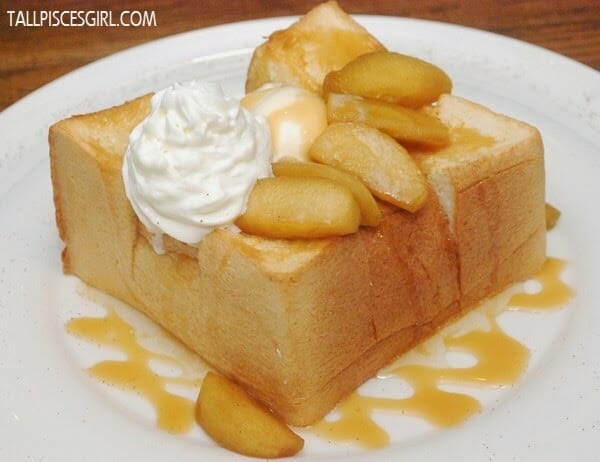 Caramel Apple Honey Toast with Ice Cream
Price: RM 19.90
To end our food tasting with a sweet note, we had
Caramel Apple Honey Toast with Ice Cream
. The toast was thicker than normal ones but incredibly fluffy and topped with caramel apple chunks, vanilla ice cream and cream.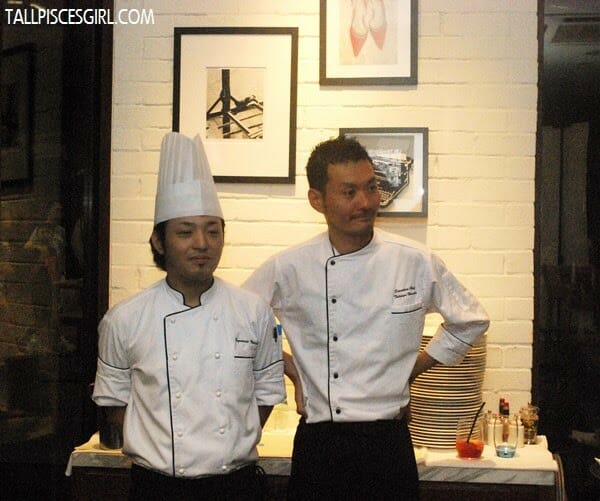 Chef Kazutoshi Nakasone (Chef de Cuisine) and
Chef Tatsuya Ikeuchi (Executive Chef)
I certainly appreciate that Chef Tatsuya Ikeuchi and Chef Kazutoshi Nakasone took some time off to entertain the curiosity of fellow food bloggers =)
Address:
Blu Med Ristorante e Bar
Unit 27-G Ground Floor & Unit 27-1 First Floor,
Signature Office,
The Boulevard, Mid Valley City,
Lingkaran Syed Putra
59200 Kuala Lumpur

Tel: 03-2201 5081
And now, to reward my fellow readers who took the time and effort to read my post, here's a reward for you!
Just print out this voucher and you're entitled to taste the awesome Squid Ink Pasta at a 50% off!!!
Voucher valid from 17th March 2014 – 30th April 2014.
Update (14/11/2014)
:
Blu Med has been closed down and will be replaced by
Tim Ho Wan
. Tim Ho Wan will be opened this November. Stay tuned to my blog for latest updates!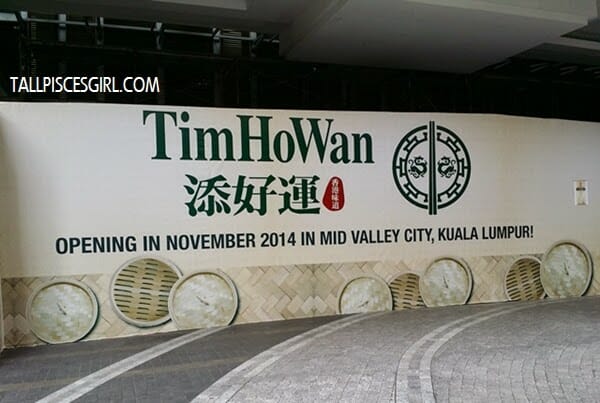 Tim Ho Wan @ Mid Valley