Tim Ho Wan (添好運) is finally in Malaysia!
So what's so special about Tim Ho Wan? Why is everyone raving and queuing to try their dim sum you ask? Yes, dim sum is available everywhere but Tim Ho Wan in Hong Kong has successfully earned
a Michelin star
within their first year of operation – and that is what made them so popular.
A day before the official launch, I was there for their operational trial run. I have been informed beforehand that since this was just an operational trial run, things might not be up to expectation yet. This is not an official food review session so I'd just give a little feedback on the food and a
preview of what's available in the menu
.
There are a
total of 25 items
in Tim Ho Wan's menu which includes
Big 4 Heavenly Kings
a.k.a. must-try items. Big 4 Heavenly Kings –
Baked Bun with BBQ Pork, Pan Fried Carrot Cake, Steamed Egg Cake, Vermicelli Roll with Pig's Liver
. Of all the 4 items, only Pan Fried Carrot Cake didn't make it to the "What's Good" list.
What's Good @ Tim Ho Wan
1. Baked bun with BBQ pork 酥皮焗叉烧包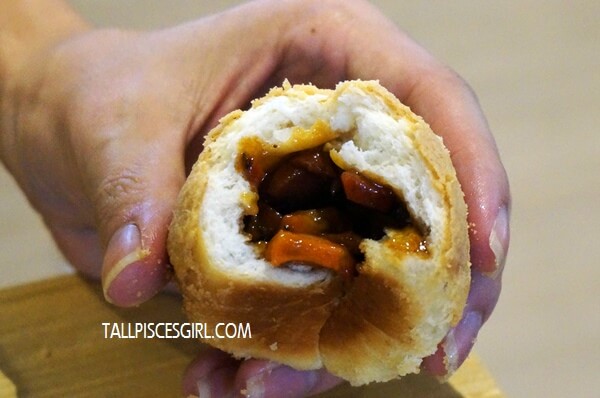 Baked Bun with BBQ Pork
is a twist to the usual char siew bao because the bun actually looks like Roti Boy. It's a good thing though because the texture is pretty good – crisp on the outside, soft and fluffy on the inside. Unlike the usual BBQ Pork fillings which is brown/black, the one at Tim Ho Wan is coated with orangey caramel.
2. Steamed Egg Cake 香滑马来糕
For once, I doubted "is this really Mah Lai Gou?" because this
Steamed Egg Cake
from Tim Ho Wan has a very strong egg taste! So strong and good that it's addictive!!
3. Vermicelli Roll with Pig's Liver 黄沙猪润肠
Vermicelli Roll with Pig's Liver
is another twist to traditional dim sum dish, Hong Kong Chee Cheong Fun. I love the silky smooth vermicelli roll's texture that easily slides into my mouth. I find that their pig's liver has a softer texture compared to normal ones but nevertheless, I still love the taste.
4. Prawn Dumpling 晶莹鲜虾饺
I can't help but to admire at their Prawn Dumpling's crystal skin. TimHoWan is very generous on the prawn fillings – each piece of
Prawn Dumpling
has at least 2 large, fresh prawns!
5. Wasabi Salad Prawn Dumpling 青芥末明虾角
The filling for
Wasabi Salad Prawn Dumpling
is the same as the Prawn Dumpling above – bouncy, fresh prawns. The only difference is the crispy deep fried dumpling skin on the outside topped with wasabi salad. It's great that the taste of wasabi is not overwhelming.
6. Beef Ball with Beancurd Skin 陈皮牛肉球
Tim Ho Wan's
Beef Ball
is soft and mushy. Some might like it, some might not. Clumsy Boy didn't like that texture but I'm OK with it and quite like the combination with dried citrus skin.
7. Tonic Medlar & Osmanthus Cake 杞子桂花糕
I bet many would feel confused as to what Tonic Medlar is, especially those who doesn't know how to read Chinese. Tonic Medlar is actually Goji Berry which is very beneficial to the eyes. I wouldn't say that this
Tonic Medlar & Osmanthus Cake
 is exceptionally good but it's definitely unique in its own way. Must eat while they're still cold or else they'll taste very very sweet.
What's Not
1. Pan Fried Carrot Cake 香煎萝卜糕
Their 
Pan Fried Carrot Cake
was too soft and mushy to my liking as I've always preferred it to be slightly crispy on the outside.
2. Braised Chicken Feet with Abalone Sauce 鲍汁焖凤爪
Braised Chicken Feet
is actually one of my favorite dim sum dishes but the one from Tim Ho Wan was a bit disappointing as the chicken skin was very tough and after I discarded out the bones, it felt like there's nothing to chew on.
3. Beancurd Skin Roll with Pork & Shrimp 美味燜鮮竹卷
When
Beancurd Skin Roll with Pork & Shrimp
came, the whole dish looked as if it's too oily. Not sure whether it was oil or sauce but I'd prefer it to be drier – at least the plate should look clean. The fillings were OK but forgettable.
4. Mango Sago Pomelo 扬枝甘露
I didn't get to try
Mango Sago Pomelo
because I was still coughing. So cold dessert is a no-no for me. Clumsy Boy ordered it and according to him, it wasn't too sweet but looks like not really worth the price. The color of it also reminds me of coloring! Have you been to
Tim Ho Wan, Mid Valley
yet? How was the queue? Do you think it's worth waiting? Share your experiences with me here! I hope they will open a branch soon to ease the human traffic.
Address
:
TimHoWan 添好運
27-G, Ground Floor, The Boulevard, Mid Valley City P/S: They don't accept reservations.