The Entertainer might sound like a circus name or something related to clown. Although it is neither one, but they have the same purpose: bringing you happiness. Who doesn't feel happy when you get to save money?
The Entertainer Arrives in Malaysia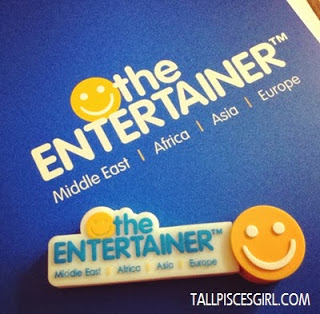 The Entertainer
The Entertainer is an international Dubai-based company offering a portfolio of 'buy one get one free' incentive vouchers since 2001. The Entertainer finally arrived in Malaysia with the launch of a state-of-the-art app and a voucher book.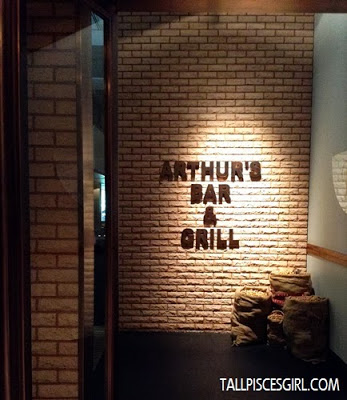 Arthur's Bar & Grill
Thanks to Xavier Mah Consultancy, I got to meet with Dana and Stefanie of The Entertainer at Arthur's Bar & Grill, Shangri-la Hotel for a luncheon to know more about how The Entertainer works.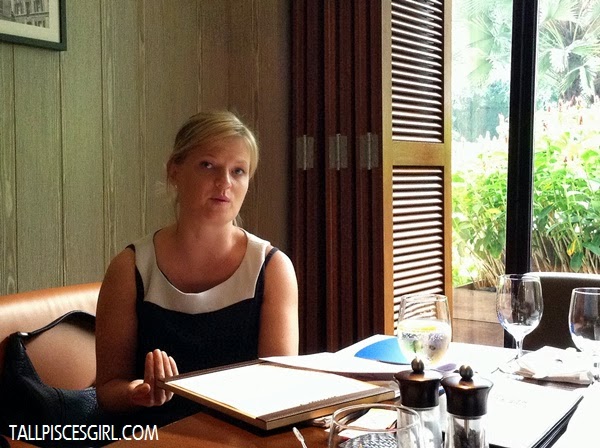 The friendly Dana explained to us on The Entertainer's background
Stefanie eagerly showed us how The Entertainer app works
The Entertainer will provide over 825 'buy one get one free' offers from the city's most exclusive dining, leisure, wellness and entertainment venues. Dine at some of the top restaurants in the city, the Shangri La Hotel KL and the Intercontinental Hotel KL. Enjoy authentic Bavarian cuisine at Brotzeit Bier Bar & Restaurant, enjoy the relaxed atmosphere at Madison's Restaurant in Bangsar, or take family & friends out to La Risata Italian Restaurants or any TGIF in Malaysia and not to forget Chatime outlets for the quick beverage on the go. They have everything from high end to low end. Talk about variety!

Aren't you salivating already looking at my food photos? With The Entertainer app, you can enjoy a Buy 1 Free 1 Main Course deal at Arthur's Bar & Grill!

The Entertainer also includes hotel accommodation offers for Malaysia's leading hotels such as Intercontinental Hotel Kuala Lumpur, Impiana Hotel as well as at the Berjaya Times Square Hotel. Oh, not to forget that you could also pamper your hair at the much raved Number 76 Salon!
The app will be available for free download across all app stores (iTunes, Blackberry, Google Play) from 1st October 2013 with a selection of eight vouchers to trial. These include restaurants providing 'buy one get one free' on main course items – Nerovivo, Arthurs Bar & Grill, Table 23 and Loco. Other offers in the month of October also include 'buy one get one free' smoothie from Red Mango and cooking class from Starhill Culinary Studio as well as pampering options from the Mandara Spa and Sienna Spray Tan at The London Orchid.
Starting from 1st November 2013, the full package of offers will be available for purchase through the app and the book is available for purchase via the Entertainer website:
https://www.theentertainerme.com
. Priced at RM235, the Entertainer Malaysia will contain over
RM370,000 in savings
. You can decide to purchase either the mobile package of offers for the app or the book depending on your preference, as each will contain 825 identical incentives. Once purchased, the offers are immediately available to redeem, allowing you to use them for fourteen months until December 2014.
As an introductory offer, all users who purchase the full mobile package of offers will enjoy 40% off (RM141) for a limited time, which provides unprecedented value to Malaysia.
The key differentiation between the Entertainer and daily deals or group buying sites is that the offers are extremely user friendly and are virtually unrestricted:
All offers are valid for a year – in Malaysia for the launch, they will be valid for 14 months from 1st November 2013 through 30th December 2014.
All offers are valid 7 days a week, excluding public holidays.
Vouchers can be used in multiples – each merchant provides three buy one get one free offers which can be used at the same time.
A maximum of four vouchers can be used for a party of eight.
Vouchers can be used with no advance notice (excluding hotel accommodation and spas). Booking terms that would normally apply for any of our merchants would of course be observed.
Remember that sometimes you get a smaller portion because you got your voucher from deal sites? This won't happen if you're using The Entertainer app because you can tell the merchant that you have this app after the service! =p
How to use The Entertainer app:
Look up for The Entertainer on your app store. It is easily identified with the orange smiley logo 🙂
Download and create an account.
Select the country you're residing.
In order to redeem an offer, you would need to type in your pin number.
Then, you would need to hand your device to the merchant to key in their pin number.
Last but not least, remember to purchase the app on 1st November!! It is most worth it when you purchase at only RM 141!
*smart consumer*
The awesome bunch that day!
Thank you to The Entertainer and Xavier for everything!