Annyeong-haseyo!!!
Have you notice that the Korean wave is getting stronger and stronger in Malaysia? Definitely! In just a month's time, I've attended a
party with KPop artists
, launching of a Korean beauty store and now, a Korean restaurant! I'm sure
Bulgogi Brothers
is a familiar name by now as they started to mushroom in Malaysia in August 2012.
Bulgogi Brothers was first opened in Gang-Nam, Korea in 2006 and since then, they have expanded to 46 outlets in South Korea including one in Canada and four in the Philippines. In April 2012, Bulgogi Brothers was awarded by the prestigious National Brands Award for Best Korean Restaurant 2012. Thus, being invited as a guest to review their new outlet in e@Curve made me feel so honoured!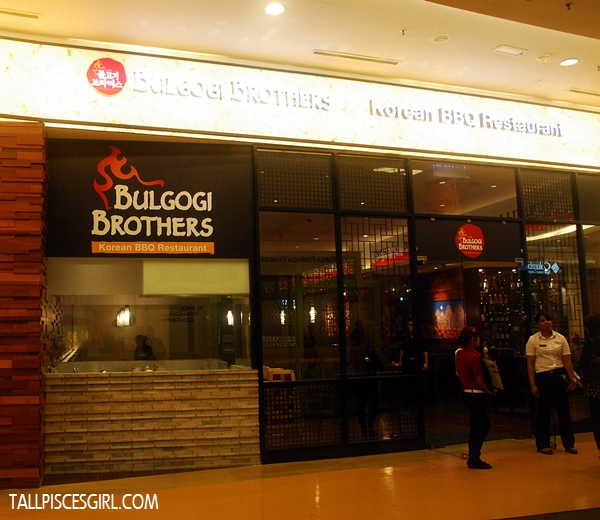 Bulgogi Brothers
Interior of Bulgogi Brothers
The ambience in Bulgogi Brothers is very pleasant, the lights dimmed and all the decorations were imported piece by piece from Korea to ensure that it mimics the interior of Bulgogi Brothers in Korea. They also play Korean songs in the background. According to them, their staffs were sent to Korea for more than a month for training purposes. Its no wonder their staffs are so knowledgeable and polite.
Complimentary welcome dish (Edamame, corn, sweet potato)
Refillable side dishes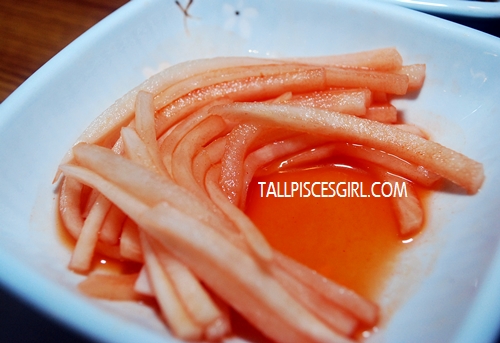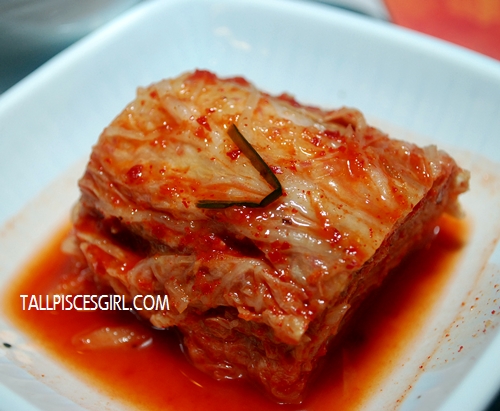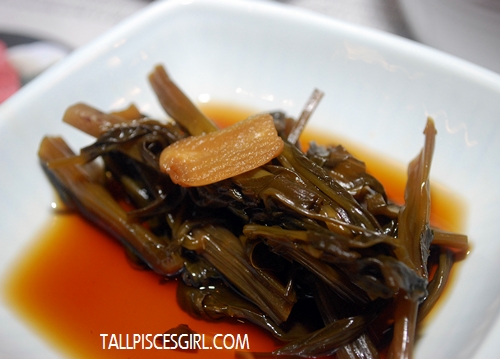 Sweet Potato Soup
Bulgogi Brothers is a very generous restaurant I must say. Upon arrival, guests will be served with complimentary welcome dish which includes Edamame, corn, sweet potato, 6 refillable side dishes and soup of the day! Our soup of the day was a yummy bowl of thick Sweet Potato Soup with almonds. It's so addictive I wanted another bowl! Another side dish worth mentioning is the Sweet Potato and Pumpkin Mash. Its sweet and thick texture paired with crunchy cucumber and carrot slices made a perfect combination.
Spicy Chicken Maekjeok Price: RM 20.90
The first main dish served was Spicy Chicken Maekjeok. Basically, it's chicken and vegetable skewers sauteed with sweet and spicy sauce but don't underestimate it; it acts like a bomb. When I first put it into my mouth, I told myself: Hmm… so this is not so spicy afterall. I can handle it and I'm so in love with the tenderness of the chicken. After I swallowed it in, the spiciness started to kick in!! In just a minute, I feel like a dragon, ready to emit fire from my mouth!
Haemul Pajeon Price: RM 27.90
Haemul Pajeon is a must-have Korean-style pancake with an abundance of seafood like prawns and squids and green onions. I love the aroma and taste of egg that still lingers even when cooked.
Unyangsik Bulgogi Price: RM 45.90
Highlight of the night is Unyangsik Bulgogi, a unique heart-shaped beef bulgogi seasoned to perfection. It was cooked by a trained staff there so guests can just eat without any hassle, worrying that we might overcook or undercook the meat. The beef that they serve is premium Australian grain-fed beef and is best eaten well done. Although it was cooked well done, but it still tastes soft and juicy. Thumbs up for that! I was told by the staff that the mushroom broth is good for men's stamina. *winks*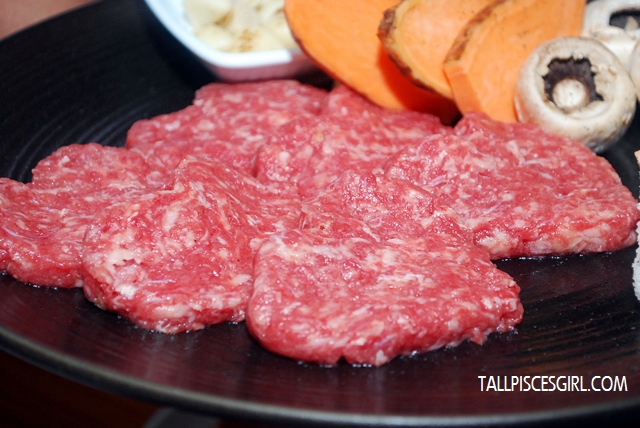 Beef patty represents my heart
Chamchi Kimchi Jjigae Price: RM 23.90
Chamchi Kimchi Jjigae is a Korean stew made from spicy kimchi paste, tofu, rice cakes and tuna. The taste of this is very surprising as I've never tasted one with tuna. Tuna blended very well with spicy kimchi soup and the spiciness is quite mild, suitable for people with low tolerance for spicy food.
Janchi Guksu Price: RM 17.90
Janchi Guksu is known as "party noodles" in Korea, served in a bowl of clear seafood broth and garnished with vegetables, sliced fried egg and seaweeds. It is known as "party noodles" because it has been eaten during special occasions like birthdays and wedding banquets as it symbolizes longevity.
Bulgogi Bibimbap RM 29.90
Last but not least, we were served Bulgogi Bibimbap, the most popular Korean dish where beef and vegetables were combined and served on top of rice and special spicy sauce. For this dish, we had the staff to help us mix it because to mix it properly in order to ensure that everyone gets all the ingredients in their bowl requires skill!
Corn tea (back) and Sour Plum tea (front)
Before we start our meal, we were served with tea of the day: corn tea (Oksusu Cha). Love the refreshing taste of it. They rotate their complimentary tea on a daily basis between corn tea, brown rice tea and buckwheat tea. When we finished our meal, we were served sour plum tea to help in our digestion.
Overall, my tummy is very satisfied with the hearty meal and trust me, I will be back for more Korean goodness!
Address
:
e@Curve
Lot G-05 & G-06, Ground Floor, e@Curve No. 2A, Jalan PJU 7/3 Mutiara Damansara, 47800 Petaling Jaya
Tel
: 603-7722 3633
Pavilion KL
Lot 6.01.03, Level 6, Pavilion KL Shopping Mall, No. 168, Jalan Bukit Bintang, 55100 Kuala Lumpur
Tel
: 603-2141 9620
Paradigm Mall
GB13, Ground Floor, Boulevard No.1, Jalan SS 7/26A Kelana Jaya 47301 Petaling Jaya
Tel
: 603-7887 3541
Mid Valley Megamall
Lot T-013B, Level 3, Mid Valley Megamall, Lingkaran Syed Putra, 59200 Kuala Lumpur
Tel
: 603-2282 2413
Update
: Bulgogi Brother has retreated from Malaysia in 2017