As most of you knew, the most anticipated party ever: pinnacle of H-Artistry 2012 has been held at Mines International Exhibition and Convention Centre last 2 Saturdays. It has been pouring on and off from day til night, making it a very wet day. My friends even had problem going to the venue from Mines Wellness Hotel. I decided to drive there and park my car at Mines Wellness Hotel and use their jockey service. The jockey service only costs me RM 10 and they're so considerate, they purposely drove us to MIECC and dropped us there so I don't need to brave the rain and walk over.
While waiting for my friends to come, suddenly there was a chaos! What happened?! Everyone rushed over to the entrance with their cameras ready! I, too don't wanna miss out anything and went over to kepoh. Oohhhh!! It's the arrival of K-Pop sensation, Block B! Block B consists of 7 members namely Taeil, Jaehyo, Kyung , P.O., Zico, B-Bomb and U-Kwon.
Block B arriving MIECC for H-Artistry
Handsome hunks of Block B
Short interview with Block B
Before we enter the party zone, we chilled at the Hennessy Art of Mixing Zone, enjoying free flow Hennessy long drinks (my favorite is Hennessy Apple!) and mingled with some long lost friends.
Drink all the Hennessy long drinks!!!
You'll be served by pretty girls! :3
This is for you, guys!!! XD
Hmmm… what lies behind this black and red themed setting?
Due to the rain and transportation problems, I didn't get to capture a lot of group photos like the previous instalment of H-Artistry because all my friends couldn't arrive on time although the entry time was 2 hours later than scheduled.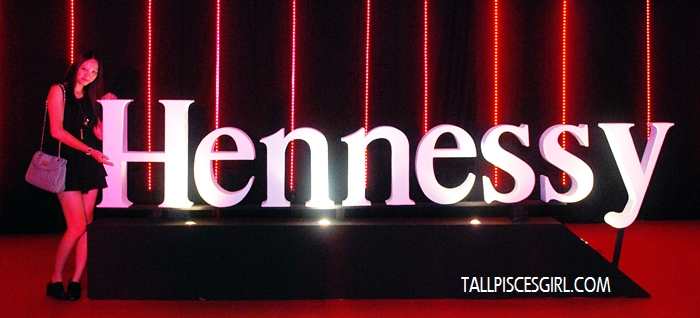 Compulsory photo everytime I attend H-Artistry! 😀
The first act that performed was Block B! YAY for the amount of eye candies!!! *screammmmmmssss*
I was feeling a little dizzy halfway through their performance, I wasn't sure whether I had too much at the mixing zone or it was the flashing lights but still I stumbled my way down to the stage and took some shots because Zone O's location is not so strategic and crowded. All I can see was their back =(
As I was quite exposed to Korean culture (I watch Running Man and other Korean dramas, listen and even learned to sing Korean songs), I was really excited to watch their performances! I can clearly see that everyone down the stage was enjoying it like watching a concert! Most girls are concentrating on drooling instead of dancing though XD
Wait no more! For those who didn't go, I'll make you drool in front of your lappie!
OK girls, now go wipe off your saliva. It's now drooling time for the guys!! Presenting to you, Evol! I of course, envy their slim body and long legs!!
Nice view for guys *teehee*
After the performances, finally it's time for DJ Havana Brown to come out and spin some awesome dance music! The atmosphere turned so high and most people started dancing!
Havana Brown
Havana Brown turned over here!! *snaps pic*
Overall, I enjoyed myself more this time compared to the previous H-Artistry because the previous one was my first time and so it felt kinda awkward. The party was over an hour earlier than scheduled though and I was hoping to have more fun this time! There's a lot of room for improvement and I definitely look forward to the next H-Artistry in 2013!!