The idea of you are what you eat is not a new one. The food we eat is an essential part of our life. It fuels us, and it sustains us. The food we eat can also affect how we live, how we feel, and how we think.
Potatoes are an important part of a healthy diet. Potatoes can boost sports performance and help fuel people who do sports or lead an active lifestyle as they are able to provide energy, fiber, potassium and Vitamin C to our body. Recent studies have shown that potatoes contain nutrients that could benefit fitness buffs, marathoners and athletes.
U.S. Potatoes Boost Sports Performance at Twincity Marathon 2022
Potatoes USA recently took on the role of being the key sponsor to the Twincity Marathon 2022. 4,000 runners in both the full and half marathons were treated to U.S. mashed potatoes to help them replenish energy levels and nutrients needed after the marathon.
His Excellency U.S. Ambassador to Malaysia, Mr. Brian D. McFeeters, who is 61 years of age, participated in the half marathon (21km run). "I am delighted to see Potatoes USA as a sponsor of this marathon and glad to have the information that potatoes are healthy, high in potassium, Vitamin C and fiber – which are great for post recovery," quipped Mr. Brian. "So now, maybe Malaysian can get to enjoy more potatoes like what we do in the U.S.," he continued.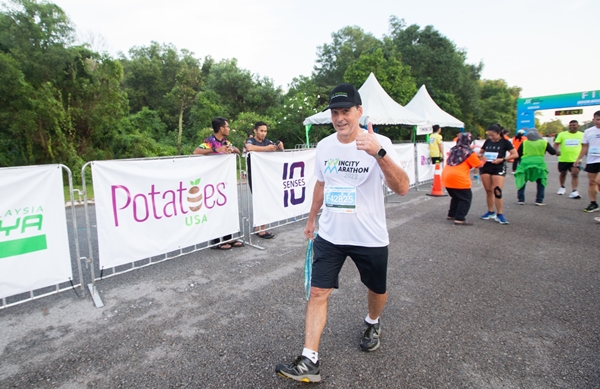 Brian managed to clock an impressive marathon finishing time of 2.27 hours! He is the testament that with proper diet and healthy lifestyle, at his age, he could still beat many younger Malaysians in the half marathon. Despite his hectic schedule, he maintains regular exercise and incorporated U.S. potatoes into his healthy diet regimen.
Max Lim, 51, is a writer in KL who loves to run and is a familiar face at marathons in town. "As a runner, I love U.S. potatoes because they are a nutritional powerhouse that help me stay fueled for my runs. They are quite easy to digest and reduce hunger pangs during a long or intense run. Furthermore, they are tasty and can be prepared in many ways – there are no limit to the versatility of the U.S. potatoes," enthused Max.
Kelly Chin, 45 years old, is an avid runner and enjoys eating U.S. Potatoes for her carbo energy, as it is a healthier alternative. "Potatoes are one of the must-haves in my kitchen because they are versatile, nutrient-dense, and energy packed food. This helps to fuel my workouts and runs," she quipped.
Numerous studies conducted over the past 40-50 years also shown that carbohydrates are a primary macronutrient for sustaining and improving athletic performance. According to Nutrition Today, a US journal, it is suggested that a balanced diet high in natural, quality carbohydrate rich foods like nutrient-dense potatoes may be optimal to improving physical performance among endurance athletes.
Key Facts About Potato Power (One Medium US Potato)
Potatoes can help improve athletic performance in several ways:
26g of carbohydrates (9% daily needs): Potatoes provide quality carbohydrate, important for optimal physical and mental performance as the primary fuel for your muscles and brain. Since our body's own storage of carbohydrate are limited and may be depleted, we need to replenish them after a single session of intense and/or prolonged exercise.
620mg of Potassium (15% daily needs): Potatoes with the skin-on provides more potassium than a banana. It contains no fat, no sodium, and no cholesterol. Potatoes are perfect for aiding muscle, cardiovascular and nervous system function during long endurance events such as marathon.
27mg of Vitamin C (30% daily needs): Helps in iron absorption, supports body's immune system and aids in collagen production, a major muscle tissue component.
3g of plant-based protein (8% daily needs): Protein is an important nutrient for sports performance. It aids in building cells to repair tissues and muscles.
2g of Fiber (10% daily needs): Fiber helps regulate blood glucose and increase fullness for a longer period of time.
110 Calories for Energy: Easy to digest and supplies more energy than any other popular vegetables, potatoes are a perfect choice to fuel the demands of running a marathon.
To learn more about U.S. Potatoes and discover interesting recipes, follow Potatoes USA Malaysia on Facebook.