Potato may be small in size, but it is big in nutrition! Potatoes contain complex carbohydrates, potassium, fibre and vitamin C you need to perform better than ever. It is also more energy-packed than any other popular vegetables and contains more potassium than a banana! It is no surprise when studies revealed that athlete's performances is affected by his/her nutrition intake.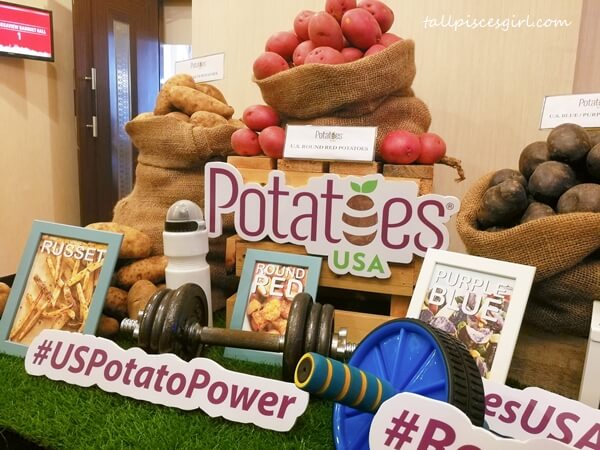 Potatoes USA
Potatoes USA
has recently launched its "
Real Food, Real Performance 2019
" campaign at Menara KL (KL Tower). Besides highlighting education on performance nutrition, Potatoes USA will also collaborate with several athletes for 2019/2020 and participate in various performance-related athletic events including the Yayasan TM Tower Run. Potatoes USA has been working closely with a community of recognized athletes in the U.S. as well as various countries in Asia like Japan, South Korea, China and now Malaysia.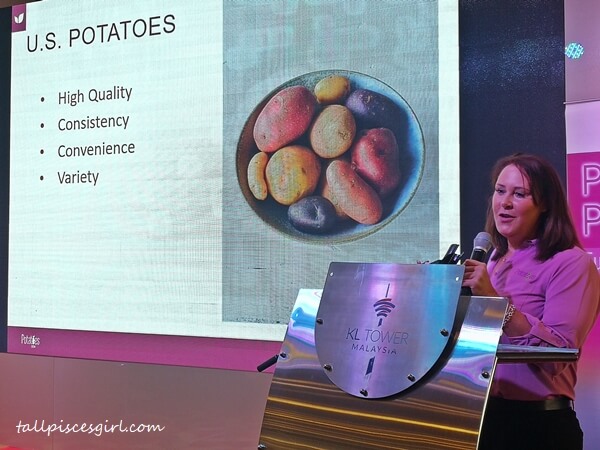 Why You Should Consume U.S. Potatoes
Powerful Nutritional Values

U.S. potatoes are an excellent source of carbohydrates. They are rich in vitamin B6 and C, potassium, folate, fibre and antioxidants.

tallpiscesgirl X Potatoes USA

Nutrition in one medium potato (5.3 ounces)

620 milligrams of Potassium: With more potassium than a medium-size banana, potatoes are perfect for aiding muscle, cardiovascular and nervous system function during long endurance events.
26 grams of Carbohydrate – Potatoes provide nutrient-dense quality carbohydrate, important for optimal physical and mental performance as the primary fuel for your brain and a key source of energy for muscles
110 Calories for Energy: More energy-dense than any other popular vegetables, potatoes are a good choice to fuel the demands of racing a marathon

Increase Performance

Research conducted has verified that potatoes are natural, functional, energy-packed foods with healthy goodness for sportsmen, and every day consumers to perform at their best. Potatoes are a good choice to fuel the demands of competition. They are extremely versatile and filling, making it a convenient source for athletes. Insufficient carbohydrates consumed will cause performance to suffer. Sport science expert recommends that the daily carbohydrate intake for athletes range from 6-10 g/kg body weight.

Easily Digestible

Potatoes are easily digestible and more energy dense than any other popular vegetables.

High Quality

U.S. potatoes are recognized for its high quality and consistency. This is due to the ideal growing temperatures, rich soil, state-of-the-art processing and generations of expertise in growing them. All these factors made U.S. potatoes the finest in the world. Stringent U.S. industry standards that meet Food and Drug Administration and USDA specifications ensure US Potatoes are safe to consume and are of high quality.

Cost Efficient

A serving of potatoes (5.3 ounces) will only cost you around RM1.50. In fact, potatoes have the highest score per ringgit on providing potassium, fibre, protein, vitamins C and E, calcium, iron and magnesium, beating out other vegetables like sweet potatoes and carrots. U.S. potatoes can provide key nutrients at the most value-for-money price.
To demonstrate the power of U.S. Potatoes in active sports, three champion runners, World's No. 2 & Asia's No. 1 tower runner champion, Soh Wai Ching, Malaysia's No. 1 veteran runner Jeffrey Ross and ultra-marathon champion, Tahira Najmunisaa took U.S. Potato Flex Energy Bars to fuel them throughout the run up the strenuous 2,058 steps of KL Tower to beat their own personal run up time.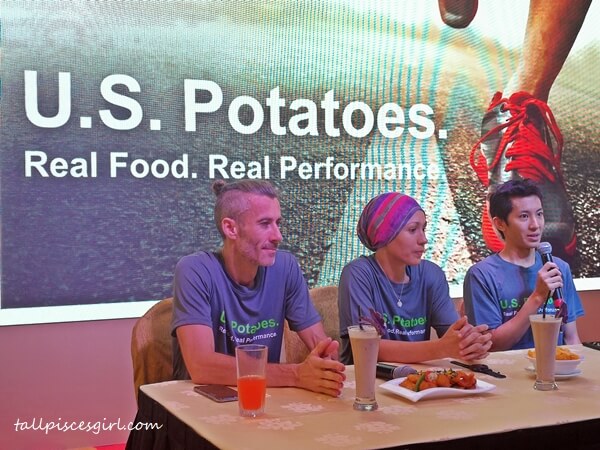 The three runners took U.S. Potato Flex Energy Bars to fuel them throughout the run up the strenuous and endless 2,058 steps of the tower in a bid to best their own personal run up time. They drank U.S Potato Smoothies after the run up to replenish their depleted glycogen levels. In a sharing session afterwards, each revealed their sports regime and how nutrition plays a crucial part to their successes.
Towerrunning is an extremely intensive sport requiring a lot of energy in such a short period of time. Athletes engaged in high volume and high intensity training require adequate amounts of carbohydrates for energy. "The total calories burned for a 10-minute walk up the stairs are equivalent to 20-30 minutes of brisk walking horizontally. As such, I require large amounts of carbs to provide high levels of energy. Due to my active sports regime, my diet consists of 70% carbohydrates. Hence, I will opt for good carbs, nutrient-dense and natural foods to help me. U.S. potatoes fit the bill", said the enthused Soh. Soh is also the President of Malaysia Towerrunning Association (MTA), formed in August 2019 to govern and regulate Towerrunning Sport in Malaysia.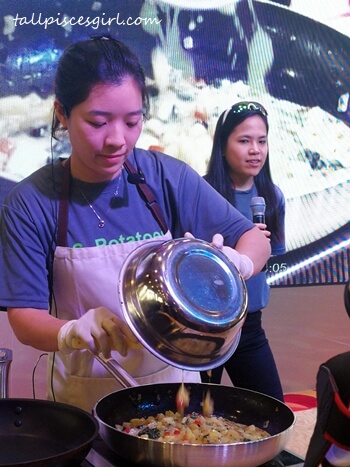 Well-known Sport Dietitian / Nutritionist and an avid runner herself, Adele Wong and Chef Janice Lee went on to showcase several delicious recipes suitable to fuel the performances of competitive sportsmen. Here, I'm sharing a recipe for U.S. Potato Power Frittata with Spinach as Pre-Workout meal and Fusion U.S. Potato Gratin for you to enjoy after your workout. This is a warm and hearty recovery meal that comes with a hit of potassium!
U.S. Potato Power Frittata with Spinach
Frittatas are easy to prepare and super versatile! They make a well-balanced meal, keeping you on your feet for the rest of the day!
Ingredients
350

g

U.S. Russet Potato

6

Egg

Whole

50

g

Parmesan Cheese

1

Onion

Cubes

65

g

Baby Spinach

½

Red Capsicum

Cubes

45

g

Milk

30

g

Butter

1

tbsp

Olive Oil
Instructions
Peel and cut the fresh U.S. Russet potatoes into small cubes. Boil in boiling water for 10 - 15 mins depending on size.

In a non-stick saucepan, sauté spinach, onion, red capsicum and boiled potatoes in butter, and season with a pinch of salt and black pepper over medium heat. Set aside.

In a large bowl, combine egg, parmesan cheese, milk and seasonings. Stir to mix.

Add in the sautéed vegetables to the large bowl. Stir to mix.

Pour the mixture into a greased 10-inch pan over medium heat. Stir lightly with a fork until almost set. Cover for 3-4 mins on medium heat to allow mixture to cook through.

Remove from heat and serve.
Fusion U.S. Potato Gratin
Enjoy a warm and hearty bowl of curried potatoes after your workout. This is a great recovery meal that comes with a hit of potassium!
Ingredients
500

g

Fresh U.S. Russet Potato

60

g

Whipping Cream

45

g

Parmesan Cheese

Shredded

45

g

Mozzarella Cheese

Shredded

1

clove

Garlic

Minced

3

g

Curry Leaves
Seasoning
5

g

Salt

3

g

Black Pepper

20

g

Curry Powder
Instructions
Wash and peel the fresh U.S. Russet potatoes. With a slicer, slice the potatoes very thinly and place them in a large bowl.

In a separate bowl, combine the whipping cream, milk, cheese and seasonings. Mix with a whisk.

Pour the liquid onto the thinly sliced potatoes and toss well.

Pour the potato mixture into 4 ramekins and put a dollop of butter on top. Cover the ramekins with aluminium foil.

Place the ramekins on a sheet pan and bake for 20 mins.

After 20 mins, remove the foil from the ramekins and bake for another 10 - 15 mins until potatoes are cooked with a golden brown top.
There are 7 main potato types that can be found at most major grocery stores. They are Russets, Petites, Fingerlings, Reds, Yellows, Purples/Blues and Whites. For more performance enhancing potato recipes, check out the following website:
https://www.potatogoodness.com/recipe-category/performance/