Jaya One has undergone a major facelift during the past few months and I'm happy to know that The Square, Jaya One is now reopened with a great addition of F&B choices. One of the noteworthy restaurants is a Thai Gastrobar that serves quality Thai fusion food, Tommy Thongchai. t
Tommy Thongchai @ The Square, Jaya One
It's hard to miss this restaurant because it has a pretty fancy exterior that will surely catch your attention. On the inside, it looks modern yet cozy, perfect for gatherings and celebration.
For me, starter during a meal is very much appreciated. Let's see what they have to offer at Tommy Thongchai, shall we?
We were served with 2 different appetizers. The first one is Yum Som-O Thai Pomelo Salad, a very appetizing dish that combines sweet, sour and spicy flavors into one perfect refreshing plate of goodness. The pomelo was imported all the way from Thailand!
The second appetizer is Kale Salad with a Crunch. It tastes quite good, and especially recommended for the health-conscious ones. It's always recommended to start the meal with something light like fresh kale with Thongchai kale dressing and Thai chili flakes.
If you're here with a large group of friends, Tommy's Platter in extra large size would be the ideal choice for sharing. This huge platter of mouth-watering dish includes Chiang Mai sausage, fried calamari, fried pork riblets, fried pork belly, Thongchai's Nachos, pulled pork fries, luncheoon meat fries and moo ping skewers. Pairs perfectly with a pint of ice cold beer.
I'm thrilled to see that Tommy Thongchai is offering high quality Black Angus Steak Fries, whereby grain fed black Angus ribeye is prepared using Isaan marinate or Thongchai's dry rub before it is charcoal grilled. Love the juicy, tender meat which is nicely charred on the outside. Served with Thongchai fries. @ RM 127 (285g)
Fancy some Thai fusion with Italian food? One of the dishes you can choose is Mac & Cheese. Apart from the classic ingredients like macaroni and Mozzarella cheese, you can taste some Thai flavors with the use of Krapao Pork.
Alternatively, you can also go with Tomyum Bolognese with Meatball, a pretty interesting dish.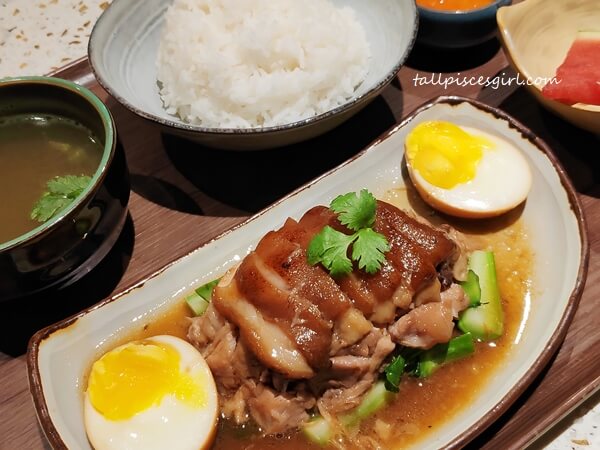 If you crave for some classic Thai food, I'd recommend you their Pork Trotter Rice. They prepared it just like how I had it in Bangkok so I can safely say that this is pretty authentic.
You can also try their Fried Mama Noodle that's complete with fresh, decent-sized prawns, slices of stir fried chicken and lime.
You know how the Thais love basil and their pork. At Tommy Thongchai, they cleverly incorporated Krapao Pork (Thai Basil Pork) into Krapao Pork Burger to create juicy patty. On top of the patty, you'll find a perfectly cooked over easy egg. Served with Thongchai fries at the side too! Thumbs up!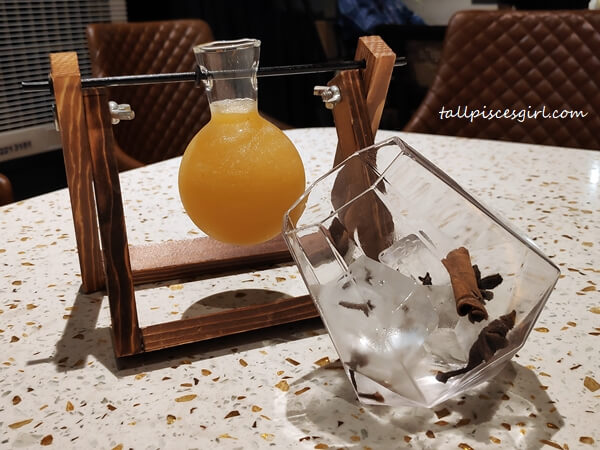 Let's dive in to their cocktail varieties. They're offering a lot more than this but I'm going to touch about some of their signature ones. Looking like something straight out from the science lab is Thong Kao, an interesting concoction of mango juice, lime, star anise, cinnamon, Mekhong rum, Sambuca and Angostura Bitters.
I love the presentation of their cocktails, so intriguing. This looks like a bowl of Tau Fu Fah dessert but guess what? It's a cocktail called Tom Kha Cocktail. It's white because there's coconut milk, fresh milk, vodka infused with chili, lemongrass and lime.
Chow Phraya is an interesting mixture of Thai alcohol like Phraya rum, Mekhong rum, bitters, lime and mint. It's great for people who prefer something slightly sour.
If you're a light drinker, I suggest you to try Thaiga Punch (RM 12). The combination of Tiger beer and apple juice makes it a lot easier to drink as it doesn't taste as bitter anymore.
Address
:
Tommy Thongchai Thai Gastrobar @ Jaya One
G.005, The Square, Jaya One Shopping Centre, 46200 Petaling Jaya, Selangor
Tel
: 6012-901 2848
Opening hours
: Daily 11.30 am – 12 am
Facebook Page
:
www.facebook.com/TommyThongchai/