Come 21st May 2022, tea drinkers around the world will hold up a cuppa and celebrate International Tea Day to recognize the significance and benefits of tea. Right here in Malaysia, NESTLE LIVELY Tea invites Malaysians to join in on the celebration by enjoying the refreshing taste of its innovative iced tea, infused with the wonders of botanical extracts. In conjunction with this meaningful celebration, Malaysians are encouraged to discover and enjoy NESTLE LIVELY Tea campaign from 15 May to 15 July 2022.
NESTLE LIVELY Tea
From calming the soul to providing a refreshing burst of flavor, tea has always been a popular choice of beverage for many to enjoy a moment of peace and relaxation amidst their busy schedules. When served warm, tea can immediately bring a relaxing comfort while iced tea is a great way to quickly quench one's thirst. NESTLE LIVELY Tea takes this experience to the next level with its range of refreshing tea drinks infused with unique botanical extracts derived from traditional herbs and fruits used for centuries across different cultures, for their known beneficial effects. On top of it, NESTLE LIVELY Tea is also lower in sugar compared to other fruit-flavored tea-based drinks, making it a tastier and healthier option with beneficial properties.
NESTLE LIVELY Tea New Ambassadors
To further commemorate International Tea Day, NESTLE LIVELY Tea is proud to announce the appointment of two brand ambassadors, Malaysian actress Uyaina Arshad and MyFM radio DJ Ng Kar Yoon. "We are very pleased to have our brand ambassadors onboard to help NESTLE LIVELY Tea spread its positive philosophy where one should always take a moment for themselves to focus, calm and sustain, especially during busy days. Both our brand ambassadors are known for their passion and undeniable talent. They also embody the same energy as NESTLE LIVELY Tea, seeking excellence in everything that they do as well as motivating and inspiring their fans to live life to the fullest while also looking after their wellbeing. We are confident that the positive influence from our brand ambassadors will help the brand empower more Malaysians to care for themselves and discover how our range of teas infused with botanical extracts can bring moments of refreshment and enjoyment through their daily lives," says Juan Aranols, Chief Executive Officer, Nestlé (Malaysia) Berhad. Ads featuring Uyaina Arshad and Ng Kar Yoon will roll out on various platforms from May onwards.
NESTLE LIVELY Tea Range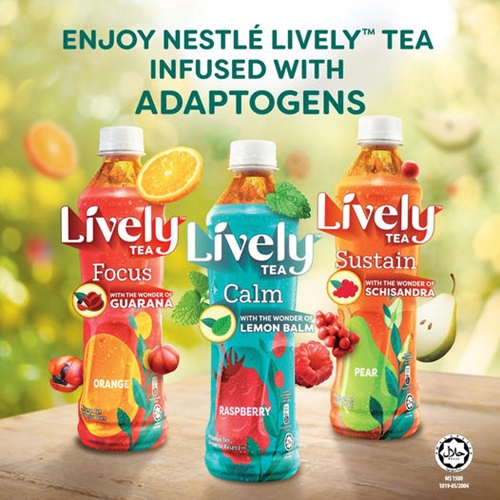 NESTLE LIVELY Tea is available in three exciting fruity black tea variants, each one featuring a unique botanical extract. The NESTLE LIVELY Orange Guarana Tea is brewed with Guarana extract, a plant native to the Amazon, and tangy orange peel notes first used by the Guarani Tribes in the Amazonic jungle to sharpen their senses ahead of the hunt. Enjoy this refreshing variant for those moments when you need to regain focus.
NESTLE LIVELY Raspberry Lemon Balm Tea is brewed with a burst of raspberry, and a hint of minty lemon balm, a botanical extract known also as the "Elixir of Life" and used for centuries in Europe for its relaxing properties. Just what you need for moments of calmness and reflection.
Need a refreshing boost to sustain throughout your day? Grab a bottle of NESTLE LIVELY Pear Schisandra Tea, that is brewed with a flavorful blend of pear and schisandra berries. Used as a traditional Chinese remedy over the centuries, Schisandra berries are believed to restore the body's natural balance of Yin and Yang.
NESTLE LIVELY Tea is available at Aeon, CU Mart, Shell, Shopee/Lazada and many other petromarts and convenience stores in a 450ml bottle format. For more information, visit https://www.dearnestle.com.my/brand-story/nestle-lively-tea.