In conjunction with World Nutrition Day which falls on 28 May, Potatoes USA is celebrating it with the theme "A World of Flavours". To make the celebration merrier, 20 Malaysian Key Opinion Leaders (KOL) were invited to TCH Foodworks Culinary Workspace in PJ to whip up a repertoire of delicious and nutritious dishes using US potatoes as a main ingredient.
World Nutrition Day with Potatoes USA
U.S. potatoes, regardless fresh or frozen, are very versatile. You could stuff it with your favorite fillings for appetizers, whip up a hearty soup, set aside some spuds for mains–the list goes on and on! Plus the potato never fails to make a sweet dessert that even the pickiest of consumers can enjoy. US potatoes are not only energy-packed and easy to cook, but they are also an excellent source of key vitamins and minerals.
According to consultant dietitian Indra Balaratnam, one medium US potato contains about 110 calories of easy-to-digest calories, has zero cholesterol, zero sodium and zero fat. US potatoes are also packed with nutrients and make a great addition to any diet to help maintain whole family's health.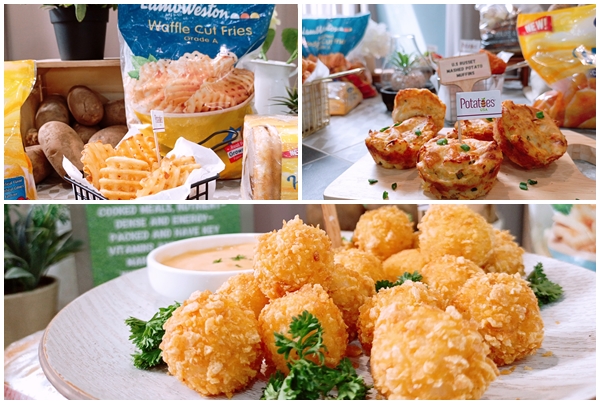 Nutrition in One Medium US Potato

26g of carbohydrates (9% daily needs): Fuels muscles and brain
3g of protein: Aids in building cells and muscles
27mg of Vitamin C (30% daily needs): Collagen production, iron absorption and supports body's immune system
0.2mg of Vitamin B6 (10% daily needs): Carbohydrate and protein metabolism
600mg of Potassium (15% daily needs): For proper muscle function
1.1mg of Iron (6% daily needs): Carries oxygen to muscles
2g of Fiber (10% daily needs): Important for healthy gut
Tania Lee, a sports dietitian was also invited to share some tips on how U.S. Potatoes can be beneficial for those who are athletic and living an active lifestyle. According to her, potatoes can fuel the body and boost sport performance. Carbohydrates are a key fuel for muscles during exercise and helps in recovery after one's workout session. Hence, it is crucial for optimal physical and mental performance.
"Protein in potatoes are great building blocks for growth and a key component of muscles, ligaments, and connective tissues. Plus, Potassium is important as electrolyte for muscles to function well and potato is a better option as it provides more Potassium than a banana," explained Tania.
During "A World of Flavours" event, dietitian Indra Balaratnam has designed four healthy and yummy recipes using U.S. potatoes – U.S. Russet Potato Muffins, U.S. Potato Feta & Parsley Croquette, U.S. Russet Potato Green Apple Kerabu and Texmex Style U.S. Potato Skins. These dishes are easy to replicate and are popular with the palates of Malaysians as their flavors are appetizing, perfect for any family gatherings, potlucks or quick meals.
Texmex Style US Potato Skin
Texmex Style US Potato Skin by dietitician Indra Balaratnam
Ingredients
2

U.S. Potato, medium-sized

scrub the skin and pat dry

50

g

Red onion

1

Jalapeño chilli pepper

seeded and minced

30

g

Cherry tomatoes

diced

⅓

cup

Canned black beans

drained and rinsed

⅓

cup

Corn kernels

frozen

2

tsp

Ground cumin

4

tbsp

Cheddar cheese

shredded

4

tbsp

Sour cream

fat-free

1

tsp

Salt

1

tsp

Black pepper

1

tbsp

Spring onion

finely chopped
Instructions
Prick 2 medium US Russet Potatoes and microwave on high for 6 minutes. Check for doneness by gently squeezing them. They should be soft to the touch.

2 U.S. Potato, medium-sized

Preheat the oven to 200°C. Slice each potato in half lengthwise. Scoop out potato flesh, leaving a 1/4-inch shell. Set the potatoes flesh aside for later. Place potatoes on a foil-lined baking sheet. Spray with cooking spray and sprinkle with salt. Broil for 5 minutes, or until crisp and golden.

Heat the olive oil in a pan. Add chopped onion and jalapeno and cook for 3 minutes.

50 g Red onion,

1 Jalapeño chilli pepper

Add the chopped cherry tomatoes, black beans, corn and cumin and cook for 5 more minutes.

30 g Cherry tomatoes,

⅓ cup Canned black beans,

⅓ cup Corn kernels,

2 tsp Ground cumin

Mix the cooked bean and corn mixture to the potato flesh. Season with salt and pepper to taste.

1 tsp Salt,

1 tsp Black pepper

Remove potatoes from oven, using tongs to carefully flip over. Pack each potato skin with the bean and US Russet potato mixture. Top with shredded cheese, dividing evenly.

Return the potatoes into the oven and grill for about 4 minutes, or until the cheese melts slightly. Cool them down for 10 minutes. Top each with a tablespoon of fat-free sour cream and sprinkle with finely chopped spring onion.

4 tbsp Sour cream,

1 tbsp Spring onion
US Potatoes Cooking Competition
After the demo by Indra, it's time for the 20 KOLs to shine and show how versatile U.S. Potatoes are. The results were amazing! There were many varieties created, each has its own uniqueness and scrumptiousness.
Yours truly teamed up with a good friend of mine, Ivy Kam to whip up some potato goodness! Sharing our recipe, US Potatoes Golden Ball. It's easy to make and tastes really good!
US Potatoes Golden Ball
US Potatoes Golden Ball recipe that renders 10 delicious potato balls
Ingredients
2

U.S. Potato, medium-sized

peeled

150

g

Shrimp paste

½

tsp

Black pepper

½

tsp

Salt

25

g

Sengkuang

diced

25

g

Carrot

shredded

2

Egg

60

g

Almond flakes
Instructions
Boil U.S. potatoes for 10 minutes until fork tender

2 U.S. Potato, medium-sized

In a large bowl, mash the potaoes with a fork

Add in shrimp paste, sengkuang, carrot, black pepper and salt

150 g Shrimp paste,

½ tsp Black pepper,

25 g Sengkuang,

25 g Carrot,

½ tsp Salt

Take about 2 tablespoons of mashed potatoes and form into a ball shape

Beat the eggs in a bowl and dip the potato ball into the egg wash

Coat the ball evenly with almond flakes

Spray some oil on the air fryer's basket and place the balls into the basket

Air fry for 15 minutes at 180°C until golden brown
For information and recipes, do visit www.uspotatogoodness.com.my or Facebook: @MY Potatoes USA.