This Spring, Roku Gin brings fresh flavors and experiences, introducing a medley of mixology and gastronomic collaborations with ten top bars and restaurants to celebrate the ephemerality of the changing seasons in every tipple and pairing.
In Japan, every season bursts with life and is celebrated with delight. Springtime begins with Ohanami, or the blooming of the luscious Cherry Blossoms when the Sakura tree begins to flower. The prized Sakura flower, a key ingredient in Roku Gin, is only handpicked in its "shun", or at the peak of season, for maximum freshness and flavor. This results in the signature delicate floral aroma and sweet body of this premium Japanese Craft Gin.
'Alive with the Seasons of Japan', Roku Gin is crafted by Japanese artisans who embrace the art of 'Monozukuri ' using the centuries-old tradition of meticulous attention to detail. Sakura leaves and flowers in Spring, Sencha and Gyokuro teas in Summer, Sansho Pepper in Autumn and Yuzu in Winter. Lovingly selected and handpicked, Roku meaning six in Japanese, artfully balances six of these unique Japanese botanicals of the highest quality to create a perfectly balanced, multi-layered spirit.
A complex yet harmonious flavor of multiple botanicals, the award-winning Roku Gin teases the palate with a smooth and silky texture, flaunting a refreshing Yuzu top note and a sweet, floral aroma from Cherry Blossoms, Sencha, and Gyokuro Teas with a crisp, slightly spicy finish from Japanese Sansho Pepper.
Roku Gin invites cocktail lovers to celebrate Spring together with exclusive restaurant and bar collaborations from 11 April to 31 May 2022. Immerse in the wonderful floral aromas of Sakura for a special Spring experience.
Here are the Top 10 Cocktail Bars and Restaurants that have come up with three specialty cocktails each, made with Roku Gin, to share their interpretation of this season of new beginnings.
Top 10 Cocktail Bars and Restaurants with Roku Gin Cocktails
1. Beta KL with Alex Cheah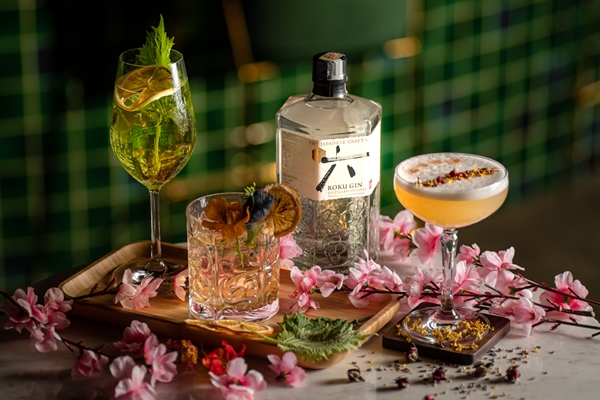 Springtime is blooming in Beta KL as they set off with a limited edition Spring menu at their signature outlet located in the heart of KL. Co-founder of Beta, Alex Cheah specially crafted three Spring inspired cocktails along with a unique 8-course food pairing menu that will take you on a historical journey of Malaysian gastronomy.
The aperitif is a refreshing Roku Spring Tonic (RM45) infused with Midori, Honey Sencha and Tonic to open up the palate while enjoying the first two snacks of the menu, featuring a calamansi infused pomelo, winged beans budu tart, truffled mushroom rolls, uni in a buckwheat seaweed shell, and mud crab dressed in kantan snow.
The second Roku pairing cocktail, Blossom (RM45), showcases a complex harmony of umami, floral and fruity flavors. It is paired with appetizer courses – juicy oysters topped with kedondong snow and shaved radish, succulent Hokkaido scallops with sea birdnest, followed by a heart-warming bowl of crab chawanmushi served with a homemade seaweed bread.
The Main course is a choice between cod fish served with nasi ulam and kesum, or garlic-infused lamb. It is paired with Umeshutini (RM45), steeped with Shiratama brandy, dry vermouth, and orange bitter, complementing the main course with its robust flavors. The dinner is followed by two decadent desserts.
Location & Reservations
CORMAR SUITES, Retail Unit No.3, Ground Floor, Lot 163, No. 10 Jalan Perak, 50450 Kuala Lumpur
m: +6019 2121 240
t: +603 2181 2990
https://www.betakl.com/
2. Bar Trigona with Marcus Kwok
Renowned as the first Malaysian bar on the World's 50 Best Bars 2020, take a trip down love lane with Bar Trigona this Spring.
For this season, Marcus Kwok from Bar Trigona introduces Love at First Sight (RM60) as their elixir of Spring. This specially-crafted cocktail marries Roku Gin with the Trigona honey and strawberries; a refreshing cocktail that will bring back sweet memories of your first love.
La Vie En Rose (RM 60) is as beautiful as its name, put together with tropical vermouth, China-China, Peychaud and angostura. The Love Letter (RM45) comprises of Campari, homemade grenadine, pineapple and lime juice.
Location & Reservations
Four Seasons Hotel Kuala Lumpur, 145 Jalan Ampang 50450 Kuala Lumpur, Malaysia
t: +603 2382 8888
https://www.fourseasons.com/kualalumpur/dining/lounges/bar-trigona/
3. Three X Co with David Hans
David Hans, co-owner of Three X Co, takes on the beautiful harvests of spring to whip up a Japanese-inspired martini this season, Harusaki-tini (RM45). Layered with Asian pear, rhubarb, and sake, complementing the botanical notes of the Roku Gin. Harusaki means the beginning of spring in Japanese, deemed as the best time of the year. The Marigold-HaiBoRu (RM45), made with Shisho vermouth, lychee, calamansi and chamomile soda, has a delectable bubbly zing. Have a pick of the Hana Harmony (RM45) that represents flowers of spring, laced with strawberry aperol, white grapes and jasmine flowers.
Location & Reservations
Bangsar Shopping Centre, Lot T6A, Level 3, 285, Jalan Maarof, Bangsar, 59000 Kuala Lumpur
m: +6019 336 6031
https://www.threexco.com/
4. Concubine KL with Mon
Concubine KL's bartender, Mon, created a theme which revolves around the flirtatious and funky nature of Chinatown, where everything there is done with a little dash of fun and sass. There is a Cherry for each Concubine (RM40), pays homage to the empowered, independent, modern women of today. Layered with maraschino, it mingles perfectly with the harmonious flavors of Roku Gin, especially the floral and sweet aroma of cherry blossoms.
The Sandokan (RM40) is created in honour of a fictional late 19th-century Malaysian pirate created by Italian author Emilio Salgari, known throughout the South China Sea as the "Tiger of Malaysia". A melange of Aperol, Bunga Kantan and Roku Gin, it is a tribute to Malaysian flavors. Finally, the Sirap Bandung (RM40), a classic rose and condense milk concoction, is a spirited twist on a local classic.
Location & Reservations
Lot 2, Jalan Panggong, City Centre, 50000 Kuala Lumpur
m: +6011 6090 2416
https://www.instagram.com/concubine_kl
5. Pahit with BOY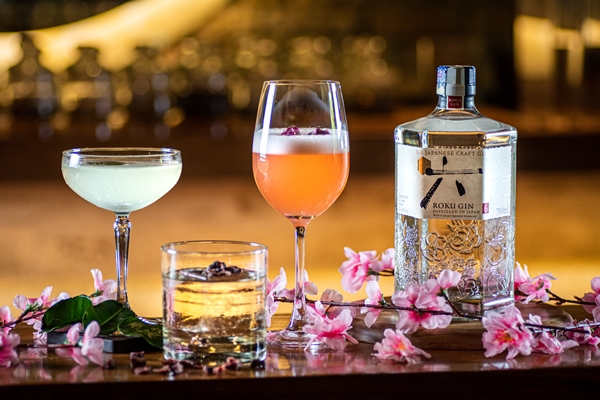 Tucked away in a quiet backstreet of Bukit Bintang is gin-focused Pahit Bar, beautifully refurbished with a slight industrial feel, stripped back walls and exposed bricks hidden beneath layers of history dating back to the 1920s.
This Spring, bar manager BOY introduces his specialty concoction, the Moon Ring (RM40). Infused with cherry blossom syrup, lemon and Aperol, this creation accentuates the Sakura notes of Roku Gin.
The Roku Reviver (RM40) is a velvety tipple concocted with triple sec, luxardo maraschino, kaffir lime syrup, ginger wood oil and lemon juice. The Ku-Ga (RM40), layered with Strega, Lillet Blanc, rice vinegar, and grapefruit bitters makes for the perfect night cap.
Location & Reservations
3, Jalan Sin Chew Kee, Bukit Bintang, 50150 Kuala Lumpur
t: +603 2110 0776
https://www.instagram.com/barpahit
6. PS150 with John Chowdury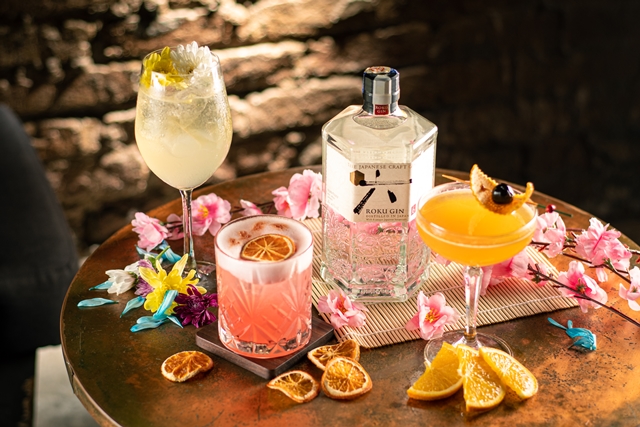 Take a stumble into one of the first speakeasy bars in new Chinatown and you will discover Head Bartender John Chowdury crafting a new spring cocktail menu for this season starting 15 April till 31 May 2022.
Enjoy these specially concocted Roku Gin cocktails starting off with the tangy Spring Negroni (RM45) as a palate opener. For a more citrus take on the martini, the Orange Balitini (RM45) is layered with orange juice, sweet vermouth and simple syrup. Nothing is better than a sparkling concoction to start off the next round like the Elderflower Fizz (RM45), a floral delight made with elderflower liqueur, sparkling wine and lemon juice.
Location & Reservations
Ground Floor, 150, Jalan Petaling, City Centre, 50000 Kuala Lumpur
t: +603 7622 8777
https://www.ps150.my/
7. Jann's Bar with Darwin Ng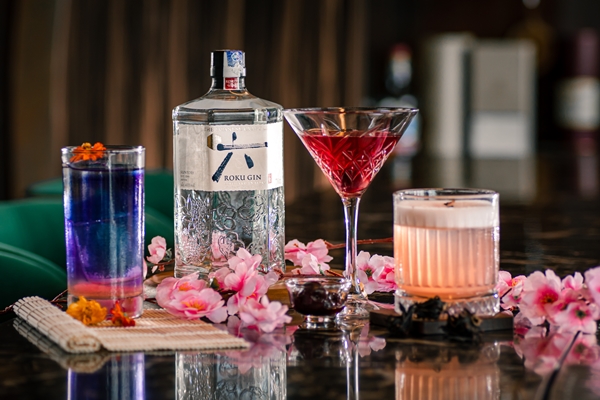 A little botanical tipple or two while gazing out across Kuala Lumpur's scenic city skyline is just what the doctor ordered after a day in the office.
Head Bartender Darwin Ng's Spring signature creation is the Bloom (RM45), which celebrates the achievement of the country and local hospitality scene with a hint of "Chinatown" in it such as rose vermouth, aromatic bitters, ginger spice, citric, rose flower tea, butterfly pea flower tea and soda. Hong Hua Jiao (RM45) is a fusion of two favorite icons of Malaysia and Chinatown, the Hibiscus and Red Peppercorn. Cherish (RM45) the historical heritage with this complex concoction saturated with cherry, white vermouth, and liquorice.
Location & Reservations
Four Seasons by Sheraton Kuala Lumpur, 2, Jalan Balai Polis, City Centre, 50000 Kuala Lumpur, Wilayah Persekutuan Kuala Lumpur
t: +603-2035 7333
https://marriottbonvoyasia.com/restaurants-bars/four-points-kuala-lumpur-chinatown-jann
8. BAC with Megan Lim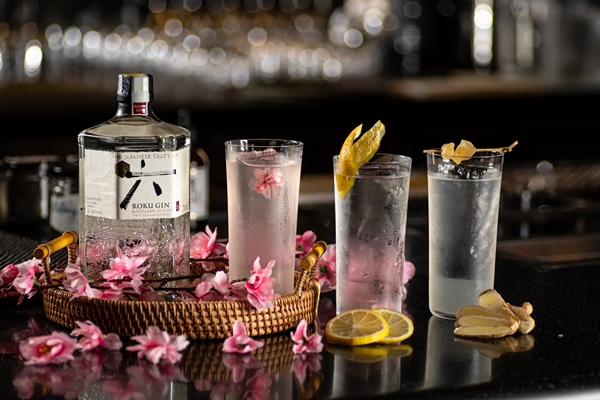 BAC is a place that aims to take you back to a time where unadulterated fun and drinking were the norm. Highball-style cocktails are the specialty here. This inspired bartender Megan Lim to craft the limited-edition cocktail for the spring season, A Social Butterfly (RM38).A light refreshing Aperitivo, this cocktail is crafted with BAC's homemade Sakura syrup and Sakura, a few dashes of hinoki bitters, then carbonated for that fizzy finish. It's so fine with Shiso Fine (RM45), a cocktail crafted with East Imperial yuzu lemonade and Japanese bitters shiso. Ginger Snap (RM38), made with lemon juice, ginger syrup and East Imperial Burma tonic water, offers those with a penchant for a sharp-tasting tipple.
Location & Reservations
73­-1, Jln Setia Bakti, Bukit Damansara, 50490 Kuala Lumpur
m: +6010 287 0731
https://www.instagram.com/highbac.kl/
9. Reka:Bar with Karen Yuen
Taking a step into Reka:Bar is like boarding a spaceship with neon hues of futuristic illumination and light installations.
From 11 April to 31 May 2022, Reka:Bar will be including Tokyo no Haru (RM 45) into their array of cocktail creations by Floor Manager, Karen Yuen. Tokyo no Haru highlights the cherry blossoms with a burst of Sakura Secco Vermouth infused with fruit liqueur and yuzu paint. This cocktail will be the perfect experience for diners who are looking for a clear, crisp, fruity and floral twist of a martini.
The Hinomaru (RM45) pays homage to the flag of Japan with the red circle over a white foam. This creamy concoction is made from genmaicha Roku Gin tincture, Kakubin whisky, honey, coconut water, and matcha tea. Though the Lychee-Mochi (RM45) sounds more like a dessert than a drink, this delectable cocktail is made with toasted rice and strawberry chocolate-infused Roku Gin, lychee kombucha and syrup, lavender bitters, lemon juice and milk.
Location & Reservations
67M, Jln Setia Bakti, Bukit Damansara, 50490 Kuala Lumpur
m: +6010 287 8908
https://www.instagram.com/reka.bar/
10. Sip Society with James Fernandis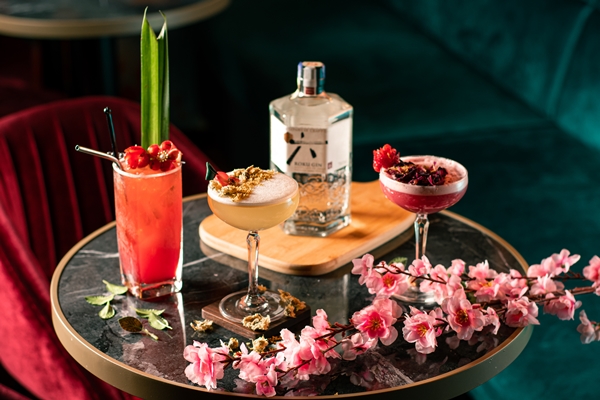 In this season of new beginnings, Head Bartender James Fernandis will send you on a trip to the land of the rising sun. Their first cocktail is the Konohana (RM40), which celebrates the cherry blossoms, a symbol of Japanese culture. Featuring Roku Gin, Cointreau, yuzu puree, orange blossom, yuzu bitters and Umeshu, this cocktail is simple, subtle, but full of character. The Ro Rose Ku (RM40), a play of words on Roku, is concocted with frozen strawberries, laced with grenadine, lime juice, simple syrup, and egg white. Amaterasu (RM42), named after the God of Sun in Japanese folklore, is a remake of the Classic Junglebird, known for its vibrancy. It is bright and fruity, and features a local ingredient limau kasturi, and emits a tiki vibe.
Location & Reservations
No. B-1-18, Jalan PJU 1/43 Aman Suria Damansara, 47301 Petaling Jaya
m: +601139896028
Come and take a walk through Spring with Roku Gin today!
About Roku Gin
Roku Gin, the renowned Japanese gin that brings together six uniquely Japanese botanicals and eight traditional gin botanicals, has perfected its gin by the Japanese concept of shun – where every ingredient is harvested and captured in its ideal moment. It carefully and meticulously brings together the individual characteristics of the individual ingredients by subtle Japanese artisanship to present harmonious moments of pleasure with every sip. Made with and by the seasons of Japan, it is a perfectly balanced, multi-layered gin suited for every occasion.