Cooking for Two
Cooking for two can sometimes be a chore, especially if you do not like to cook or if you are used to cooking for many more. The recipes listed below can save you time in the kitchen. These are easy dinners that do not take too long to prepare.
Chicken and Noodles
This is a family recipe that feeds two easily and provides a nice warm meal for winter days. My family has added the tomato paste for a tangy surprise that goes well over a serving of mashed potatoes.
Ingredients
2 large chicken breast, or 4 tenderloins
2 cups of chicken broth
½ cup of water
Salt, pepper, and celery seed to taste
½ bag of frozen egg noodles
(Optional: ½ small can of tomato paste or 2 tablespoons of ketchup for a tangy surprise!)
Directions
Pour chicken broth, water, and seasoning into large pot. Stir well.
Add chicken and heat to boil. Cook chicken until no longer pink, about 10-15 minutes. Once chicken is done, remove from pot. Turn heat to low and let broth continue to cook.
Cut chicken into bite size pieces.
Add noodles to broth and bring it back to a boil. Cook for about 10 minutes, or until cooked to desired tenderness.
Add chicken back to broth and cook for additional 2-3 minutes, or until broth thickens to desired thickness.
If you want a tangy surprise, add ½ small can of tomato paste or 2 tablespoons of ketchup and mixed until all stirred in.
Serve over mashed potatoes.
Taco Salad
An amazingly simple recipe that provides a quick dinner for two. For more variations on this you can check this recipe. Both are delicious and fun to make, so choose which is best for you.
Ingredients
1 pound of ground beef
1 tablespoon cumin
1 teaspoon paprika
1 teaspoon onion powder
1 teaspoon garlic powder
1 cup shredded lettuce
1 large, diced tomato, or Pico de Gallo
1 can of corn, drained
1 ripe avocado sliced thin, or guacamole
1 handful of finely chopped red onion
1 handful of finely chopped green onion
Tortilla chips, crushed
1 cup of cheddar cheese
Directions
Brown ground beef, adding cumin, paprika, onion and garlic powder. Drain the fat.
Line bowl with tortilla chips. Place ground beef mixture on the chips. Add your desired toppings.
It is that easy! Enjoy your taco salad.
Chicken Alfredo with Homemade Alfredo
Chicken Alfredo is always an enjoyable meal, and it is an easy recipe that can be in a brief time. In this recipe, the alfredo sauce is also homemade, making it much better than bottled sauces. This is an easy dinner ideas for a couple because it does not take long to make this recipe, leaving more time to enjoy your evening.
Ingredients
1 tablespoon olive oil
1 tablespoon butter, unsalted
3 cloves of minced garlic
1 cup of heavy cream
1 teaspoon lemon zest
¼ grated parmesan cheese
Salt and pepper to taste
Parsley, finely chopped
Cooked Penne pasta
2 cups Cooked, diced chicken
Directions
Dice garlic and fresh parsley while your pasta is cooking according to package directions. Set it aside.
Warm olive oil and butter in a non-stick skillet. Add your garlic and cook for about 1 minute.
Using a whisk, stir in heavy cream and lemon zest and heat until it starts to thicken a little, about 2 minutes.
Mix in the parmesan cheese and cook until it is thickened, or another 2 to 3 minutes.
Add salt and pepper to taste.
Stir in pasta.
Add chicken, if desired. Garnish with parsley.
This a delicious, quick recipe for two. The chicken adds protein for a delicious dinner for two. It is a simple recipe, extremely easy to follow. If you would like more chicken recipes check out this website: https://www.tasteofhome.com/collection/chicken-recipes-for-two. You will find all kinds of easy chicken recipes for you and your loved one.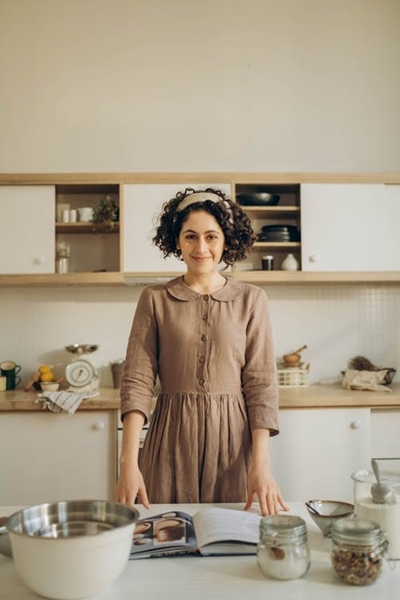 Lemon Pepper Chicken
Ingredients
2 – 4 Skinless, boneless chicken breasts
1 tablespoon olive oil
Lemon pepper seasoning to taste
Directions
Preheat oven to 375*
Brush chicken with olive oil
Sprinkle with lemon pepper seasoning on all sides.
Place in oven until chicken is fully cooked, about 20-30 minutes.
Let chicken rest for about 2-3 minutes before serving.
Serve with vegetables or rice.
Another quick, easy recipe that you can make after a busy day at work or play.
Conclusion
Cooking for two does not have to be a chore, it can be fun for all involved. Cooking gives an opportunity for a couple to spend time with each other and learn more about each other. There are many more simple recipes to use on the internet, this is just a beginning. This will at least get you started on making dinner with that special someone.