With much fanfare, The Westin Kuala Lumpur welcomes Chef Ron Lean Wen Seng as the new Chef De Cuisine of their Chinese specialty restaurant, Five Sen5es.
Chef Ron Lean
For Chef Ron Lean, his ideology in creating new dishes is to innovate yet not forgetting tradition to preserve the old dishes. This is reflected in the new menu that he and his team created for Five Sen5es in The Westin Kuala Lumpur. Born and raised in a small town of Langkap, Perak, Chef Ron Lean has more than 17 years of culinary experience under his belt. His arrival to Five Sen5es, The Westin Kuala Lumpur is truly a blessing to the guests. From a tender age of 15, Chef Ron possesses a strong passion for exploring culinary art. He ventured into the field of mastering Chinese cuisine by starting in a local Chinese restaurant. Ron then developed his skills to accomplish the role of a Chef in Five Star hotels. From reputable Chinese restaurants in Australia to International Chain Hotels, Ron's determination and enthusiasm to create memorable dining experiences for the guests is well recognized in the industry. Ron enjoys curating new and interesting Chinese dishes for events, banquet and buffet menus. In 2016, Ron joined Aloft KL Sentral as the Banquet Sous Chef. Later on, he joined New World Hotel in 2018 as Senior Sous Chef where he gained vast experiences, that he now integrates into his daily creations.
New Menu at Five Sen5es, The Westin KL by Chef Ron Lean
Chef Ron utilizes high quality ingredients that are beneficial for our well being in his dishes to offer authenticity and to tantalize the taste buds. Chef Ron aims to highlight a wide array of exquisiteness from freshness, crispiness, tenderness to color and taste. Ron's culinary masterpiece are dishes with lobster, abalone, seafood, chicken and Hong Kong inspired dessert. Taking the helm at Five Sen5es The Westin Kuala Lumpur, leading the passionate culinary team in presenting an authentic yet unforgettable Chinese culinary experience, Chef Ron has curated a whole new range of dishes to tantalize our taste buds.
Deep Fried Lobster Ball Steamed with Egg deserves a special mention as it was the highlight of the night. Everyone of us had extra servings as it was too good, flavor packed with the sweetness of lobster!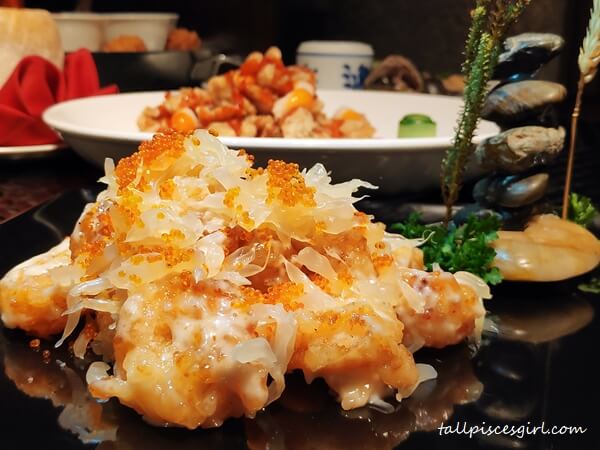 Follow the link to learn more about
dining options at The Westin Kuala Lumpur
.