This season, Starbucks is ringing in the holidays with the return of seasonal flavors of Peppermint Mocha and Toffee Crunch, new beverage offerings and cheerful merchandise perfect for gifting to anyone on your list. Starting 5 November 2019, Starbucks stores in Malaysia will celebrate the joys of the season and bring the spirit of the holidays to customers' hearts and homes.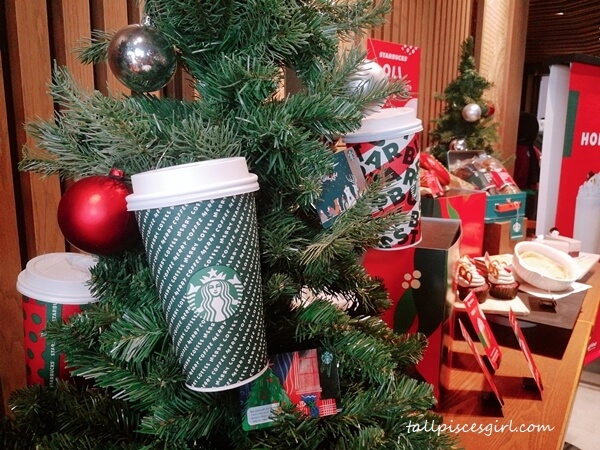 Starbucks Malaysia Christmas Drinks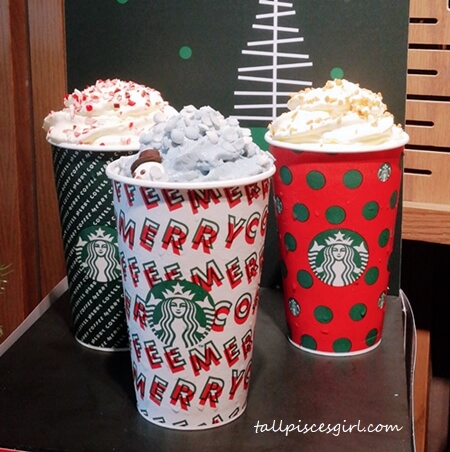 Starbucks Holiday French Vanilla Latte
: Enjoy the wonder of winter from the comfort of your Starbucks cup. The Holiday French Vanilla Latte takes rich, smooth and creamy French Vanilla flavor and makes it fun with an exciting blue twist. The beverage is topped with a white chocolate snowman, and blue and white sprinkles for a festive, snow-like finish. The Holiday French Vanilla Latte is available hot, iced and blended.
Starbucks Toffee Nut Crunch Latte
: Warm your heart with flavors of buttery toffee nut balanced by subtle sweet notes of toasted nuts, joining shots of our rich espresso and steamed milk. The Toffee Nut Crunch Latte is finished with a whipped cream peak and a sprinkle of crunchy toffee nut topping. The returning favorite beverage is available hot or blended.
Starbucks Peppermint Mocha
: The Peppermint Mocha is a combination of espresso and steamed milk sweetened with flavors of chocolate and peppermint. Topped with whipped cream, mocha drizzle and candy cane pieces, this festive beverage is available hot or blended. There's indeed no place like home for the holidays, and Starbucks is bringing back the best flavors of the season that you can enjoy in the comfort and coziness of your abode. This year's Holiday Blend Whole Bean lineup includes the
Starbucks Holiday Blend
,
Starbucks Holiday Blend Espresso Roast
, and
Starbucks Holiday Blonde Roast
.
The Starbucks Holiday Blend is a 30-year tradition and produces a spicy and sweet cup of coffee with hints of comfort and joy. This Holiday Blend offers distinct flavors of Starbucks rare, spicy Sumatra beans, carefully aged to bring out deep notes of cedar balanced by a sweet, rich smoothness. The Starbucks Holiday Blend is also available in an Espresso Roast variant, which has a complex flavor profile with intense caramelly sweetness and herbal spiciness. Meanwhile, the Blonde Roast variant embodies a woodsy aroma with hints of brown sugar, sweet orange and allspice notes.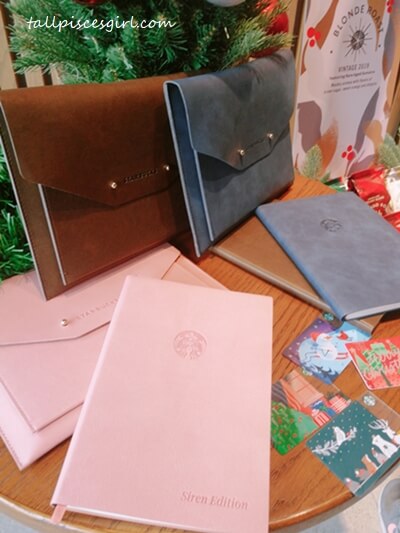 Family and friends are the true gifts of the Holiday season, even more reason to celebrate all things merry and bright. This festive holiday season, the anticipation is heightened with the release of the
Starbucks 2020 Planner
, which is available in three color variants; Espresso Roast (Brown), Anniversary Blend (Blue) and Siren Edition (Pink, limited quantity). The Starbucks 2020 Planner is redeemable with the purchase of any 15 Grande or Venti-sized Starbucks Beverages – 5 of which must be Starbucks Holiday Beverages – from 5 November onwards. Additionally, the Planner in Anniversary Blend & Espresso Roast can also be purchased separately for RM188.
Starbucks Malaysia Christmas Merchandise 2019
Starbucks is debuting a holiday merchandise collection that celebrates all things merry and bright, with enchanting designs that will appeal to friends and families of all ages.
The new collection of Christmas tumblers features woodland animals and holiday motifs, completed by a festive palette of holiday red hues, blues and celebratory pinks and greens.
Notable
Starbucks Malaysia
Christmas Merchandise 2019 include Starbucks Polar Bear Globe Tumbler, Starbucks Polar Bear Window Stainless Steel Tumbler, Starbucks Polar Bear Double Wall Mug, Starbucks Holiday Fox Double Wall Mug and Starbucks Snow Globe Collectible.
In addition, the Holiday Starbucks Card series will make gifting a breeze! Simply opt for one of the festive cards to spread the joy of the season. For the first time, Starbucks will also be introducing a paper card into its collection that is in line with its sustainability efforts.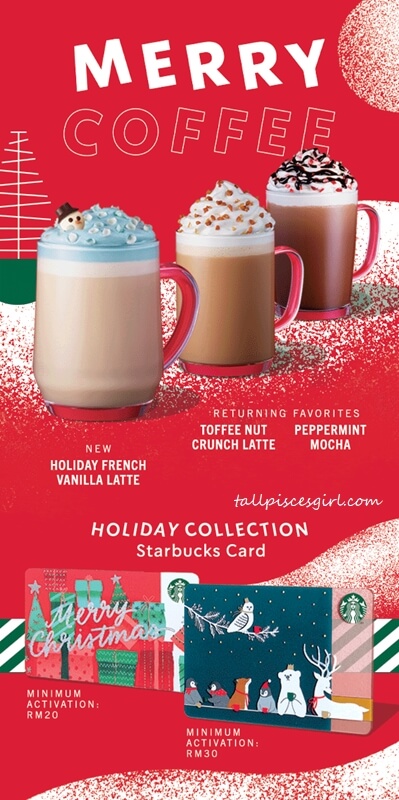 The Starbucks Holiday French Vanilla Latte, Starbucks Toffee Nut Crunch Latte and Starbucks Peppermint Mocha are priced at RM17.50 onwards. The Starbucks Holiday Blend, Starbucks Holiday Blend Espresso Roast and Starbucks Holiday Blonde Roast are priced at RM40.00, while the Starbucks Holiday Merchandise Collection are priced at RM28.00 onwards. All Starbucks Holiday Offerings will be available in stores starting 5 November onwards. For more information, please visit Starbucks Malaysia website at
www.starbucks.com.my
.