Professional salons are awesome but do you know that you still need to take care of your tresses at home? Glorious and healthy crowning glory is now possible without having to run to a professional salon especially when you're in a rush and you forgot to make an appointment, thanks to Amino Mason.
Amino Mason Hair Care
The media launch of Amino Mason hair care range in Malaysia was recently held at Eight Days Salon, IPC Shopping Centre with its exclusive retail partner Guardian Malaysia.
Despite a crowded market in hair care products industry, Amino Mason managed to be one of the top-selling hair care brands in Japan, UK & USA. They are the first 100% natural hair care brand made essentially from all-natural botanical, fruits and herbs extract and also fortified with 18 types of Super Amino Acids. These Super Amino Acids are the key to cleanse, moisturize, protect, and manage scalp and hair health.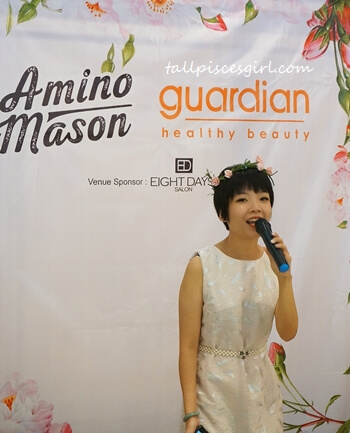 According to Joyce Lee, Marketing Director of Amino Mason Malaysia, the new hair care range is very suitable for Malaysians. "Due to hot and humid weather in Malaysia, hair gets dirty and oily quickly, so regular washing is necessary and the usage of the right and effective hair care make a huge difference. Amino Mason products is PH-balanced, uses only natural ingredients such as milk and pearl protein, raw silk, Manuka honey, natural oils from nuts which is gentle and moisturizes the scalp being free of paraben, silicon, sulfate or any synthetic dyes and petroleum based surfactant," explained Joyce.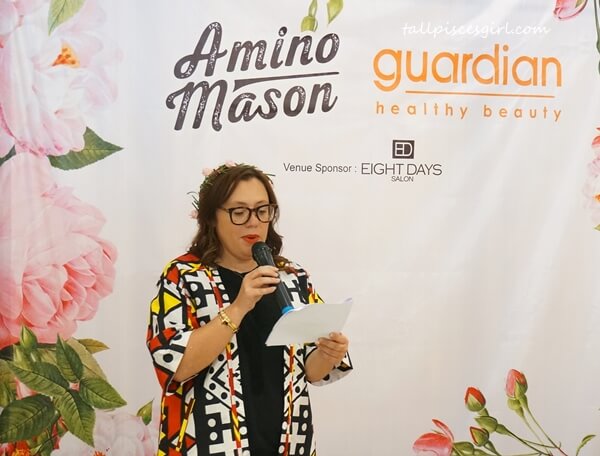 Made from original ingredients known as the "amino keratin", the range comprises of amino acids, keratin and platinum dispensed in whipped cream consistency. It works by penetrating and reaching the cortex or the third layer of the hair scalp. Since the amino acids and keratin reduced in molecular scale is able to penetrate deep into the hair, repairing damaged hair effectively. Once amino acids and keratin are replenished, platinum is placed as a lid to seal the surface and prevent discharge of proteins and moisture (damages). The whipped cream froth up can protect hair from friction caused during shampooing while gently washing off dirt and oil. Two Amino Mason Hair Care Range consisting of 8 different types of products were launched:
Amino Mason Moist Hair Care Series

Moist Hair Care Series with the bouquet of White Rose consists of shampoo, treatment serum, pack mask, hair oil and night cream made from milk infused with beauty essence from Manuka honey, mango oil, almond oil & argan oil, and a blend of avocado & cherimoya. The Moist series is recommended for those with dry to normal hair.

Amino Mason Smooth Hair Care Series

Smooth Hair Care Series with the bouquet of Peony Rose consists of shampoo, treatment serum, pack mask and hair water made from milk infused with beauty essence from Rose honey, Apricot, Pomegranate, Rosemary & Lavender and a blend of botanical fruits such as lemon & raspberry. The Smooth series is recommended for those with normal to oily hair.
Eating plenty of foods with vitamins, antioxidants, zinc, calcium, iron, iodine, amino acids and poly-unsaturated fatty acids is also necessary to ensure a healthy scalp and follicles which grows good quality hair strands. The Top 10 foods for healthy hair are:
Salmon / Mackerel for Omega-3 fatty acids, Protein, Vitamin B12, Iron
Dark green vegetables (Spinach, broccoli) for Vitamin A, Vitamin C, Iron , Calcium
Beans for Protein, Iron, Zinc, Biotin
Nuts – Brazil nuts for Selenium – Walnuts for Zinc, Alpha-linolenic acid – Pecans, cashews, almonds for Zinc
Poultry for Protein, Iron
Eggs for Protein, Biotin, Vitamin B12
Whole Grains for Zinc, Iron, Vitamin B
Oysters
Full Amino Mason Hair Care Range is now available exclusively at all Guardian outlets in West Malaysia and East Malaysia. For more information, kindly visit: Website:
www.aminomason.com
Facebook Page:
www.facebook.com/aminomasonmalaysia
Instagram:
aminomasonmalaysia