Spring is here and Starbucks Malaysia is introducing 2 new blended beverages to celebrate the season –
Matcha Azuki Blossom Crème Frappuccino
and
Azuki Blossom Crème Frappuccino
. The ingredients used are two of the most beloved tastes in Asia: Matcha and Azuki (red bean). For the first time in Malaysia, Starbucks will also be offering
Coconut Milk
at all stores nationwide, joining almond milk and soy milk as customizable milk options for its beverages. Starbucks fans will be able to rediscover popular favorites like Caramel Macchiato in its new coconut milk or almond milk form. All beverages will be available in stores from 26 March 2019 onwards.
Starbucks Malaysia Sakura Collection and Beverages
Azuki Blossom Crème Frappuccino
Frappuccino lovers can celebrate the return of sakura with this beverage. To create an earthy but sweet treat, creamy milk is blended with ice and red bean. It is then topped with Azuki and fluffy whipped cream, with falling petals of white and pink rice blossom petals and tart cranberry bites.
Matcha Azuki Blossom Crème Frappuccino
Matcha fans are gonna go crazy about this! The new Matcha Azuki Blossom Crème Frappuccino is a blend of matcha, creamy milk, read bean and ice. The velvety body, is complete with red bean, whipped cream, pink and white rice puffs and tart cranberry bits – capturing the seasons fleeting beauty in a cup.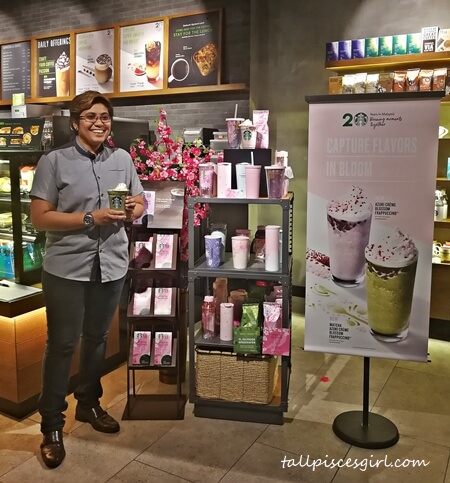 Caramel Macchiato (with Almond Milk or Coconut Milk) – The delicious, multi-layered Caramel Macchiato begins with steamed milk followed by a rich espresso shot poured through the milk foam and finished with a crosshatch of caramel sauce for an oh-so-sweet finish. Adding a twist to the all-time classic, this popular beverage can now be customized with almond milk, or for the first time in Malaysia, coconut milk. In celebration of the Sakura season, Starbucks Malaysia has also planted Artificial Reality (AR) Sakura Trees in all its stores. Leveraging on Facebook's AR Camera technology, Starbucks brings to life Japans famous cherry blossom trees into its stores through three phases: budding, in-bloom and full bloom. Sakura in Malaysia is a dream come true! We can now witness the exquisite and graceful beauty of Sakura, while sipping on our favorite Starbucks beverages.
Additionally, Starbucks Malaysia has also introduced new and returning Starbucks Reserve Coffee Beans flown in from around the world.
Vietnam Da Lat – The high-quality Arabica beans grown in an ideal cool and mist-shrouded pine forest from the beautiful terroir of the Central Highlands of Vietnam brings a medium-bodied trifecta of flavors capturing toffee, kola nuts and cocoa peel.
Kenya Kanguru – A medium-bodied coffee bursting of white flower aromas, zesty lemon-lime notes and subtle black currant sweetness. The unique growing conditions on the slopes of Mt. Kenya, combined with the care given to the processing of the beans bring us in the words of Ann Traumann, Starbucks Reserve coffee buyer, perfectly balanced and very good cup.
Ethiopia Bitta Farm – Grown in the Kaffa Zone of Ethiopia — the birthplace of coffee — the medium-bodied Ethiopia Bitta Farm permeates perfumed jasmine aromas with ginger spice and orange peel accents and has a medium acidity.
Jamaica Blue Mountain – This medium bodied coffee originates from the Jamaican mountainside and grown beneath the peak of the 2,250-meter Blue Ridge. This anticipated returning favorite whole bean coffee is certified to the highest quality which results in a complex cup of floral aromas with layers of citrus flavor and a hint of cocoa.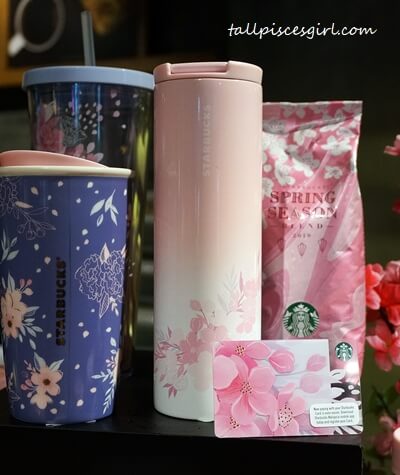 The classic Caramel Macchiato with almond or coconut milk is priced at RM15.50 onwards. Sip on the new Matcha Azuki Blossom Crème Frappuccino and Azuki Blossom Crème Frappuccino blended beverages from RM17.50 onwards. The Spring beverages are available in all stores nationwide from 26 March 2019 while stocks last. The already launched Starbucks Reserve Coffee Blends are priced at RM65 onwards. For more information, please visit Starbucks Malaysia website at
www.starbucks.com.my
.