Oxygen is the key to all life. Without oxygen, the maximum time a person can live is 3 minutes while brain cells could die in just 15 seconds! In fact, every human cell requires oxygen to live. Oxygen is one of the most important keys to good health but surprisingly, not many are aware of this. There is no other substance on earth that we are so dependent on for our existence except for oxygen. There are many factors in our lifestyle that contributes to good health – exercise, the food we consume, water quality and stress management. In order to maintain or restore our health, increasing available oxygen to the body is very beneficial. The use of oxygen-enriched water provides an extra source of oxygen for the body to neutralize toxins. It is also very suitable for people who are constantly active because your muscles have to work harder during exercise and this increases their demand for oxygen. Oxygen-enriched water is just like the supplements you take everyday to maintain your health. You can get vitamins from food but the amount you took could be insufficient. Hence, you need to top-up.
OXGEN water
Realizing this problem, Avani Oxygen Water Corporation Sdn Bhd is determined to provide a solution for the consumers. After thorough research and development, OXGEN water is introduced to the market as the first oxygenated water in Malaysia. Avani Oxygen Water Corporation uses a patented oxygen enrichment technology originated from Canada which encompasses a 7-step purification process certified by HACCP. This technology is also what sets them apart from their competitors as their water has higher absorption rate.
7-Step Process Reverse Osmosis + Extra Oxygen
Multimedia Filtration + UV: Remove dirt and other undissolved solids down to 20 micron particle size and UV to kill more than 99% of the viruses and bacteria in the water
Ozonation: Further eliminate bacteria and viruses and to coagulate solids
KDF Filtration: Remove chlorine and heavy metal
Oxygen Enrichment Process I: Simulates the atmospheric conditions of rainwater and processed water passes through an electro-magnetic process whereby the water is neutralized in near nano seconds, allowing ozone and ozone lattices to be dramatically multiplied

Production of OXGEN Water – Oxygen Enrichment Process

Oxygen Enrichment Process ll: The electron vortex shifter with its high voltage induction and cyclonic actions allows the free oxygen molecules to be bonded with the water molecules in a precise manner, and to achieve the final oxygen enrichment in the water
Lastly, the water with higher levels of dissolved and stabilized oxygen is piped into ozonated water rinsed PET bottles. OXGEN water is so pure that it contains
not more than 2 ppm in Total Dissolved Solids
(TDS). This is why it tastes remarkably smooth and refreshing.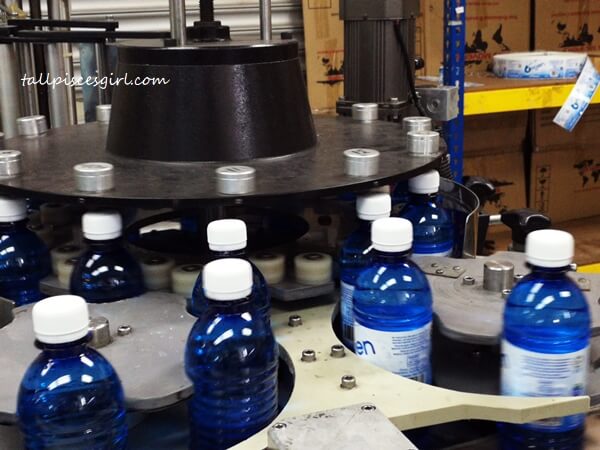 OXGEN water contains no added chemicals, no electro-chemical augmentation, no salts added and no hydrogen peroxides. Avani makes sure that their OXGEN water
contains at least 5 times more oxygen
than ordinary drinking water. The extremely high level of oxygen is retained in the water even for up to 72 hours after the bottle has been opened, thanks to the high quality bottle. For best results, do not expose it under direct sun and finish it as soon as possible once the cap is opened.
The benefits of oxygen on human body
Eliminates toxin from the body
Slows down aging process
Enhances immune system
Increases blood oxygen levels
Neutralizes free radicals
Increases energy
Improves concentration and alertness
Improves digestion
Stabilizes pulse rate
Acts as an antioxidant
Increases stamina
OXGEN complies with the stringent Hazard Analysis Critical Control Point (HACCP) standard and is certified by Jabatan Kemajuan Islam Malaysia (JAKIM), Asia Middle East Bottled Water Association (ABWA) and approved by The Ministry of Health Malaysia (KKM).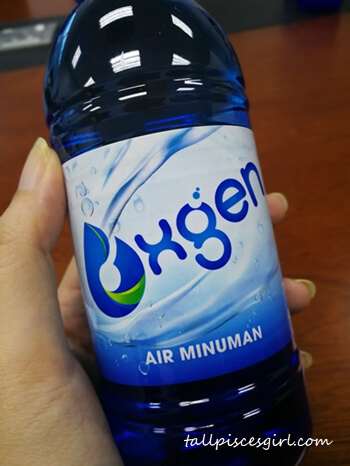 Where to Buy OXGEN Water
OXGEN water is readily available at major pharmacies. If you have trouble getting them, you can also walk-in to their office to purchase at the location below.
Address
:
Avani Oxygen Water Corporation Sdn Bhd
No. 36, Ground Floor, Jalan Tago 9, Taman Perindustrian Tago, 52200 Kuala Lumpur
Tel
: +603-6274 9233
Fax
: +603-6274 8726
E-mail
:
info@oxgenwater.com
Facebook Page
:
https://www.facebook.com/OxgenWater